WELCOME To
HERSHY'S STAR Labradors of Tulsa
Licensed, Professional Home Breeders
(For those who do not understand the value of a Home Breeder (at least our "breed" of home breeder:), it can be summed up in a few words...Pups are not left on their own in a kennel, they are in our home, and part of the family...they receive ultimate socialization, and close attention to all the early develpmental stages that allow them to be the best they can be at whatever future is in store for them... there is no substitute for this time...and you can NEVER get it back or catch it up ! They either get it, or they don't ! For more information about this, simply ask).
In LOVE with the Fabulous Labrador Retriever

One of the Great Working / Hunting Dog Breeds

which can be just as great as your family's pet and lifelong companion !

Our son, Ben, with Charlotte, our dam
Charlotte doesn't hunt, but she has whelped many great hunters !
If you are looking for an extremely healthy, well socialized pup, with prominent National Field Champions,
GMPR, Master and Senior Hunters in their Pedigree, then you should be very pleased with our puppies.
But then there is more...
We work with pups the entire time we have them, teaching them to be polite pups, often to sit, stay down, and many other early obedience needs.
I don't know any other breeder who spends the amount of time with their litters as we do here at Hershy's Star Labradors.
Our customers will tell you the difference that makes.
(this is also why we have only one litter per year...)
(For more information about how to reserve a future PUP for you, please click the CONTACT US tab at the top)
Latest News From Hershy's Star Labradors ..... !

OUR TEN BEAUTIFUL PUPS HAVE GONE TO THEIR NEW HOMES !!
BORN APRIL 23rd-24th
9 BLACK PUPS (4 males & 5 females)
&
1 YELLOW PUP (female)
ALL PUPS FROM THIS LITTER ARE SOLD
We're sorry If you missed getting one of our great pups,
be sure to get on our list for the next:
JAZZ' FIRST LITTER
Coming January 2014
~FLYNN WILL SIRE~
Most likely breeding will take place in late October / early December
To reserve your pup...
email or call: lhersh@cox.net / 918-809-4158 (Londa's cell)
Please go to "2013 Puppies" Page for Updates on Current Litter (All sold)
Hershy's Chocolate Charlotte
(our bright, well-mannered and beautiful Chocolate female)
has been bred to
Hanna's High Flying Flynn
An extremely handsome, intelligent and well-mannered Black American Lab
(take a look at his outstanding pedigree (below his picture) and on the Dam & Sire Pedigree page) !!
Pups have a LOT going for them, with parents like these !!
Meet FLYNN ....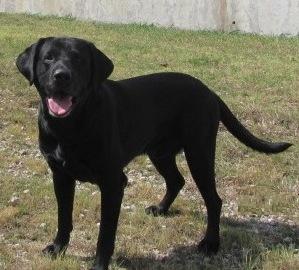 He has an outstanding pedigree...
Out of Candlewood Johny B Good & Aces High Hanna
Grandsires: Rik's Risky Raider and Wilderness Harley To Go
Granddam: Candlewoods Gotta Be Good
Pups have the same outstanding bloodlines as their parents!
SUMMARY OF PAST CHARLOTTE LITTERS:
Our Charlotte has had 1 striking black litter and 4 Beautiful Rainbow Litters!! 12/1/2008 - 8 beautiful black pups (Duke) [we have Jake and Bella from this litter] 12/24-2009 - 9 Pups: 6 chocolate; 1 black; 2 yellow (Chief) [we have Jazz from this litter-yellow] 1-31-2011 - 11pups: 5 chocolate; 4 black; 2 yellow (Chief)

3-12-2012 - 5 pups: 1 chocolate; 3 black; 1 yellow (Chief)

4-23-24-2013 - 10 pups: 9 black; 1 yellow (final litter) (Flynn) [we have Crystal from this litter-black]

(At the end of Charlotte's career, her beautiful yellow pup, JAZZ, will serve as our dam for the next few years).
SHR Hershy's Star Jazzmine

(Ours from 2009 Litter)

2 HRC Started Passes-Fall 2011

(She received her SHR Title in Spring 2012)

Look at her smile! :)

(For more information about how to reserve YOUR future PUP, please click on the CONTACT US tab at the top right) for additional questions, please email (For each litter, we will keep you posted on how they're doing under"Pups" page for the year pups are born. :) (You can also see LOTS of pictures of Charlotte's and Chief's litters - under "PAST LITTERS" Tab in '2008-2012) ***2013 litter will be out of Charlotte and Flynn***

We not only emphasize the importance of a pup's bloodline, but also the great value in a healthy beginning, mixed with the very important socialization for each pup. We think it's the individual attention given to each and every pup that makes us stand out from many of the others!

We invite you to take a little time


and browse through the rest of our site-

Hopefully, you will find it interesting and informative!

Charlotte pups are from great bloodlines like:

NFC, 2X NAFC SUPER CHIEF, GMPR Sir Hershey of Surrey, and Candlewoods Mad Mouse,

FC AFC Wilderness Harley To Go, NFC NAFC Candlewoods Super Tanker
Also in their pedigree are names like .....Aces High III and Kellogg's line
We feel our pups have the same potential as their great ancestors! And more good news is that both parents have a gentle nature, are loyal and responded very well to obedience training. Flynn and Charlotte's pups will want to please you, because that's how they are!!!

Charlotte (our dam) is such a loyal girl - a great temperament and wants to stay by your side, unless you tell her otherwise!