...Welcome to our 2015 Puppy Page...
Great Pups and Great Families!!
Thank you all!!....
Happy Birthday!
Pups are
ONE YEAR OLD Today (12/5)....!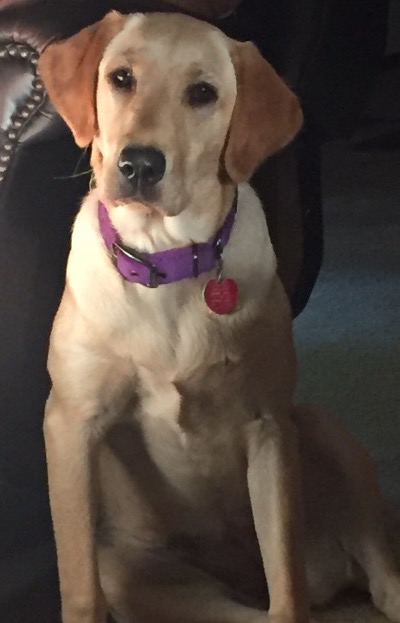 Oakley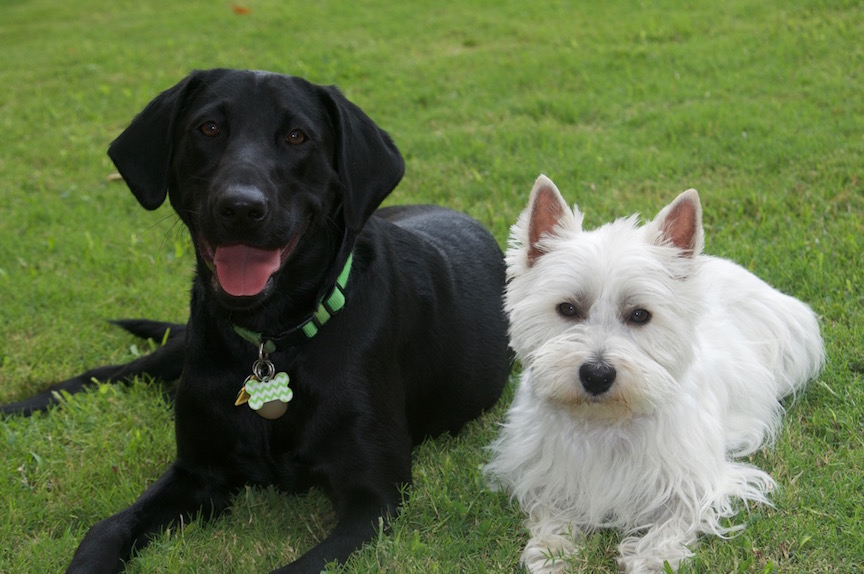 Trevor's Maggie
(we have 2 'Maggie's : )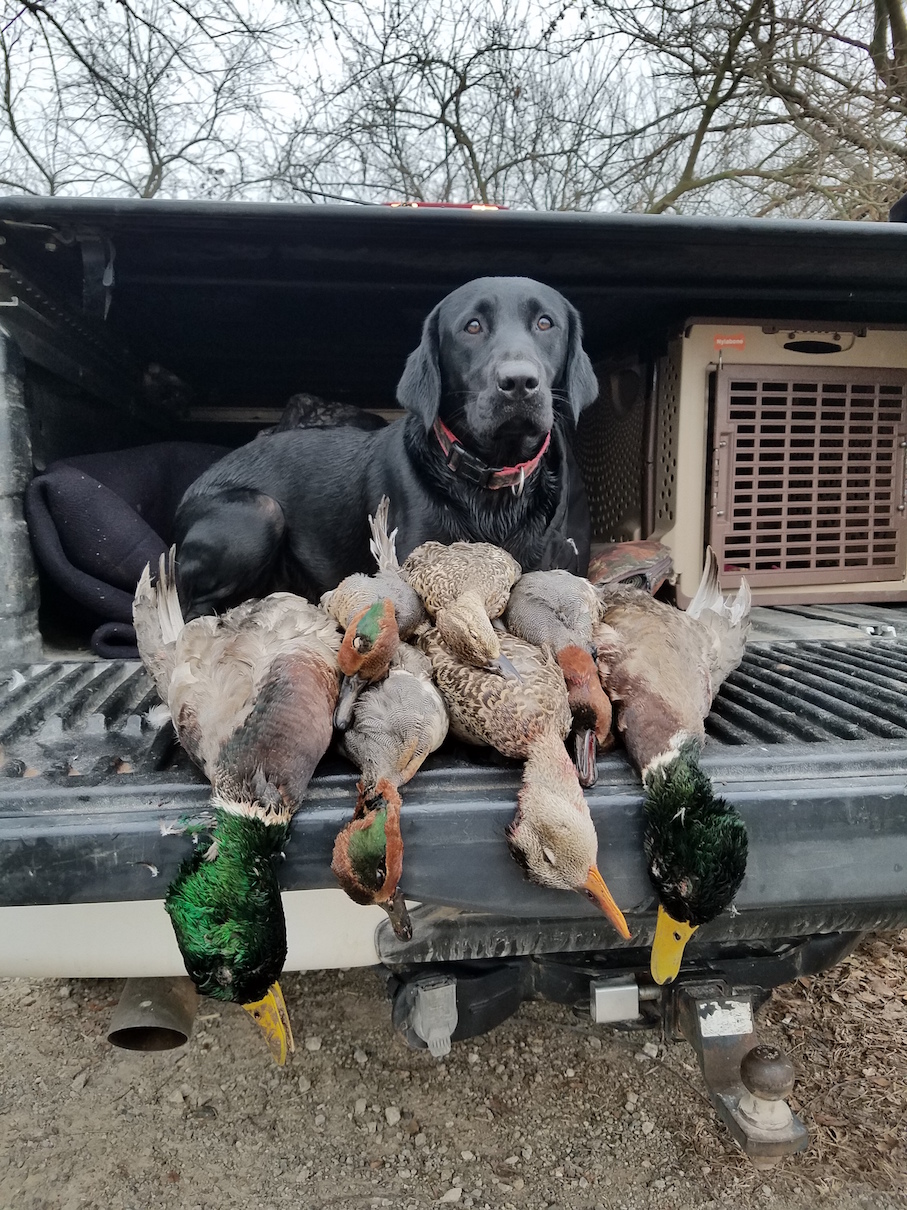 Jet
Daisy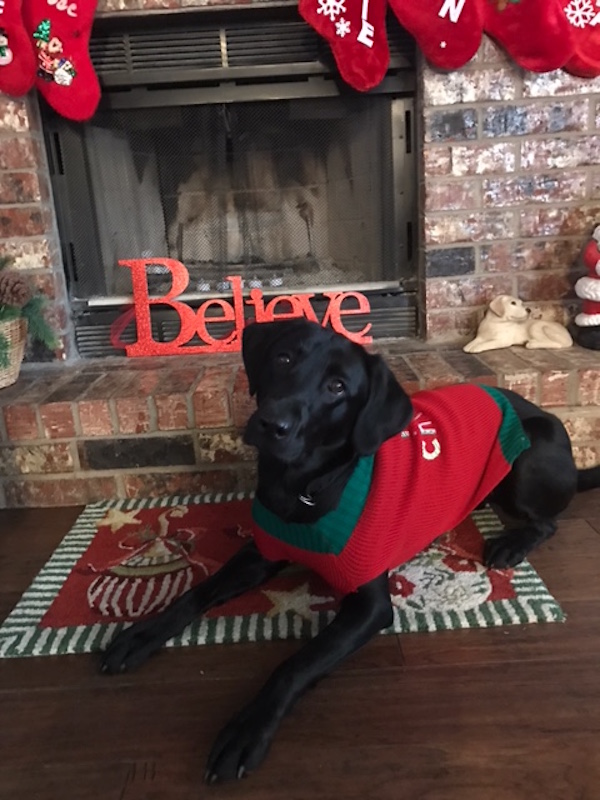 Shannon's Maggie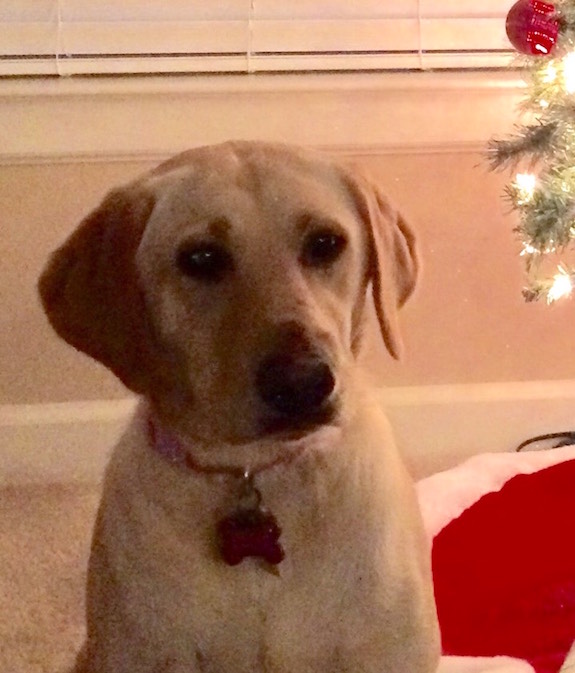 Cheyenne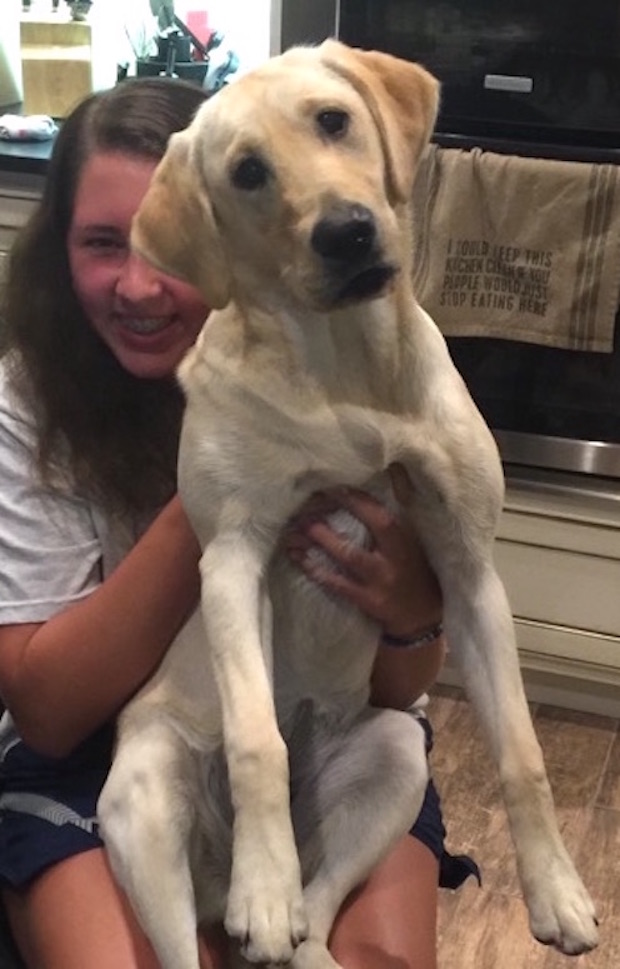 Finley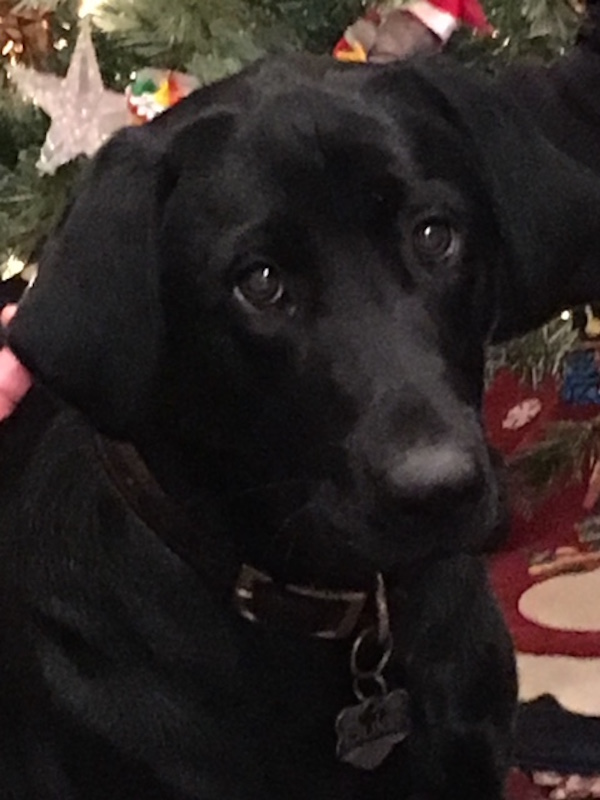 Duke
In the beginning, it was like God and Jazz had a meeting,
and God told her exactly which pups to have
for the families who came to us!! : )
We are thankful!!!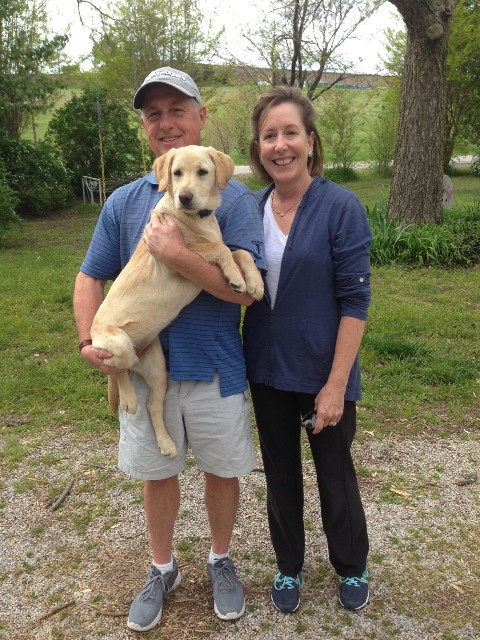 Daisy (Missy) happily goes home with Sarah, Kelly, and a great life with family and friends!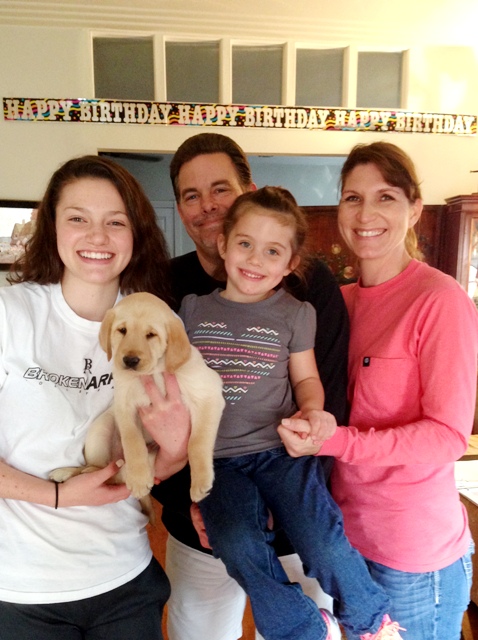 Brady (Buck)...last but definitely not least...
goes home with Danielle, Wes, Lauren, Charlotte, and lots of love!
(He will get his "forever" name soon :)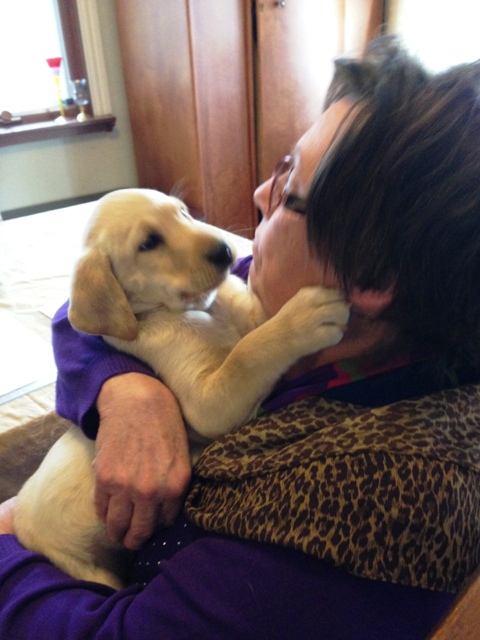 True love! Rocket + Wanna Lea!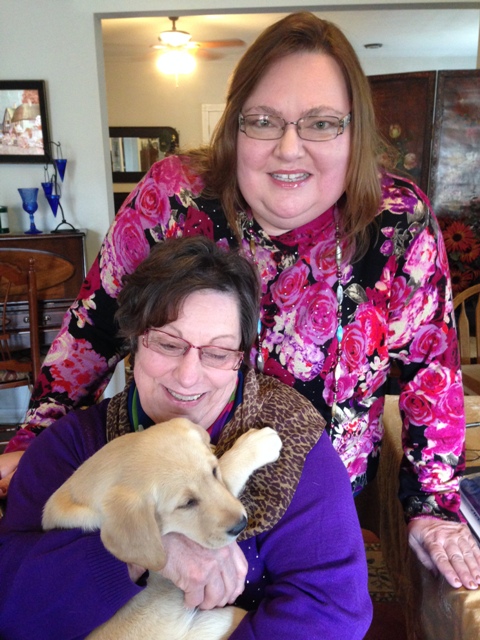 There will be no shortage of love for Rocket from Wanna Lea and Traci!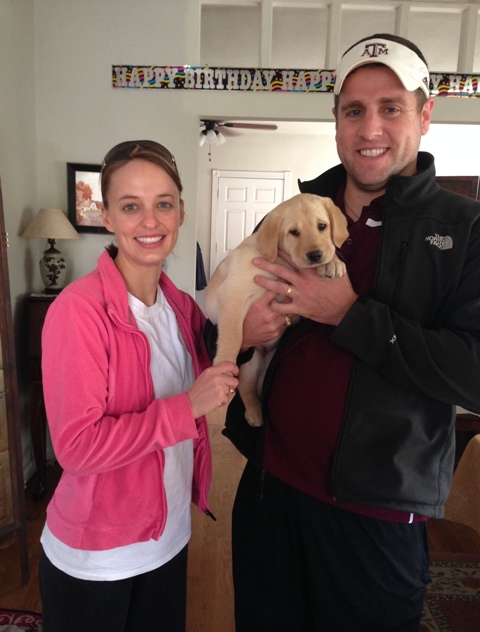 Cheyenne will enjoy great adventures in Texas with Holly and Derek!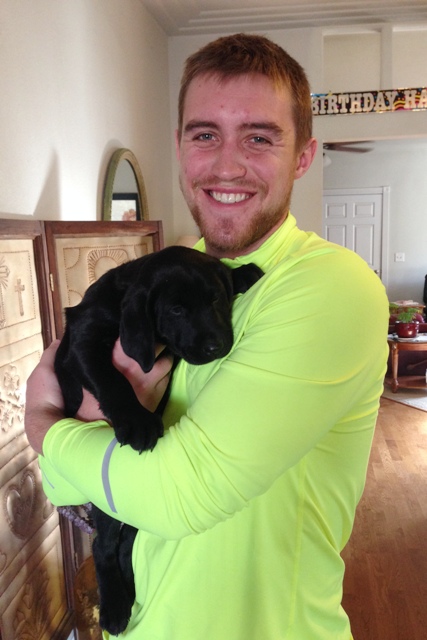 Maggie (was Bella) will have a great life with Trevor!
Big Boy Duke is feeling lots of love from Monty and Vickie!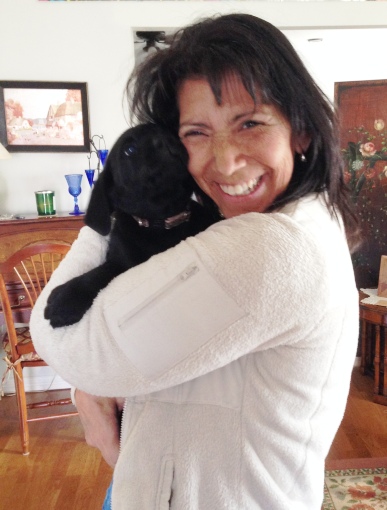 Maggie is a lucky girl to spend her life with Shannon!!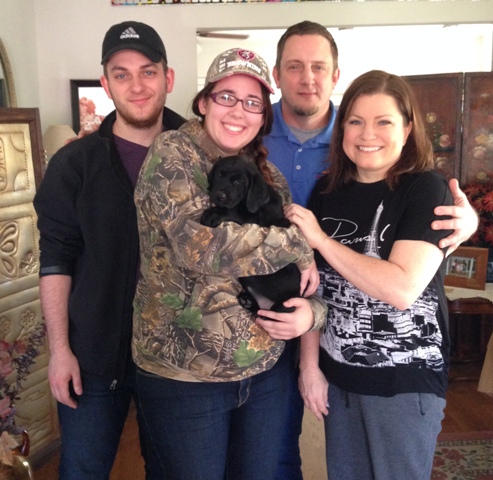 Jet will love working hard for Ryne, Cassie, Doug, and Leigh!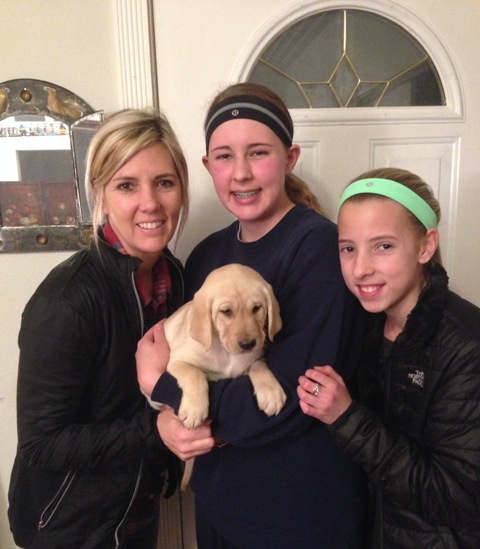 Finley will have a great life and lots of love with Shelley, Kyra, Maddy (and Rob :)!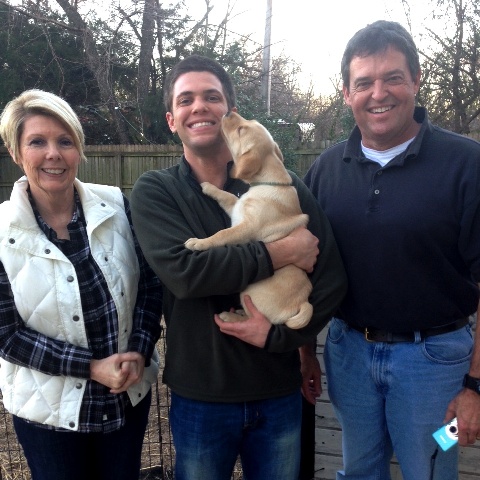 Oakley LOVES her fabulous new family- Dody, Jake and Jamie!
10 Beautiful Pups
Out of
Hershy's Star Jazzmine
and
Hanna's High Flying Flynn
~
All 10 Pups are reserved for this litter
Thank you to all of our Puppy families!!
~
For a preview of what these pups may look like when older,
we invite you to visit our Past Litters page.
Bear and Jazz waited....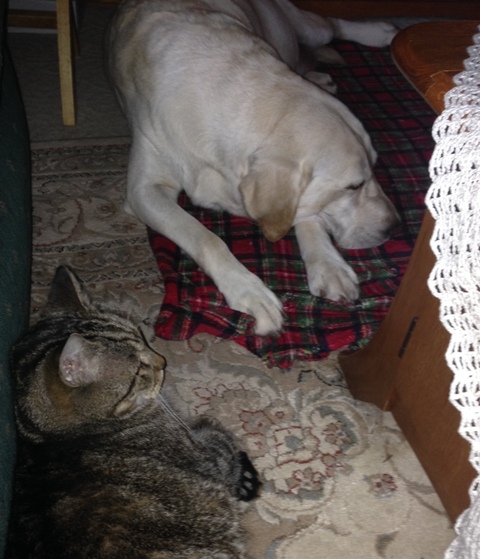 ...and then...
On December 5th, 10 Beautiful Pups were born!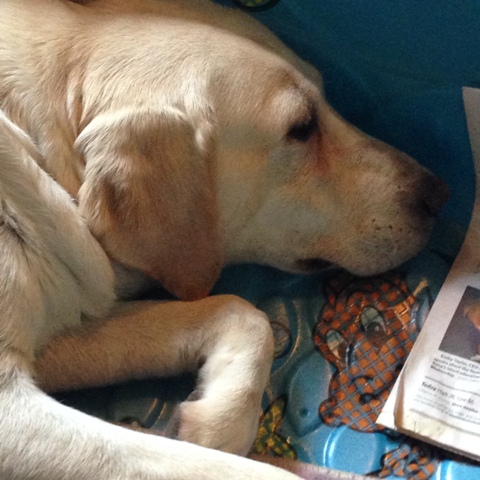 Good Mommy!

12/5/15- Pups were born a day 1/2 earlier than expected, but we were ready for them. : ). Jazz did a great job of it. Much easier whelping than last year. Because we thought there were 11 pups, we waited a lot longer, expecting the other pup, but were pretty sure by Jazz "peaceful" manner that she was finished. She is a good girl, and will take good care of her pups. Please enjoy pictures below on their first day. I will journal and add pictures as time allows...journal entries moving downward, and pictures will be posted with the most recent on top. Enjoy!

12/9/15- Pups are growing fast. This is one of the most diverse groups, weight-wise, I think we've had yet. : ). All are squirmy, happy little guys. Today, all went for dew claw removal. They were good sports...they didn't complain at all. It's hard to believe pups are already 4 days old. Time for their newborn portraits...coming very soon...

12/11/15- Pups are doing great. Today, they got their 1st portraits. They were good pups.

On a good schedule. Jazz is being a great mom. She makes sure they are clean and fed.

Hope you enjoy their First Portraits...only 6 days old...tiny, sweet babies.

12/13/15- And we think OUR children grow up fast! These little guys are changing everyday. Yellow pups are getting their darker muzzles...when they start to really get cute! And they just keep getting cuter! Pups are trying to get up on all fours now - really wobbly - so neat to watch. A few new pictures below. Pups have all doubled their birth weights now.

12/16/15- A beautiful sunny day in December. Pups are walking on all fours off and on...in unsteady fashion now-pretty early to be doing that. Jazz is starting to feel those tiny, needle-like claws, so we will do clipping and filing today. Nothing else new, other than bigger pups. Pups range in weight now from 2 super cute "little bits" @ 1.5 lbs all the way up to 2-2.5 lbs, with all doing great!

12/17/15- Pups are growing fast...Olivia and I sometimes feed pups a little extra to make sure they get all they want, since so many pups, but all mostly drink "mom's" milk. : ) Olivia, our granddaughter, is such a good helper. She loves them so much. It is her tradition to give them temporary names, usually following a particular theme...this year it is other animals : ) (of course, names are used only until picks are completed, and permanent names are known). A few new pictures today.

12/21/15- Pups began to open those little eyes on Saturday, Dec. 19th- right at 2 weeks! They open at slightly different rates, so about 4 pups are mostly open. There will be more puppy portraits when all are bright-eyed. I saw one of the pups starting to play today. These are smart and good puppies. My testing is going great. "Pre-stressing" each day with mild exercises to stimulate brain development and encourage "submissive" behavior. This began at about 1-1/2 weeks. Pups will get wormed for the first time this week. Lots to do as pups grow. : ). I will get pictures up as soon as possible. Sorry for the delay this time...I know all are so anxious to see them. Extremely cute pups. I will put up a preview of those little eyes. : )

12/22/15- Pups' portraits are below. Olivia has named pups their temporary names-so fun! (since we need to call them something : ). Those names will be on this portrait. Names are 'animal' themes. Some of the portraits are a little blurry, since pups aren't still for long. I noticed that some of the eyes are not completely opened yet, but mostly. They are REALLY changing fast and getting cuter each day!

12/23/15- A big day today for pups. First day in big puppy box ...I was impressed that soon after pups were in their new home, one of them walked over to the potty side and did his "business." Great job! : ) They got a tiny taste of puppy mousse. All were wormed for the first time today.

12/26/15- Pups are 3 weeks old! Now eating solid food regularly, plus mom's milk. Doing great! We continue to handle and work with them several times per day.

12/27/15- Eat, potty, sleep, potty, play, potty....the new routine. : ) Good, happy pups! The heads popped up when the duck wing passed over head...so neat to see that natural drive take over at such a young age... (Thanks, again, for the wings, Todd)

12/28/15- Pups are aware of their surroundings now...eyes have been open for a week, and they now come when they see us (looking for food, ha!), and wag their tails, rather than merely reacting to sights and sounds. This coming Saturday begins the time when pups should have lots of visitors to begin their socialization phase of development. They will be 4 weeks old. Puppy parents, call if you'd like to come see the pups in person, then picks will be the follwong weekend, 1/9/16.

1/3/16- Happy New Year! Pups are 4 weeks old now (as of yesterday), and are changing everyday, not only in size, but also in their ability to discern sights and sounds, and have better agility. You'll notice in the later pictures how much they've grown. Playing more now, and eating more every day. Love those duck wings...very birdie kids! Thank you to the families who visited this weekend. Good for pups as they go full on into the socialization process...lots of new sounds, things to see and touch, as well as the first trip outside this week. The weather is So perfect for us now. Next weekend is that long-awaited "pick time"... so exciting for all! You will be hearing from me for specific appointment times. I will insert several pictures below, which span the time since the last time. Enjoy!

1/4/16- So many things are always happening with the pups, sometimes I forget to mention. Pups will get their 3rd worming in a couple days. Play is harder, and with most of their baby teeth in, there is a loud yelp often when litter mate uses them for a teething toy. This gets much more intense, but necessary for their development. Pups are getting better each day about not going potty in their bed, but instead walking over to their potty area. Good puppies!! Today finished adding pictures from past few days. Will have current ones as well soon.

1/5/16- Pups had their first "taste" of the outdoors today - only for a few minutes to give them a preview. Will do more exploring most likely on Friday. Pics soon.

1/7/16- Play is much harder now. Pups were wormed for the 3rd time yesterday. Took "Bear" pics today. Web page is messing up.. all pics will be up as soon as I can get cooperation from the digital world. : /
1/8/16- Web edits working again, yay! Dog Webs is great! Pups got a sponge bath this morning...want to smell and look great to meet their new families. Hope to get those nails clipped- all 160 of them!! Another trip outside before the weather deteriorates.

**Picks have begun...I will note pups as they are chosen beside their picture with Bear. : ) I'll write "CHOSEN."

1/10/16- Thank you to all of the nice families who came to meet and choose their new baby. All pups are chosen now, and I think everyone got the pup they wanted, generally, regarding color and gender. We appreciate all of you, and feel good about the wonderful new homes our pups will enjoy. I will be sending information to you as time passes, to help you prepare for your new addition. We want it to be a successful time for you and puppy. Please read what I send, then take it or leave it. : ). It may become more than you want, but that's me...I care even AFTER they go, wanting a good and happy life for all of you. : )

1/15/16- Time sure is flying by! Those who visited their pup during this week, after "pick" weekend, no doubt could see a huge growth spurt and developmental change in their pup! Pups are changing in greater amounts each day, and SO, so smart!! I have taken lots of pictures, but keep taking more, and keep not having time to post them. I will try to get a few up today. This is the very busiest time for us with the pups. They are growing in their abilities, and need challenges. We are making the best effort to stay ahead of them. Ha! You should see how well they respond to my gentle poke, and "CHHt" (like the Dog Whisperer does to correct). They are in the heat of their chewing and nipping time, since they are teething, so it is very important to teach them just WHAT they are allowed to chew on. They are responding beautifully. You would be so proud! Pups were wormed for the 4th time yesterday. They love it outside! In the mornings, picture 10 little ones litterally tumbling down the steps. : ). They then get right to the business of going potty. (not to imply that they don't go in their inside puppy pen anymore...we have a ways to go on that, but super progress is being made.

1/22/16- Time is REALLY flying by...these babies sure keep us on the move! Puppies went for their well-puppy check with Dr. Barbara Miller yesterday. We had lots of fun being there - we were all treated royally. Pups are all in perfect condition...and were such good puppies! Be sure and take pictures of your first vet visit...I can't believe we forgot to do that. Juggling those little ones was all we could do. But we sure intended to take some. Pups were wormed by us for the last time. They will be ready for another when they go to your vet. I hope all have made their appointments. The first round of puppy shots needs to be completed right away. Pups are loving the crisp days, especially when the sun is shining. Today is a good one. Puppies have begun crate training, so lots of "low sleep" nights for us. They are doing well, though. They cry to go out, so we take them. All dry crates so far. Only the second night. Pups' last portrait was taken today. They are going to be SO cute! Nipping-free pups are close to accomplished. A couple of stragglers. :)

1/25/16- Tonight will be the first time that no "potty side" is be available to them inside. Pups have been doing great in their crates. Losing a lot of sleep still (me- Not them ha!), but only because I am on 10 different pups' "night schedule." You'll get things figured out in no time! Not a single crate accident yet (they tell me everytime they need to go out-often! : P)-such smart puppies! Pups are eating all dry now. I only do what I do for my big dogs...sprinkle a bit of water around on top...not enough to drip through. They are eating about 2-1/2 cups per day +/- (divided into 3 meals). Be sure to let me know if you plan to change food, and I'll give you enough to transition to the new food. Puppies had their 4th and final puppy protrait at 7 weeks. Oh my...wait till you see them!




Puppy Portrait 7 weeks

(Pictured in birth order-of course most are sleepy)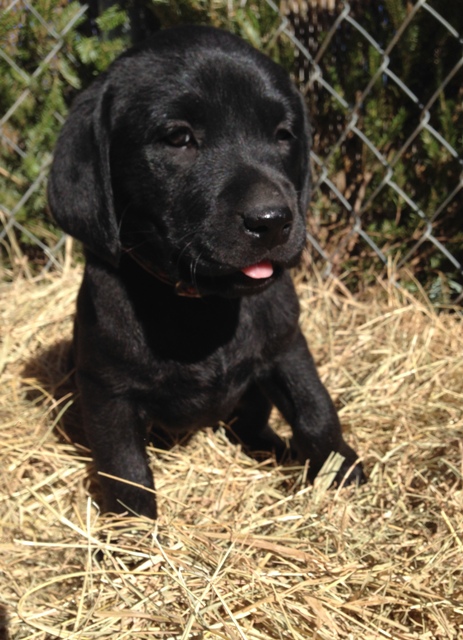 Maggie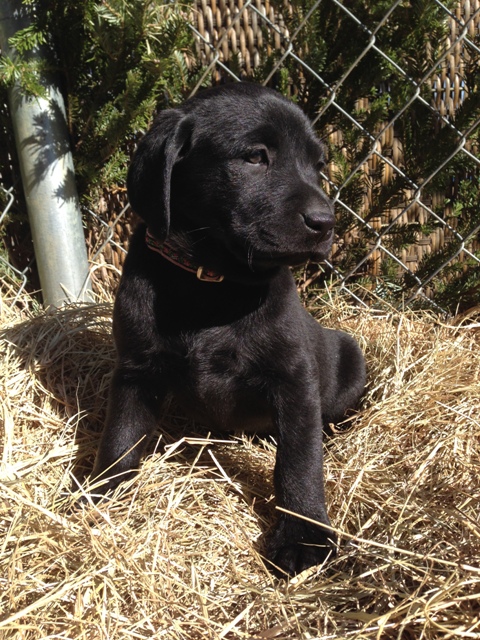 Maggie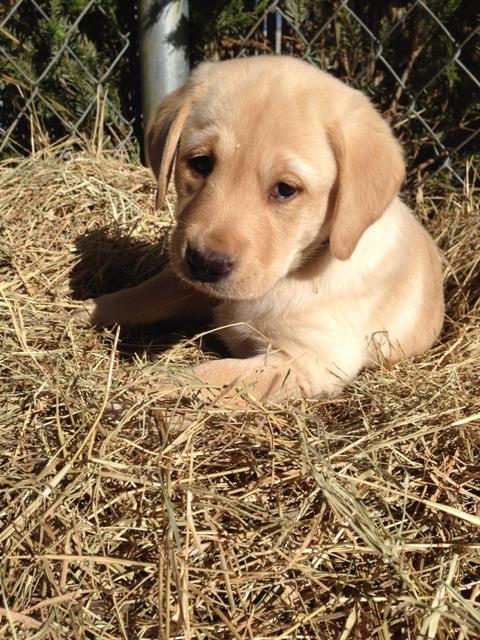 Cheyenne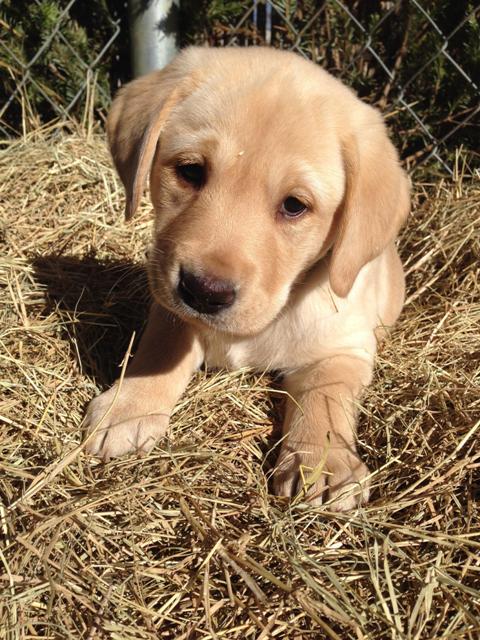 Cheyenne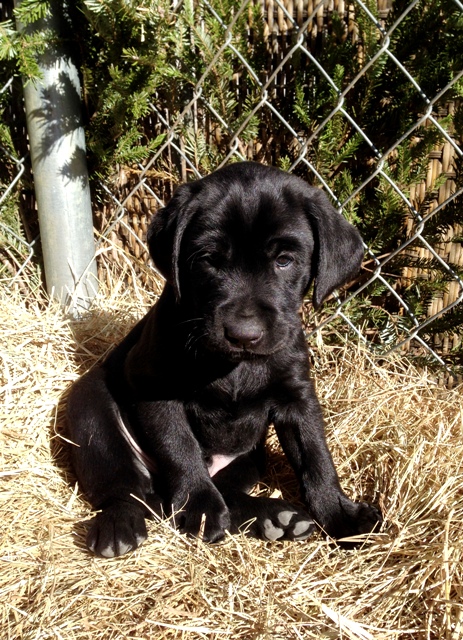 Duke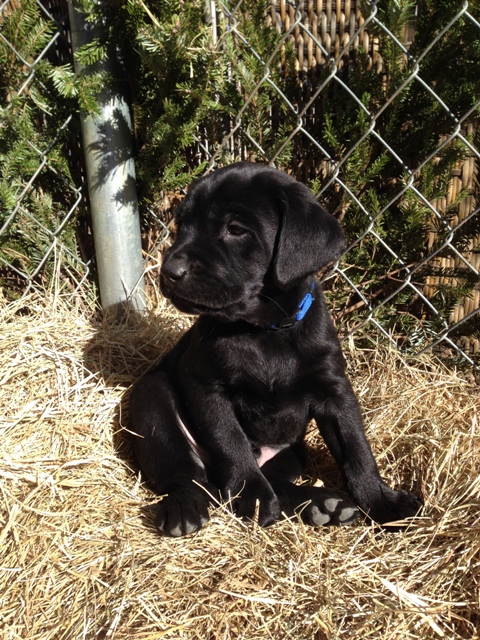 Duke
Rocket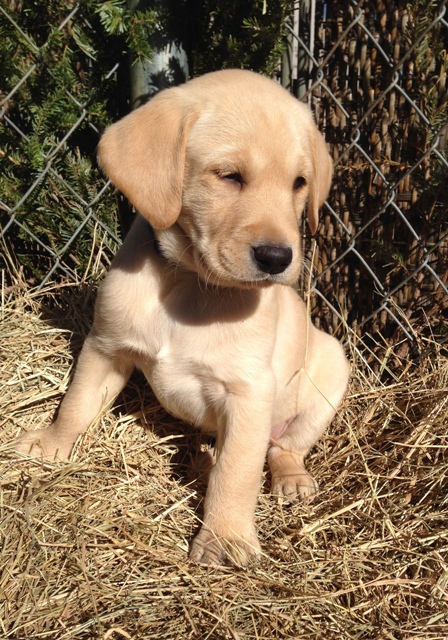 Rocket
Jet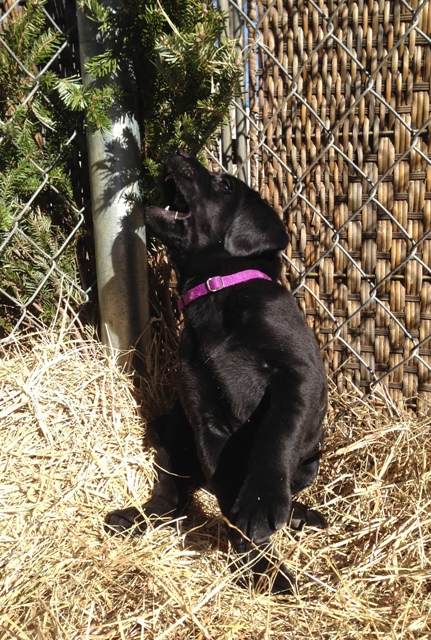 Jet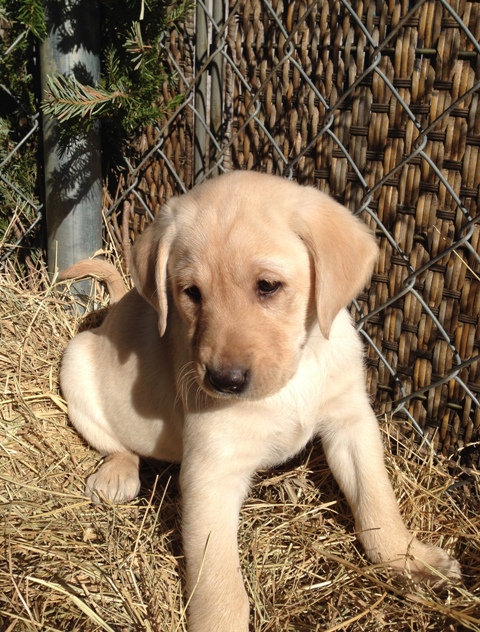 Finley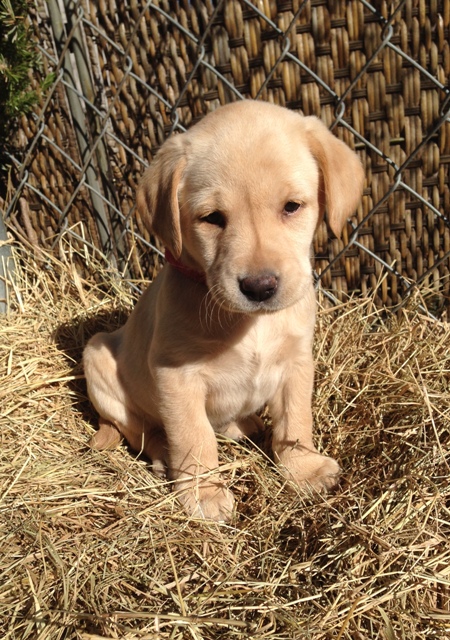 Missy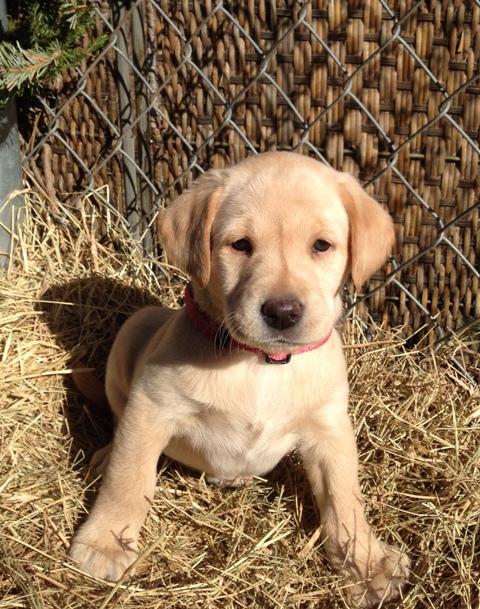 Missy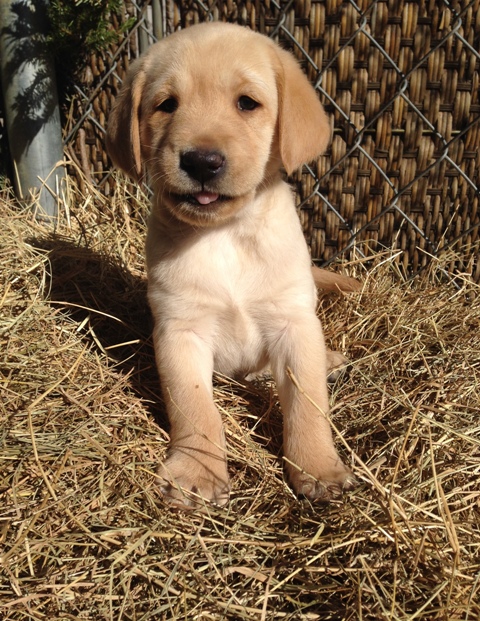 Buck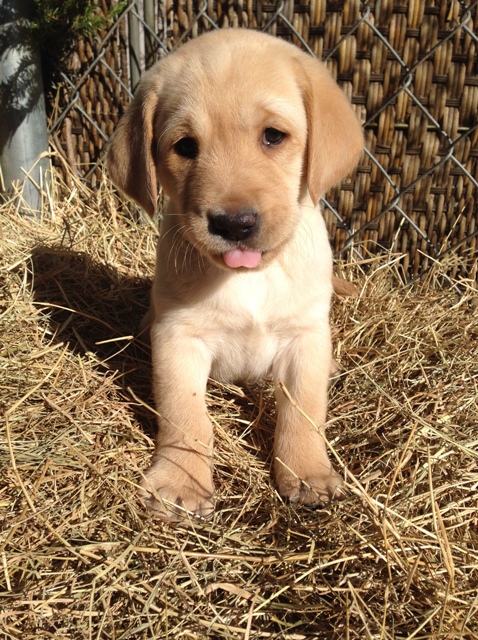 Buck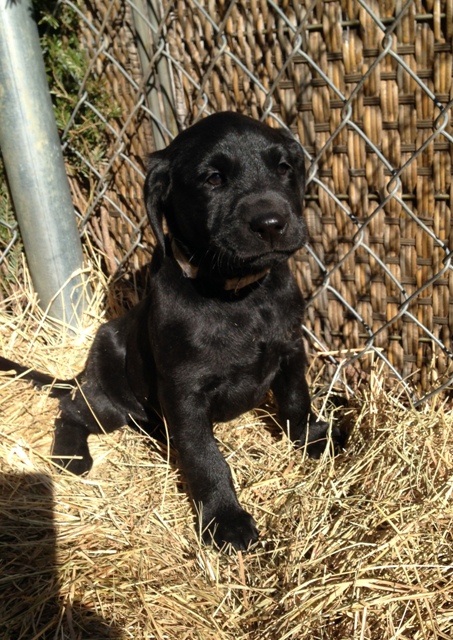 Bella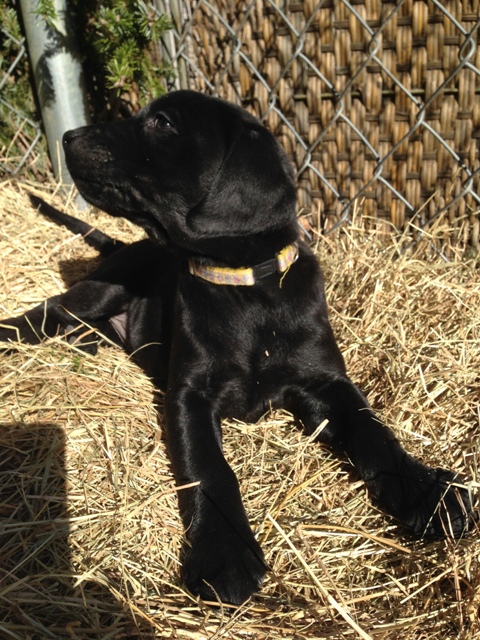 Bella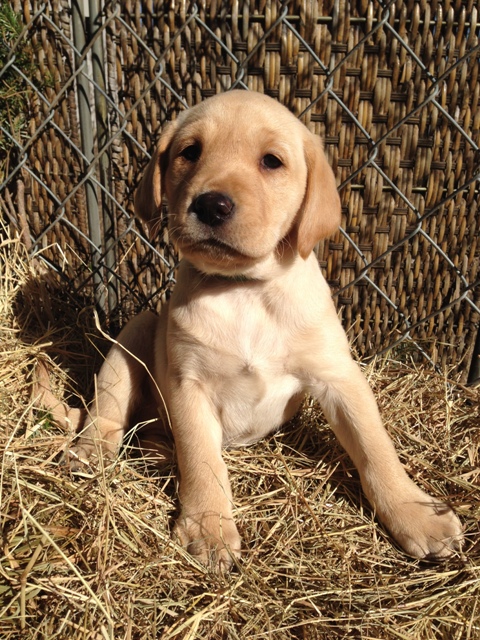 Oakley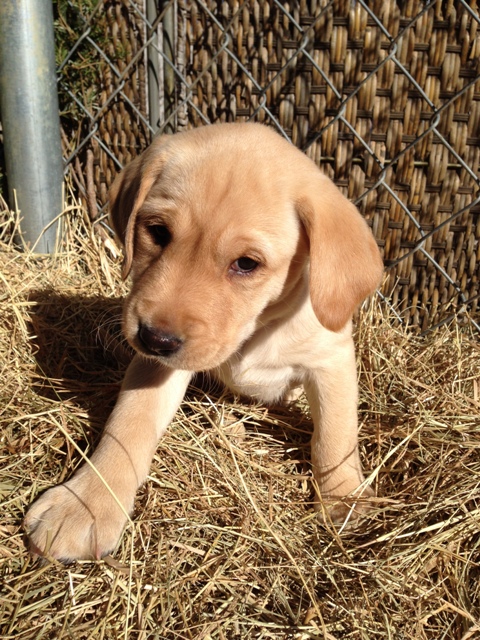 Oakley
__________________
Pictures taken this week 1/12- 1/15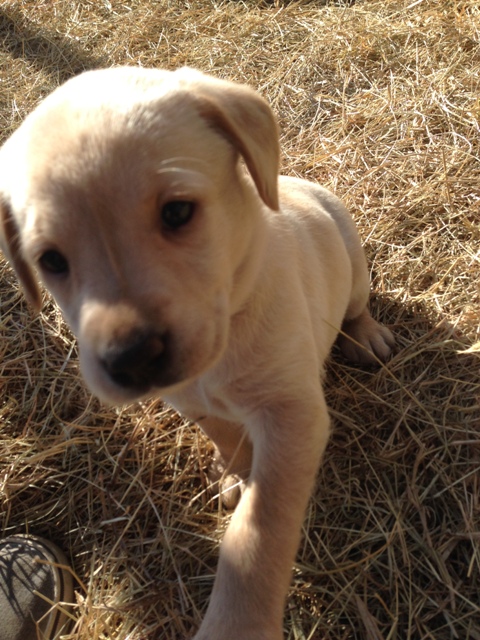 Missy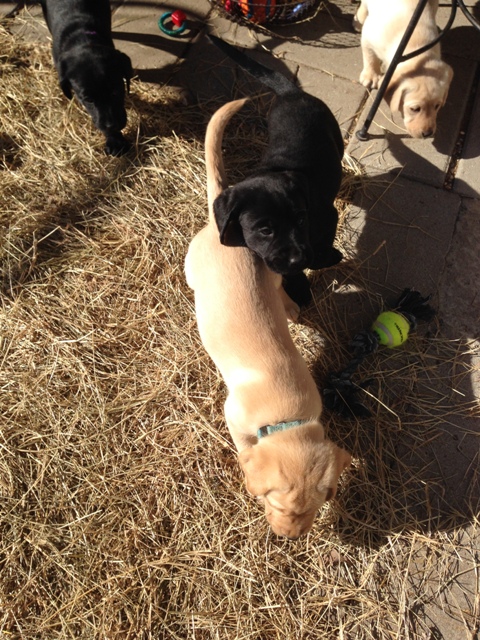 Oakley and others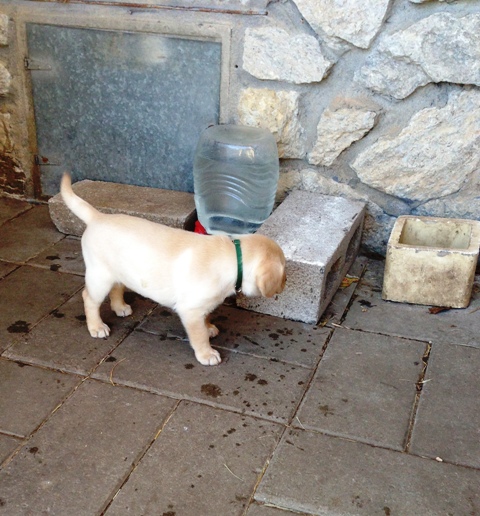 Cheyenne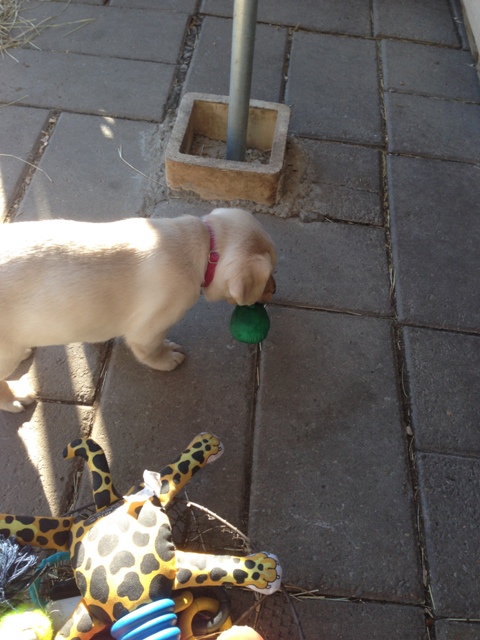 Finley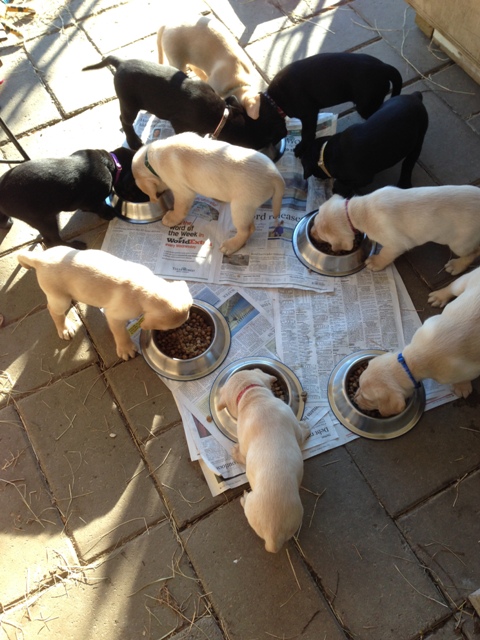 Clockwise, beginning at 6 o'clock:
Missy, Buck, Jet, Cheyenne, Maggie, Oakley, Duke, Bella, Finley, and Rocket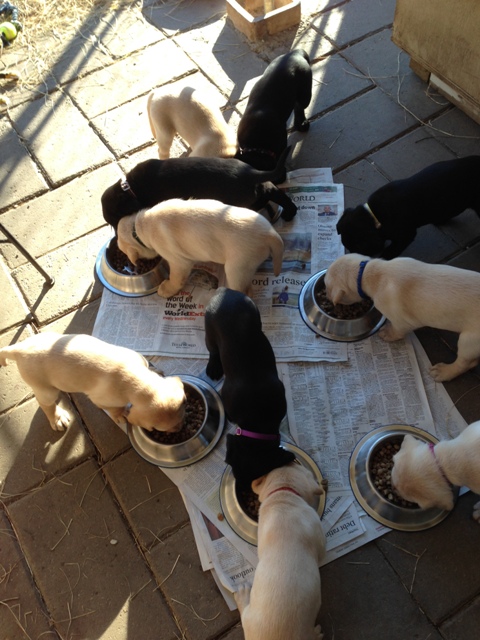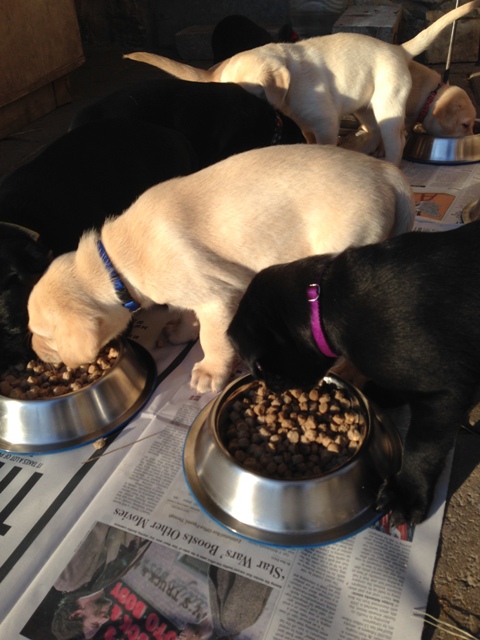 Rocket and Jet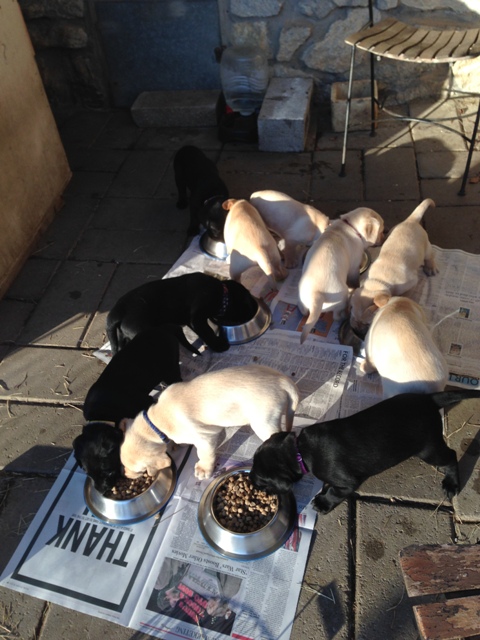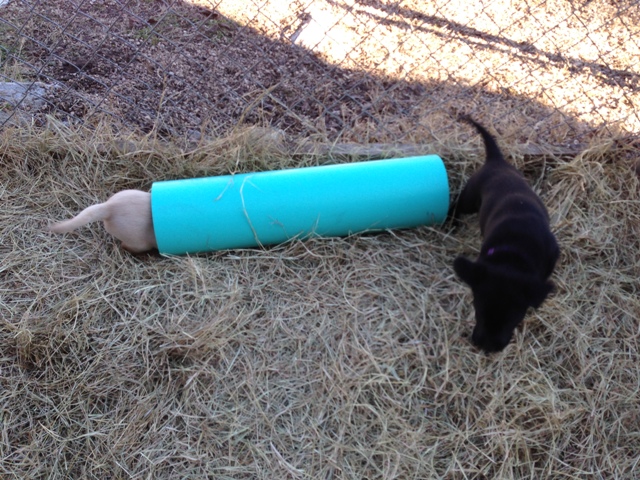 Buck and Jet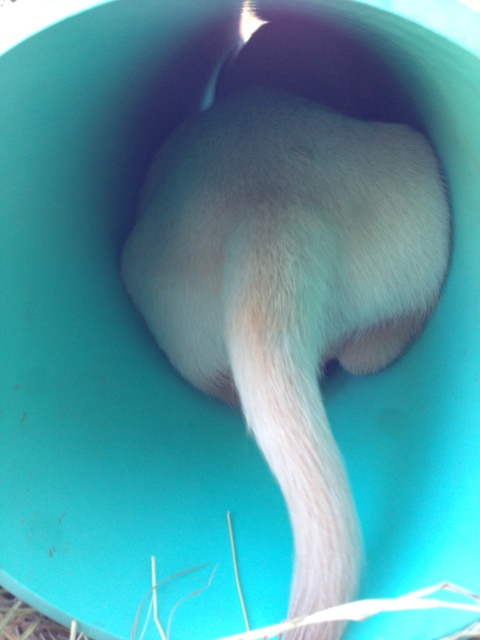 Buck : )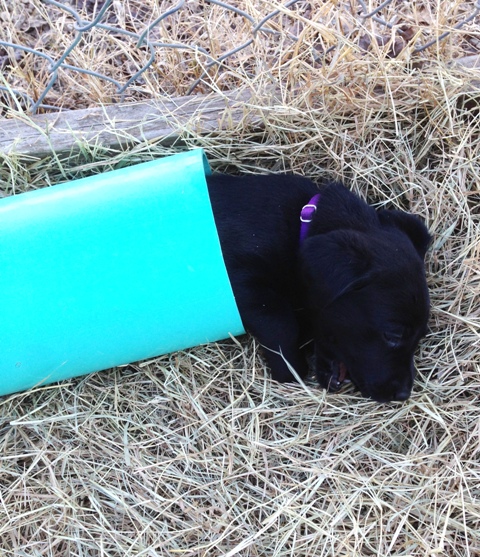 Jet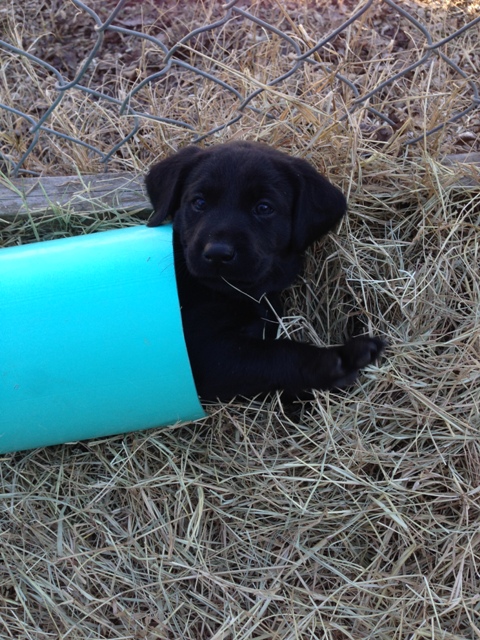 Jet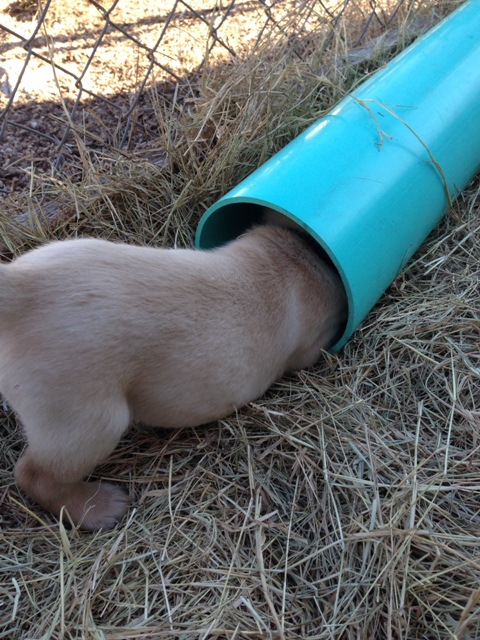 Buck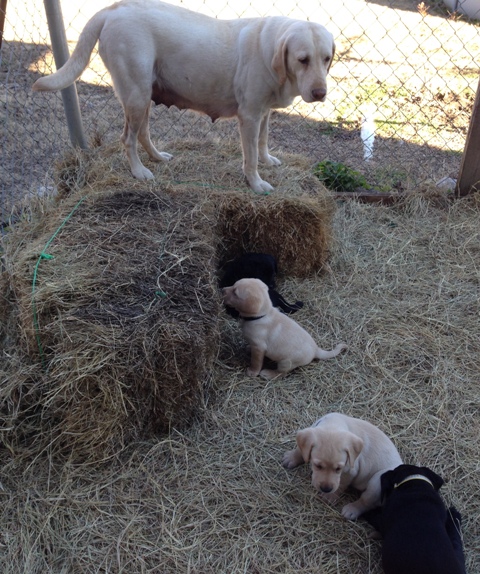 Jazz, Buck, Rocket, and Bella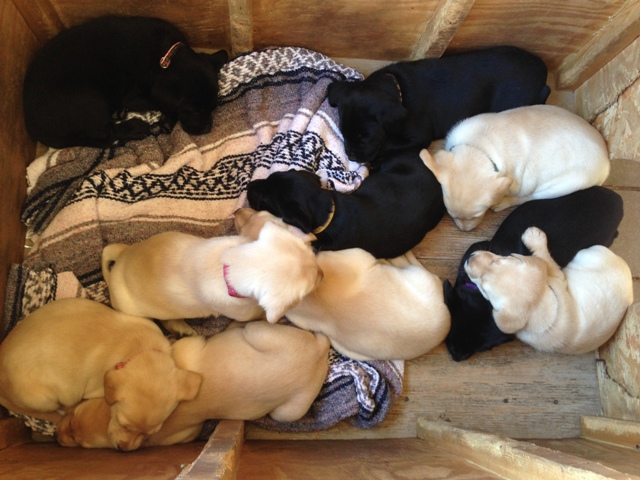 In their "Big kid" house outside
Top left-Maggie, top right-Duke, middle B-Bella, lower right B-Jet;
Yellows are not so easy in this one: From Left-Missy; Under Missy-Oakley; Above Oakley is Finley; Under Monkey is Rocket; top right Y is Cheyenne; Lower R yellow is Buck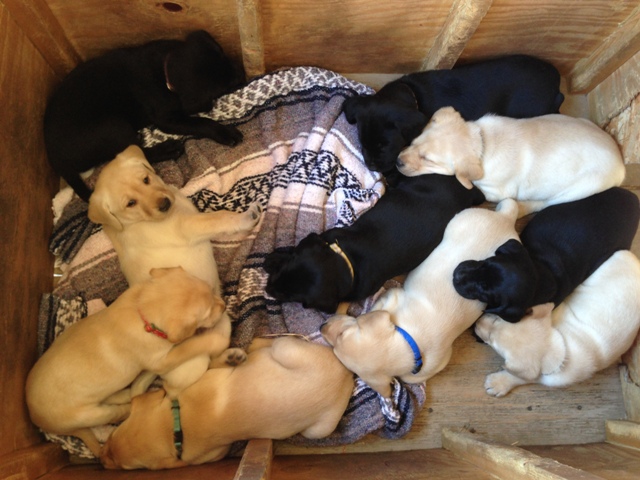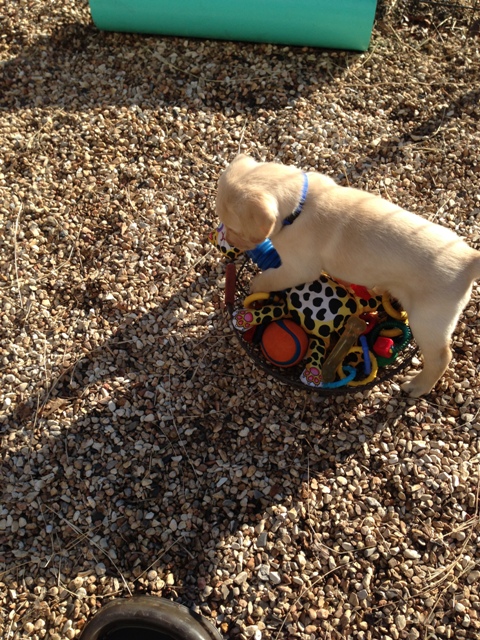 Rocket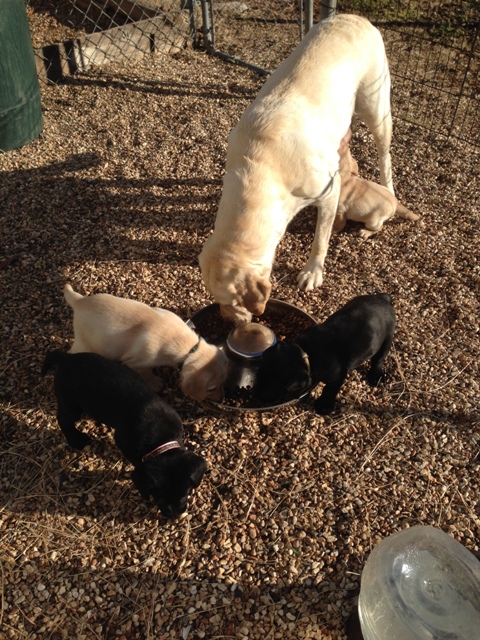 Jazz eating with Maggie, Cheyenne, and Bella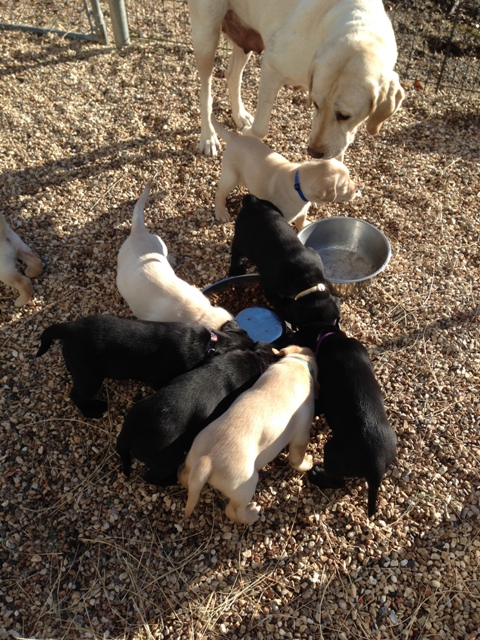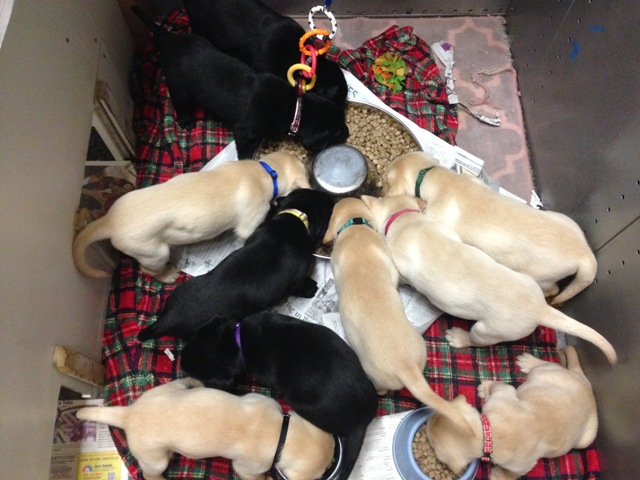 First pictures with new collars
Clockwise starting at the very top: Duke, behind toy-(wears red, white and blue collar); Cheyenne, Finley, Oakley, Missy, Buck, Jet, Bella, Rocket, Maggie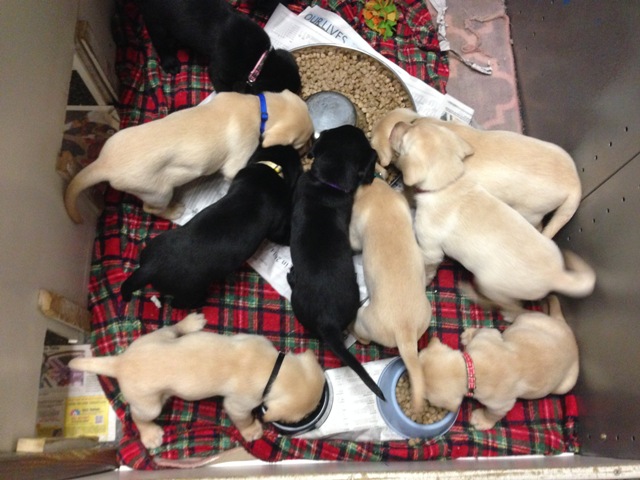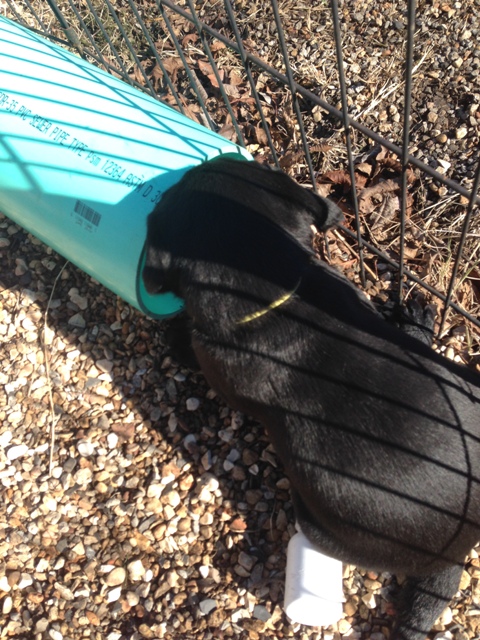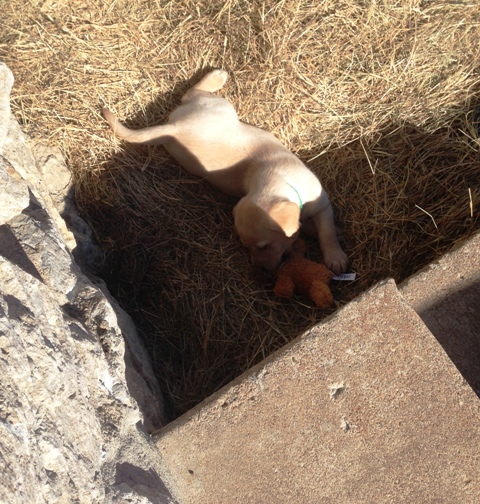 Left: Bella and Right: Cheyenne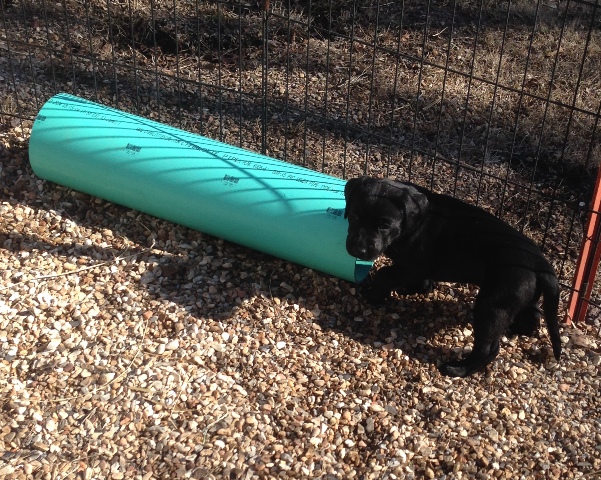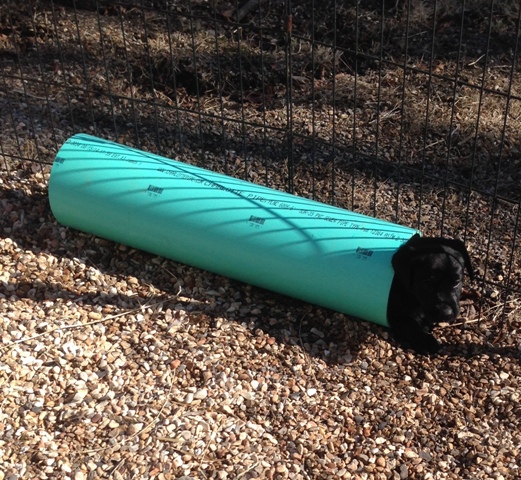 Bella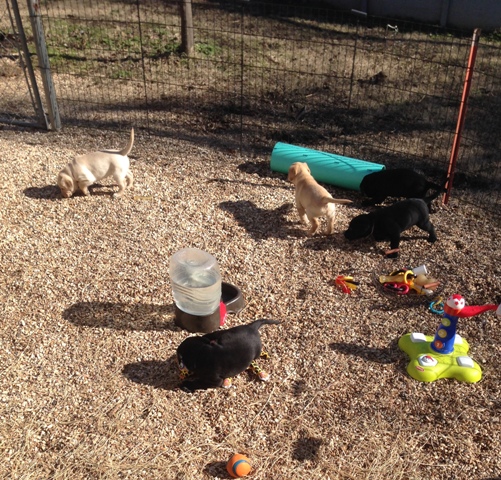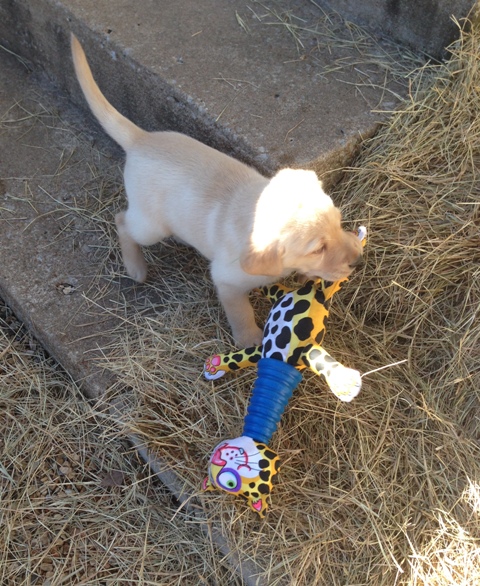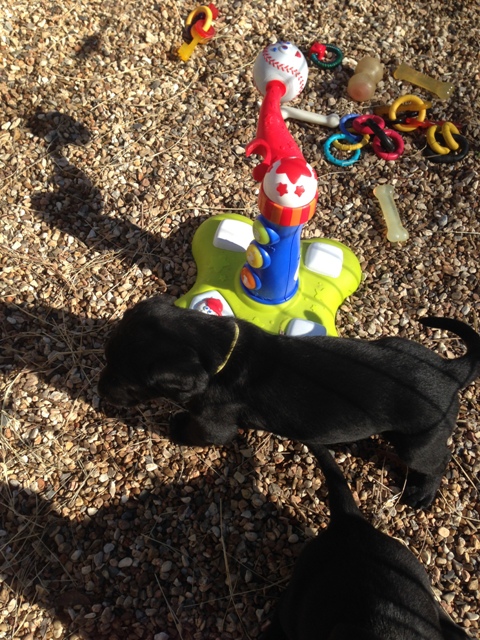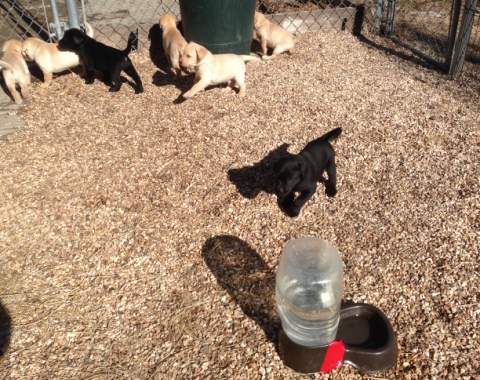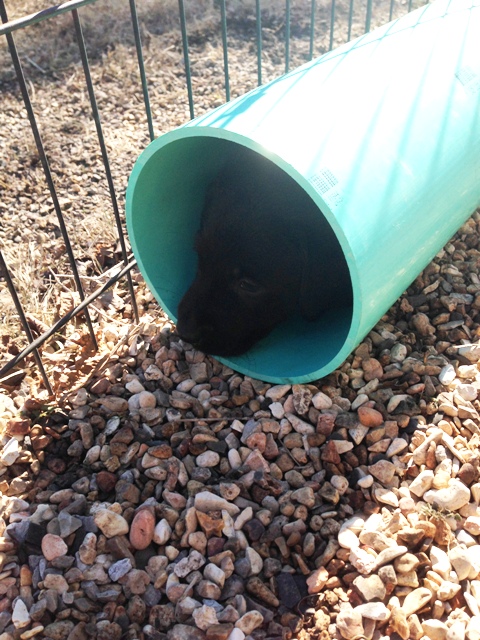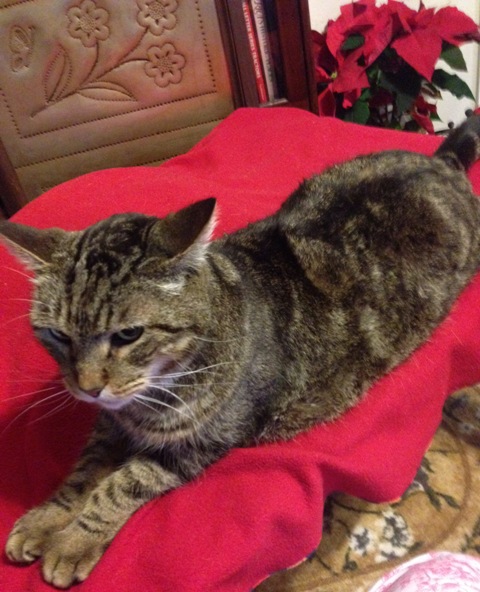 4-1/2 Week Old Portraits...With HUGE Good Old Bear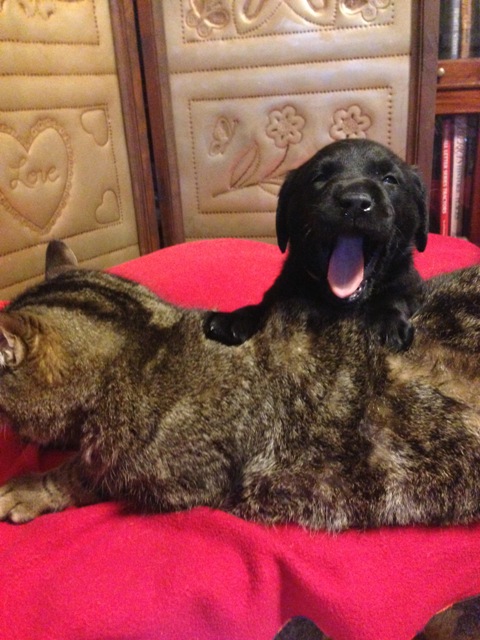 1st Born - Black Female- Maggie (Jag) - (wears pink collar)- CHOSEN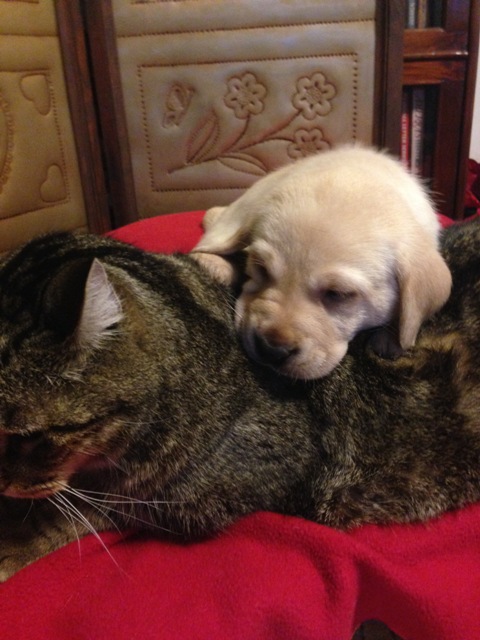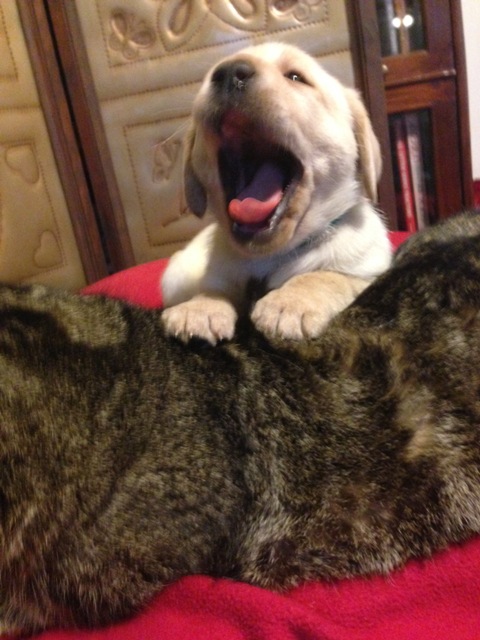 2nd Born - Yellow Female- Cheyenne (Husky)- (wears dk. green collar)- CHOSEN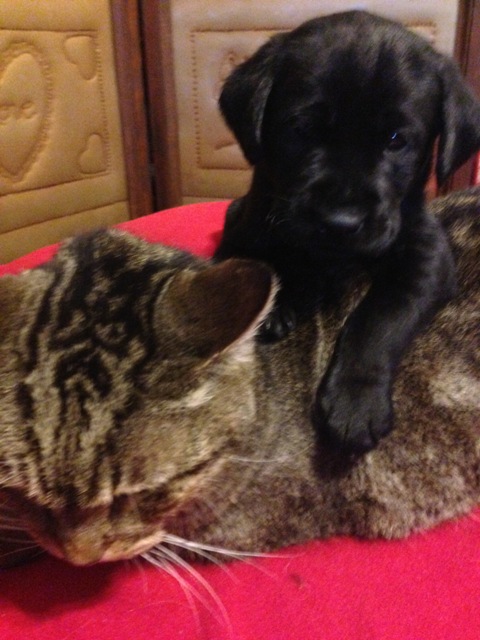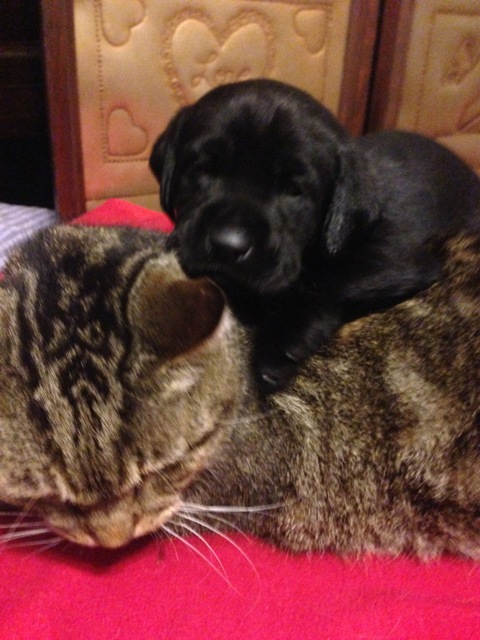 3rd Born - Black Male- Duke (Coyote) - (wears blue collar) - CHOSEN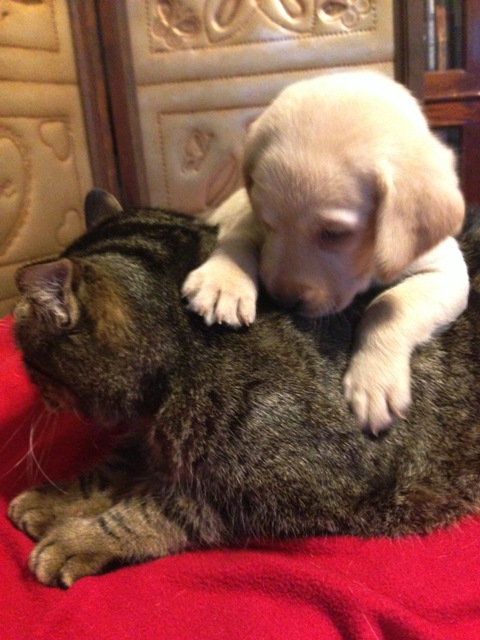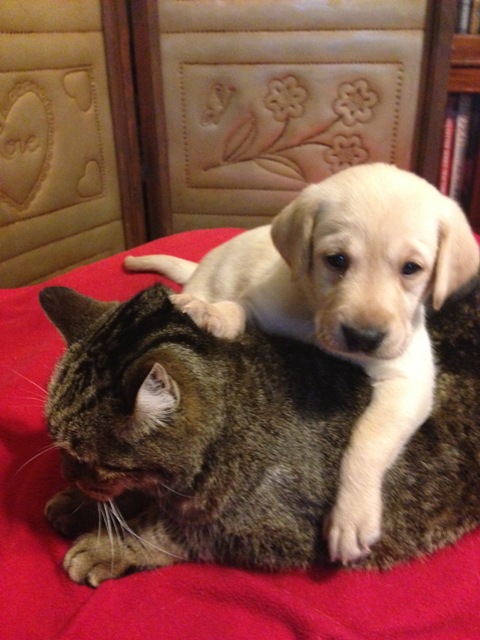 4th Born - Yellow Male- Rocket (Tiger)- (wears blue collar)- CHOSEN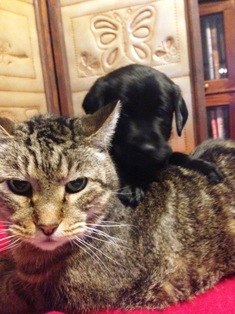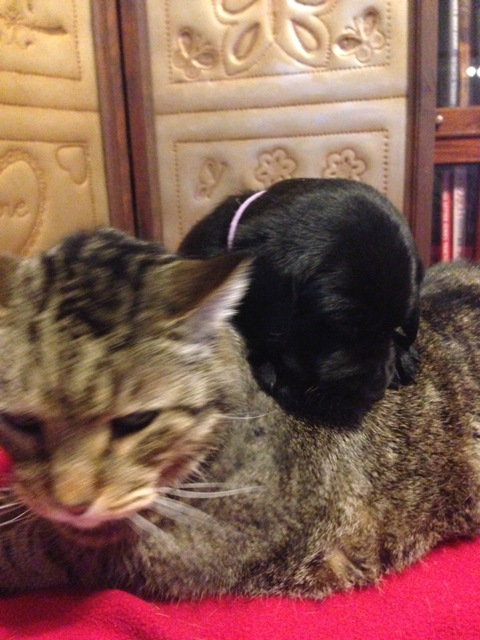 5th Born - Black Female- Jet (Horse) - (wears lavender collar)-CHOSEN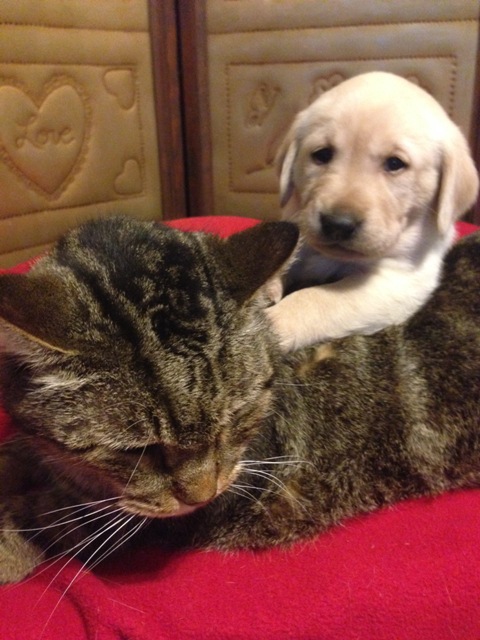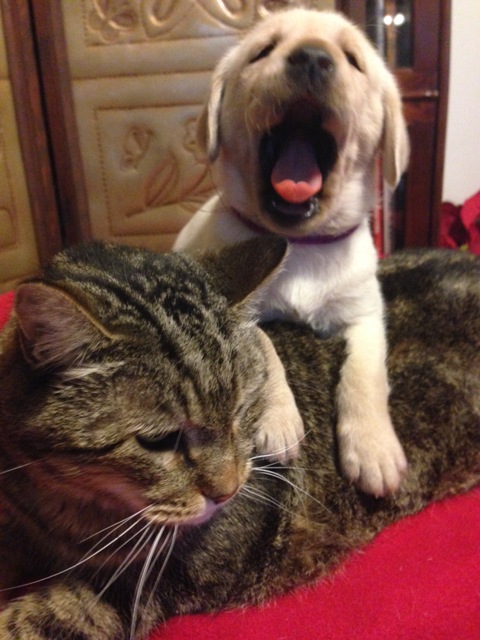 6th Born - Yellow Female- Finley (Monkey) - (wears purple collar)- CHOSEN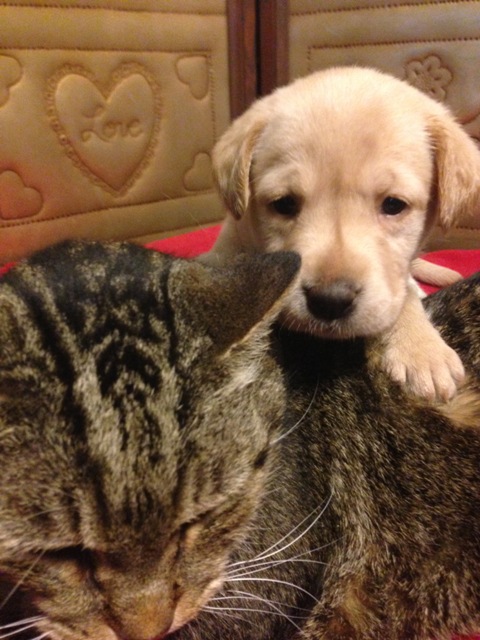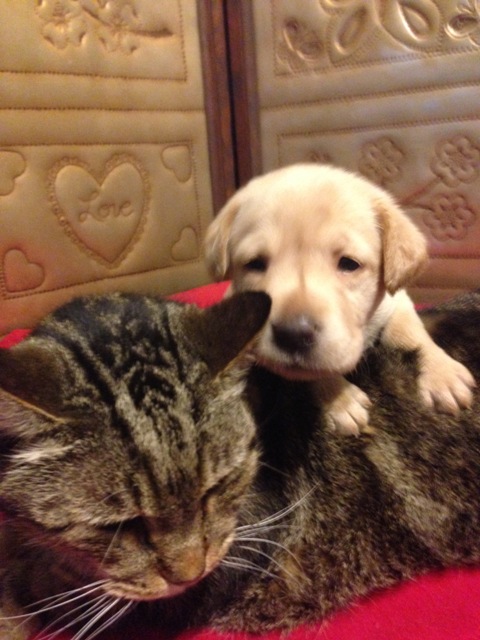 7th Born - Yellow Female- Missy (Bunny)- (wears red collar)- CHOSEN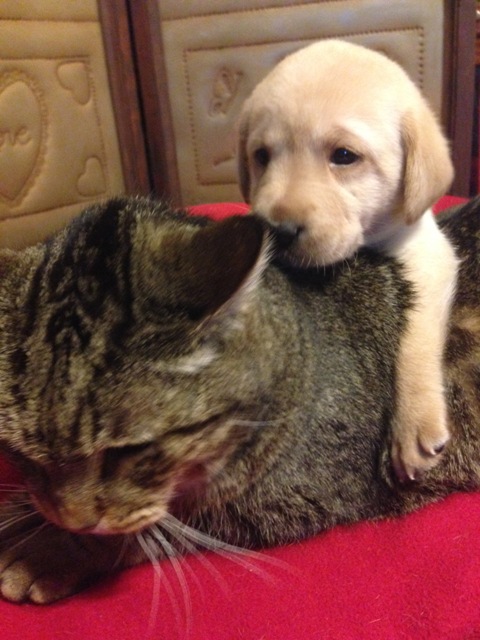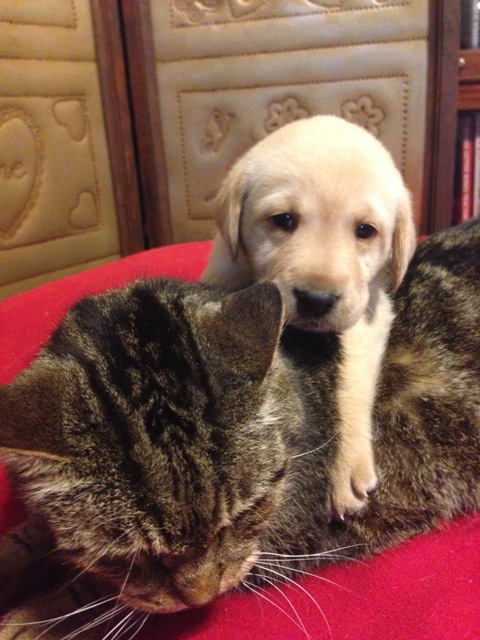 8th Born - Yellow Male- (Buck) - (wears black collar) CHOSEN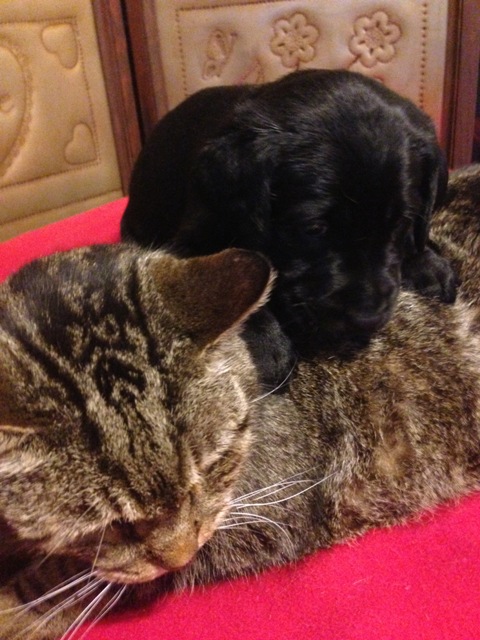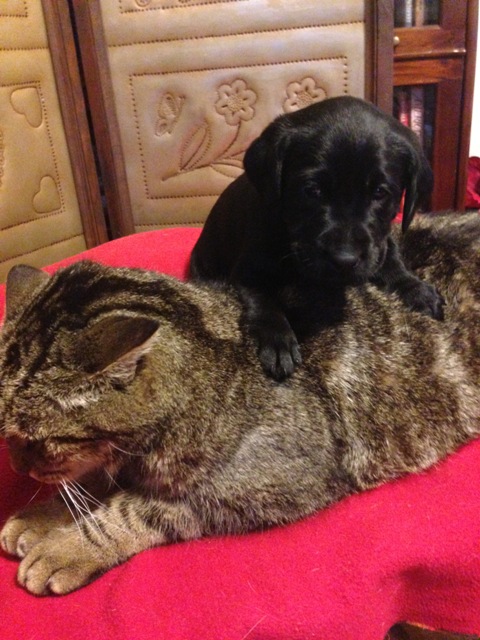 9th Born - Black Female- Bella (Bee) - (wears yellow collar) -CHOSEN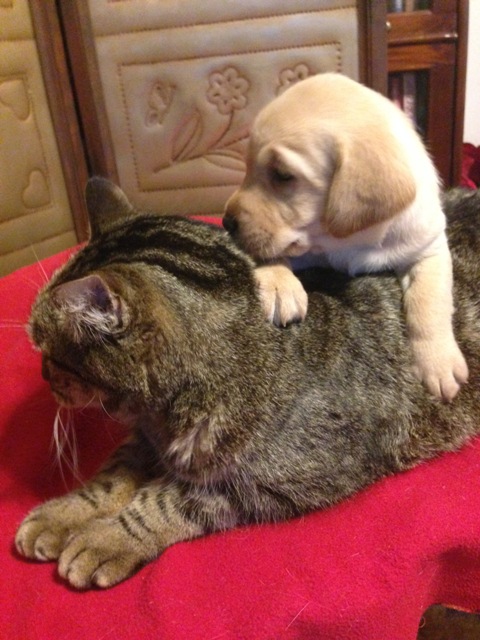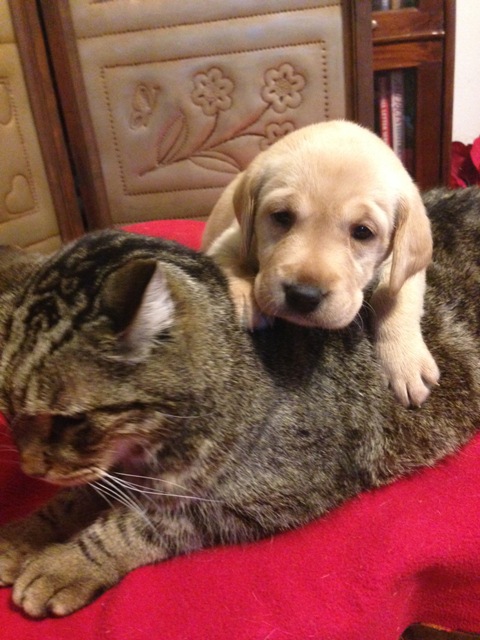 10th Born - Yellow Female- Oakley (Dove)- (wears lt. green collar)- CHOSEN
1/3/16 - 1/6/16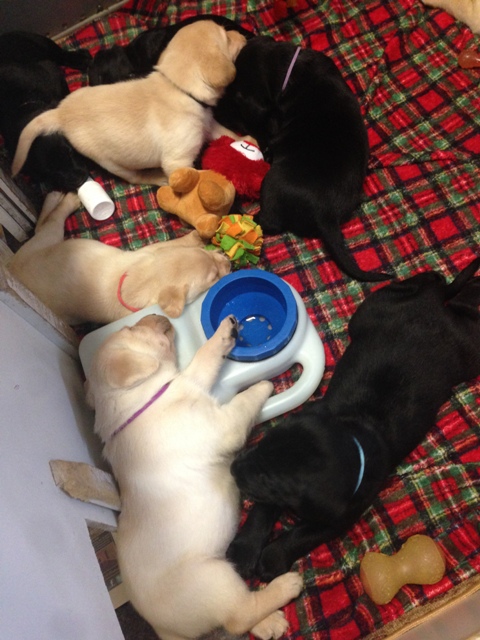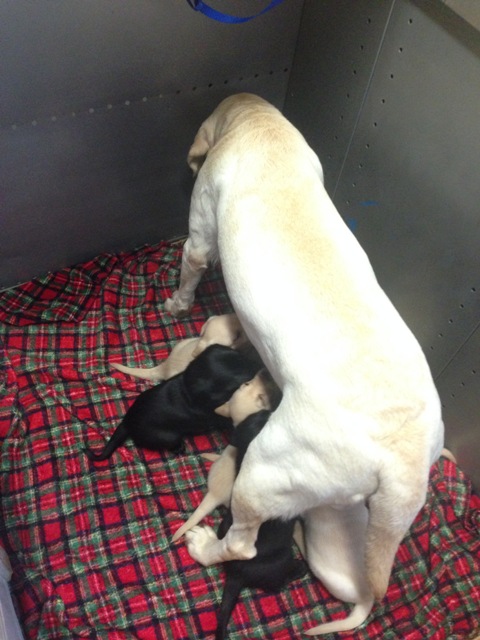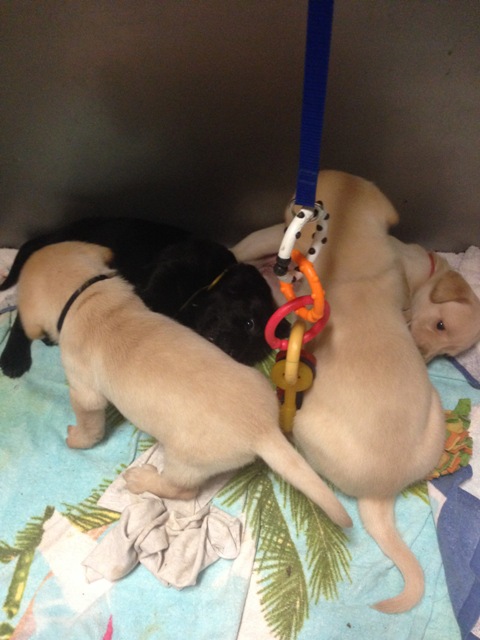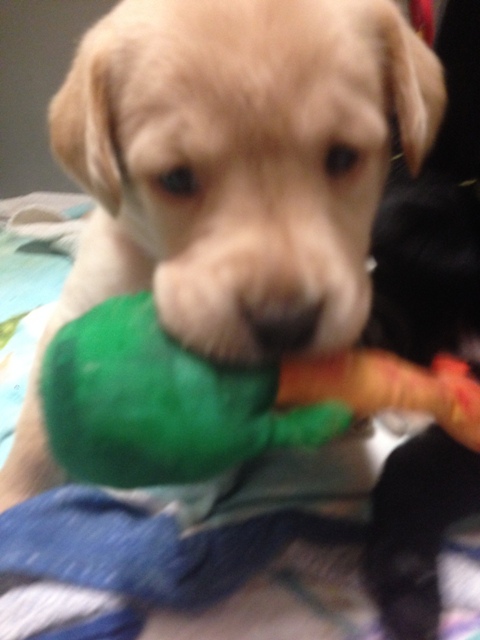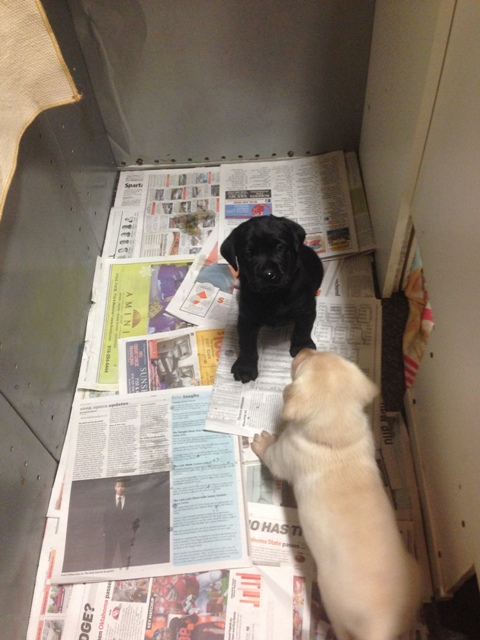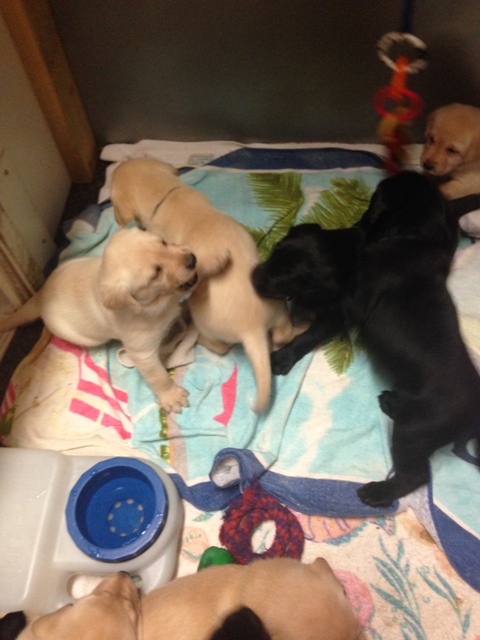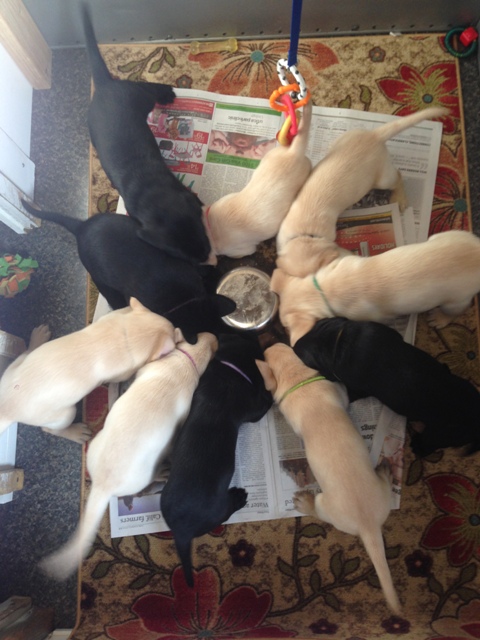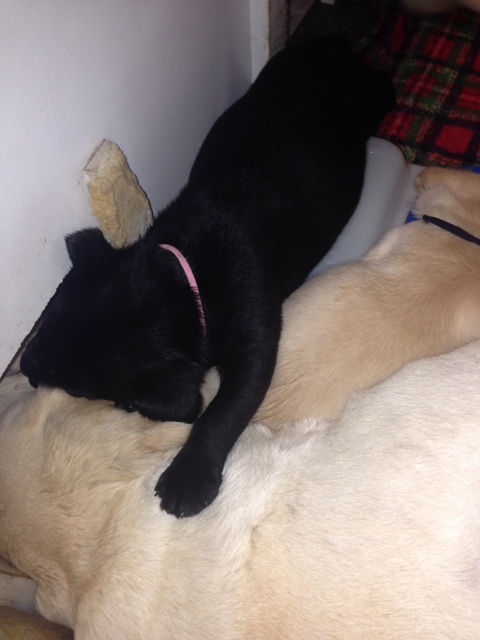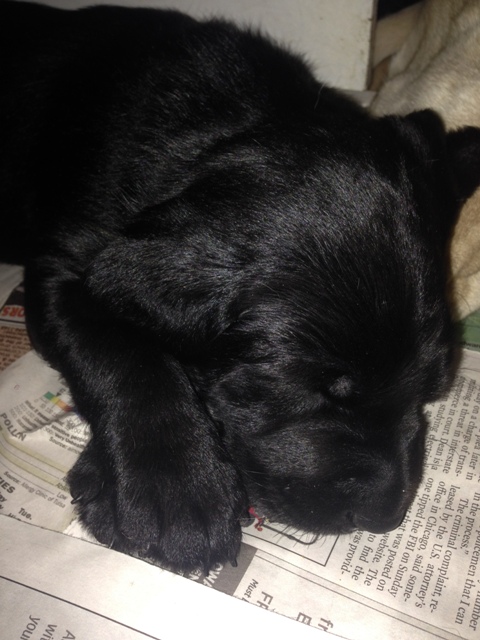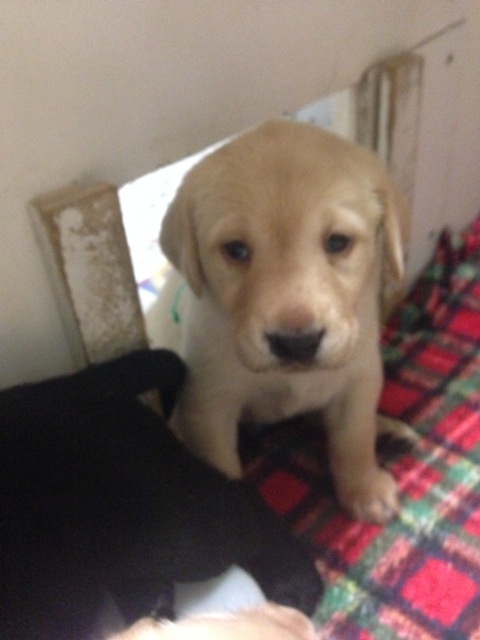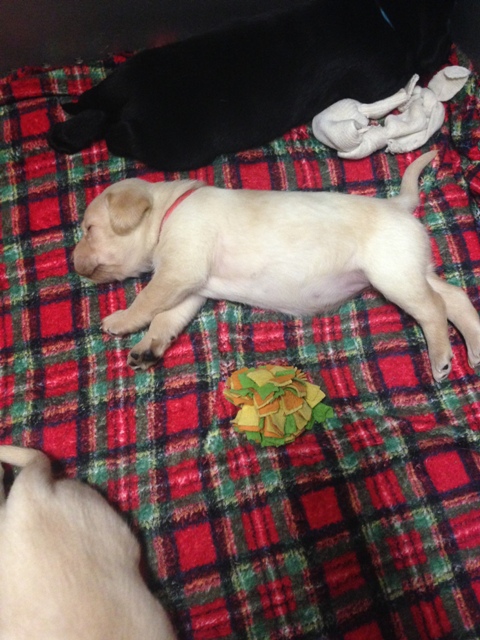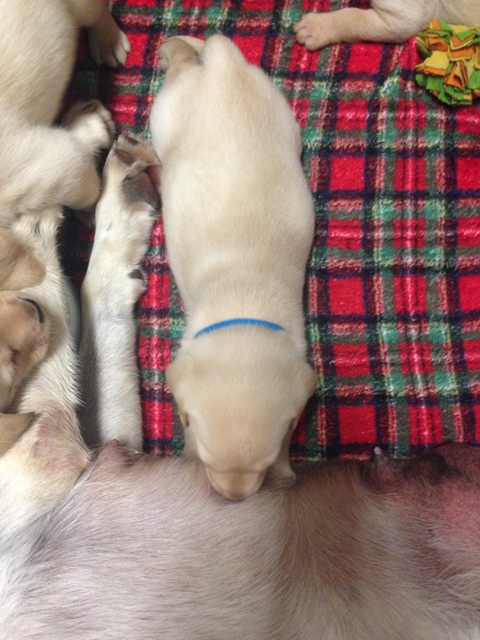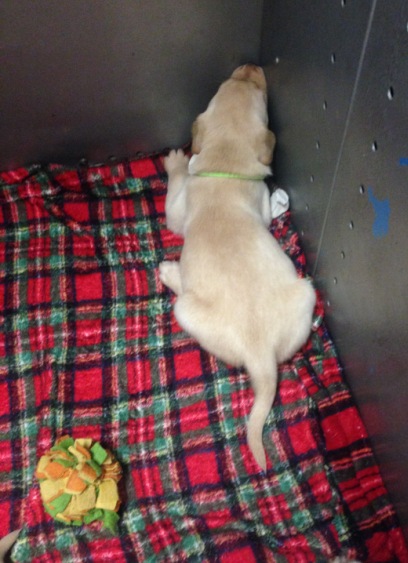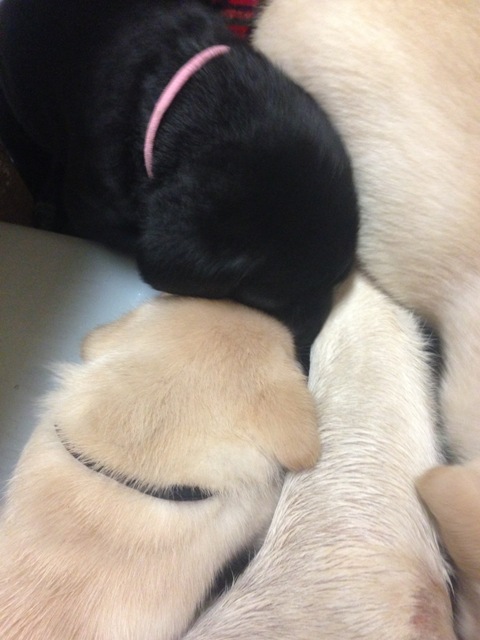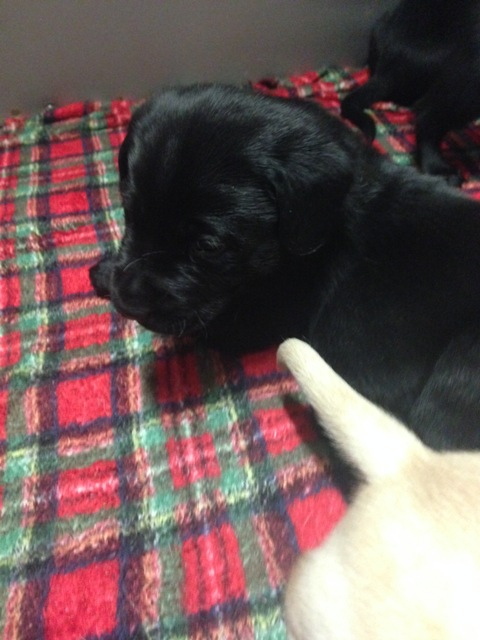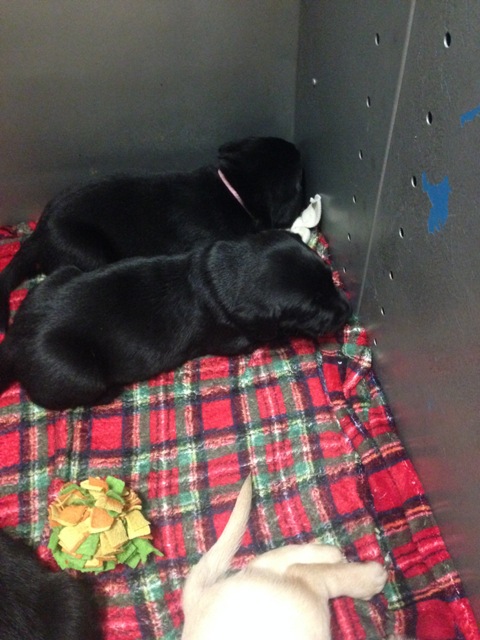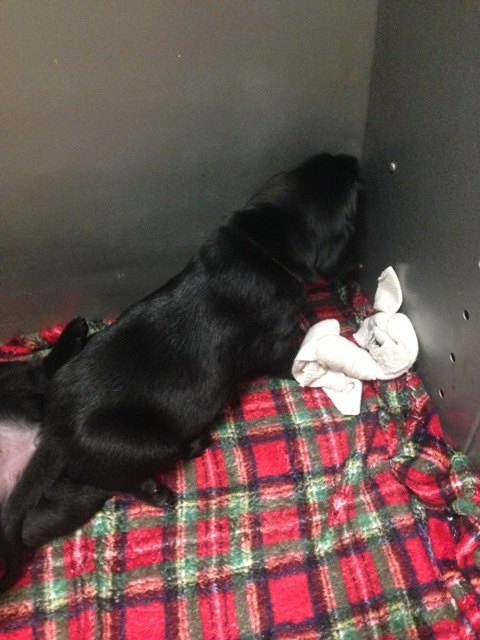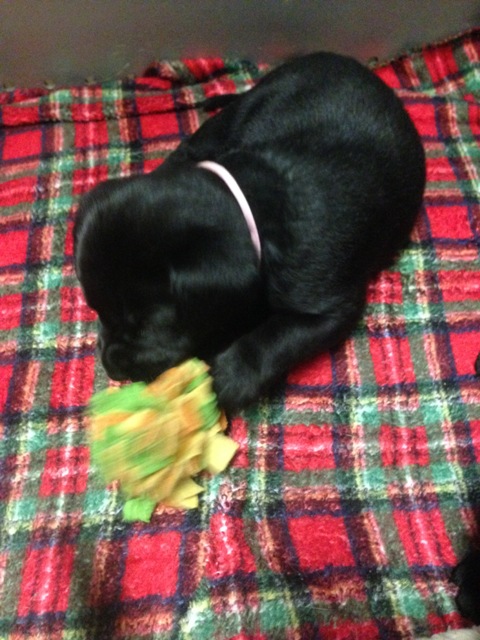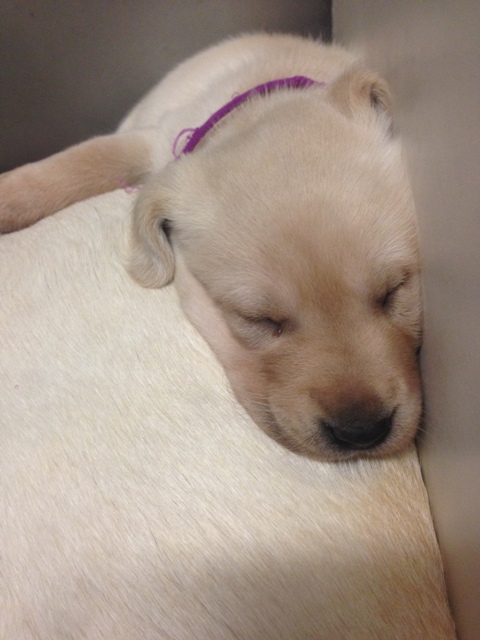 Taken From 12/29/15 to 1/3/16
1/3/16-Not so much room around the dish anymore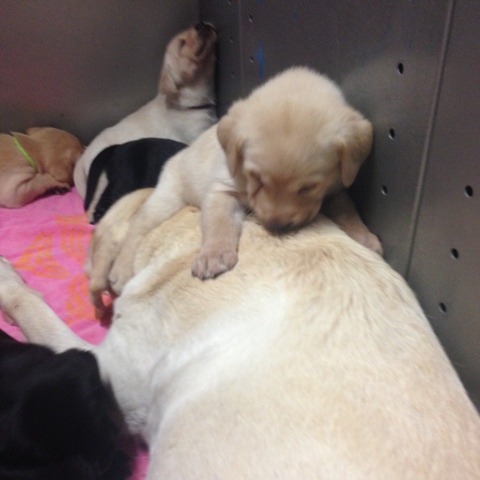 1/2/16-Husky, the climber (funny folds of skin on her face : )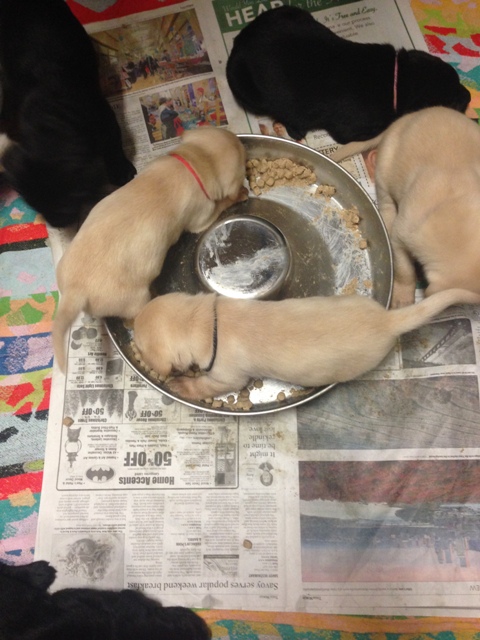 1/2/16-(Bunny and Buck think there are advantages to being small : ))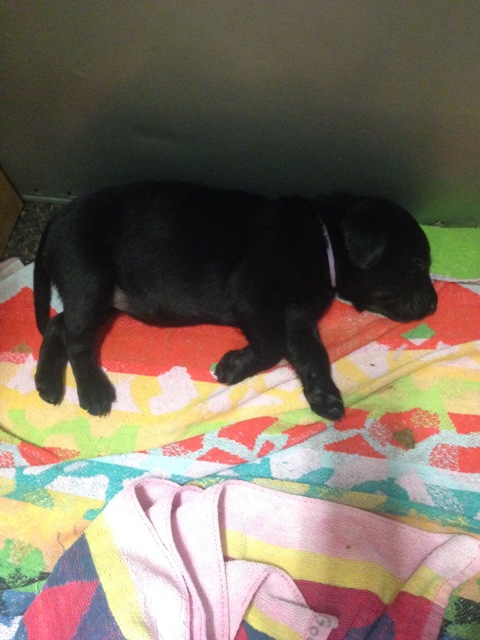 1/2/16-Beautiful Horse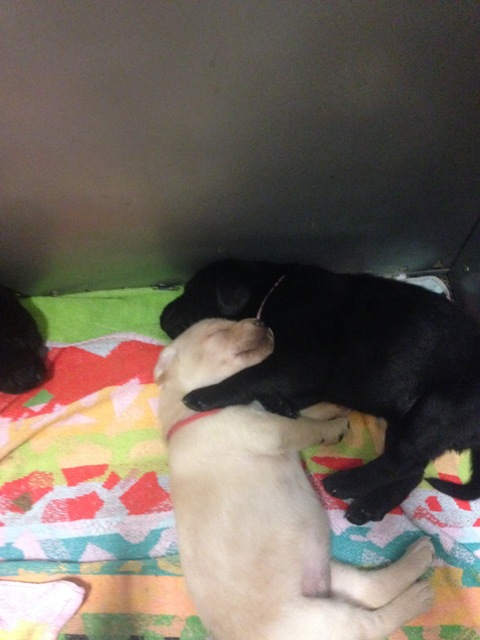 1/2/16-Sisterly Love-Bunny & Bee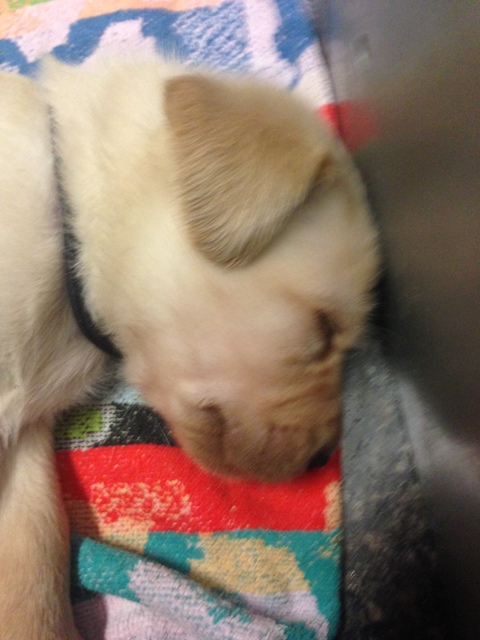 1/2/16-Buck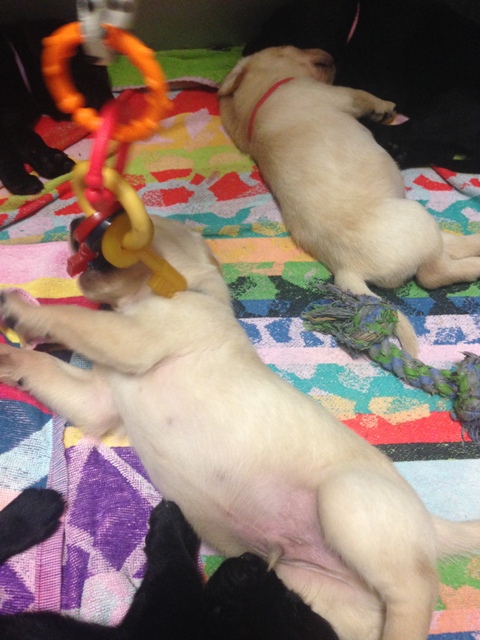 1/2/16-Tiger : )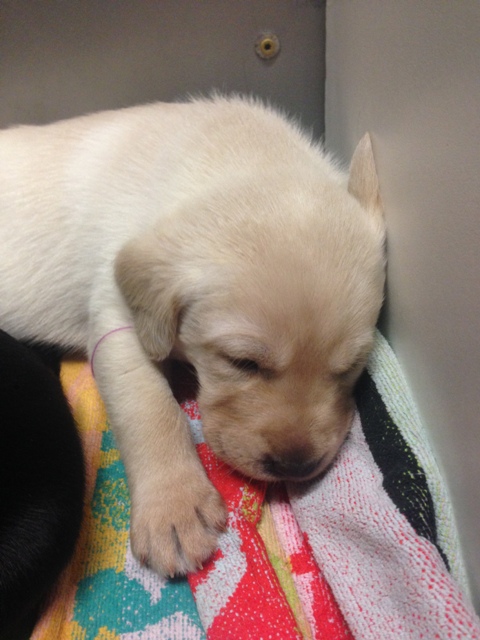 1/2/16-Monkey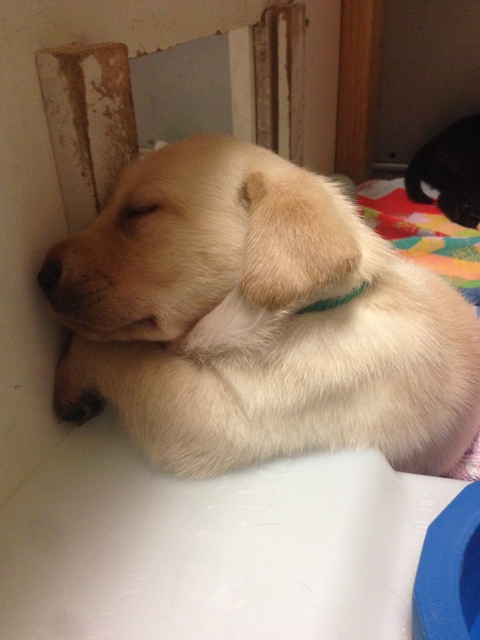 1/2/16-Husky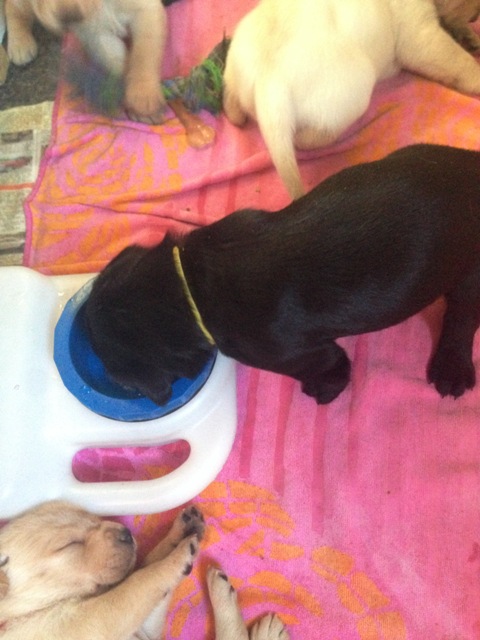 1/2/16-Bee taking a drink, while Bunny sleeps nearby, and Monkey walks away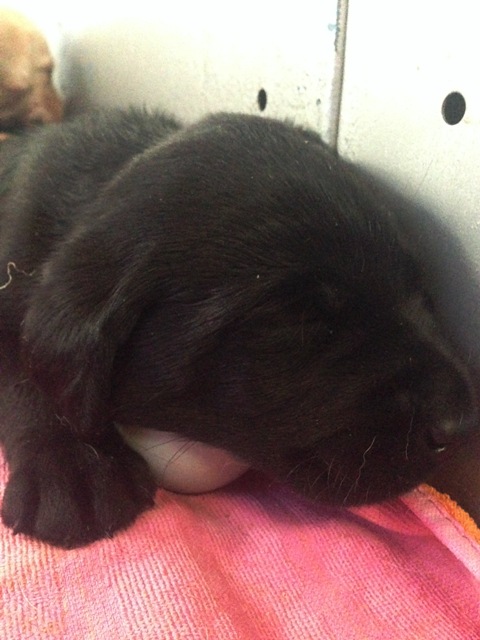 1/1/16- Duke is REALLY "On the ball!"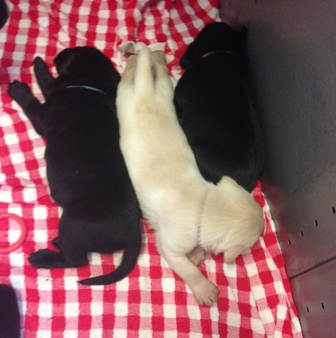 12/31/15- Our "OREO" Puppies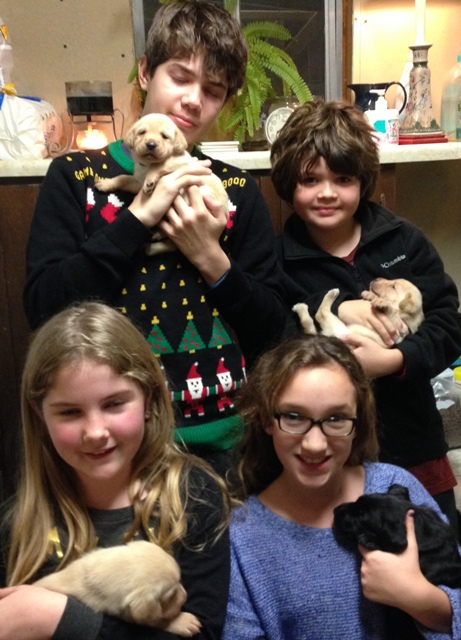 12/31/15-New Year's Eve Love
Olivia, Xander, & Nash are proud to share "their" puppies with friends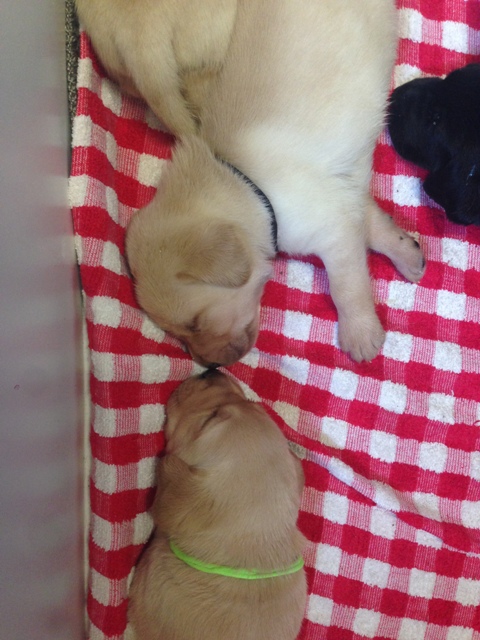 12/31/15- Nose to Nose-Buck and Dove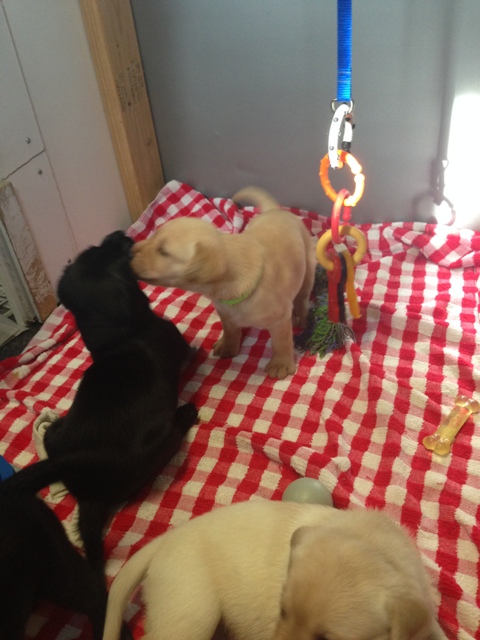 12/31/15 - Dove playing with Horse (I think)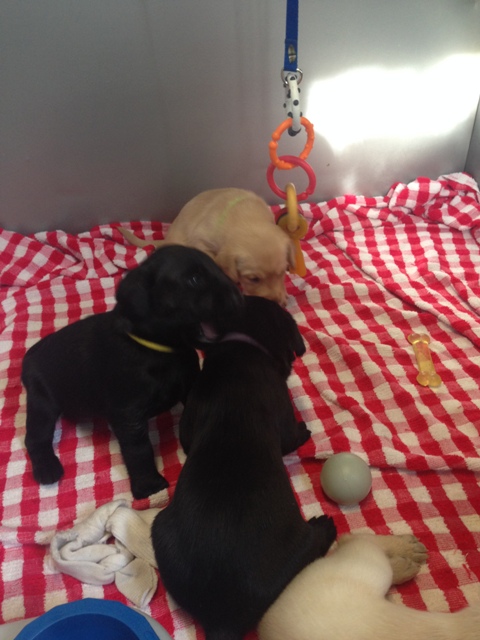 12/31/15- Bee, Horse, and Dove playing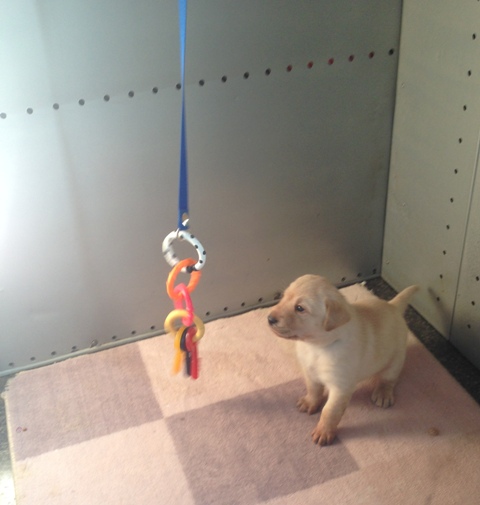 12/31/31-Tiger working on his attack strategy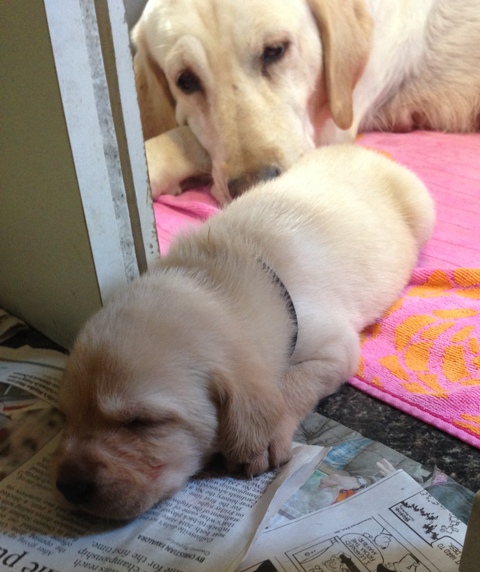 12/31/15 - Buck sleeping in doorway to potty, with Jazz looking on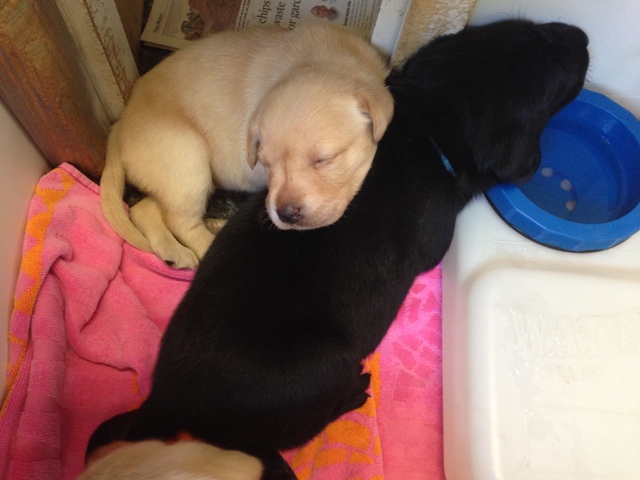 12/30/15 - Duke makes a great pillow for Bunny (nice cool water bowl)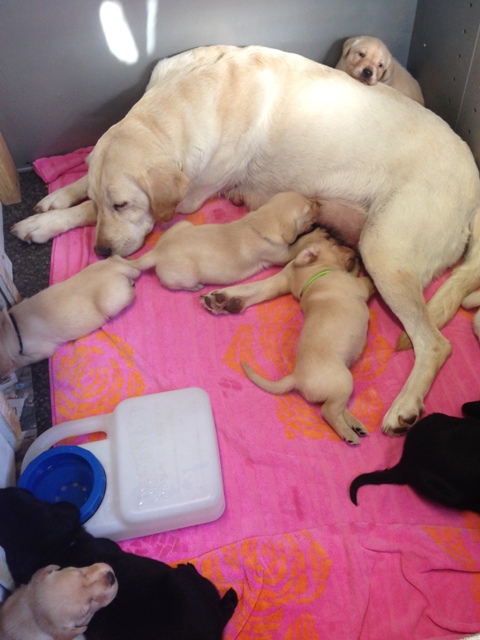 12/30/15-Sweet Family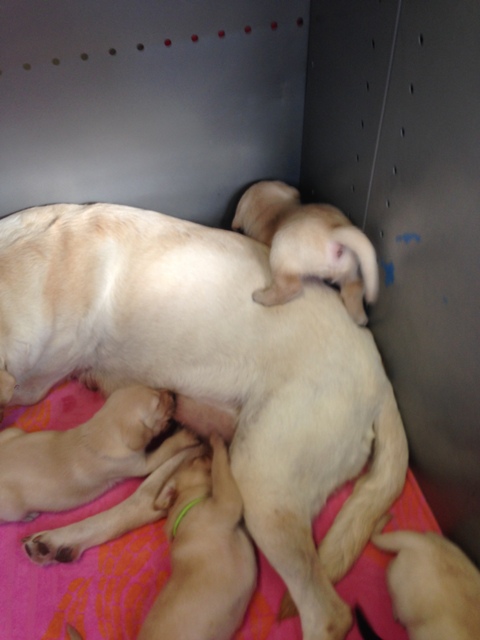 12/30/15- Husky thinks mom is Mt. Everest, while Tiger and Dove enjoy a snack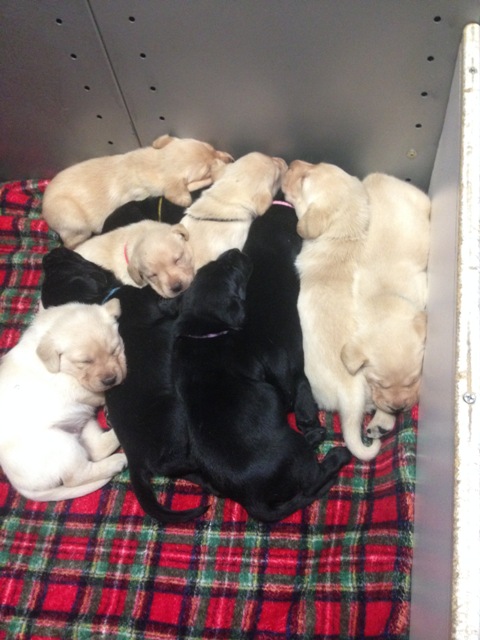 12/29/15- A very cute puppy pile-see if you can name each one. : )
Puppies Playing 12/28/15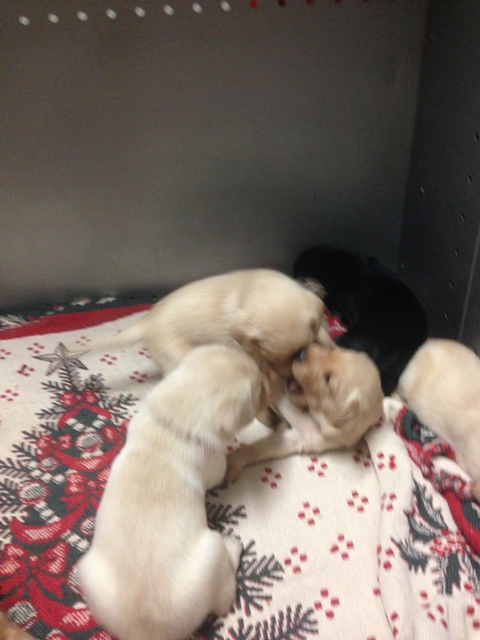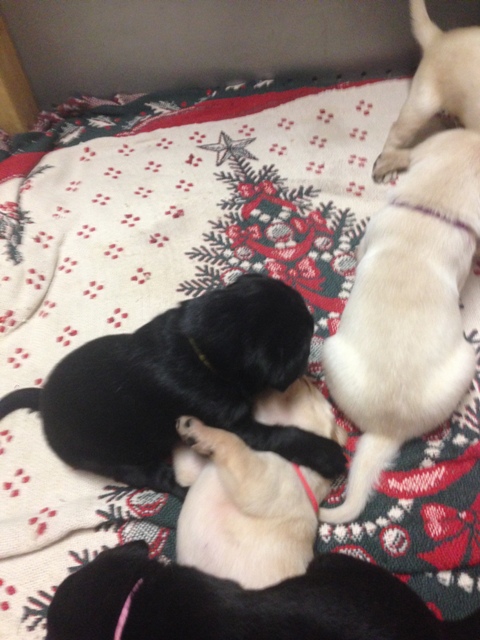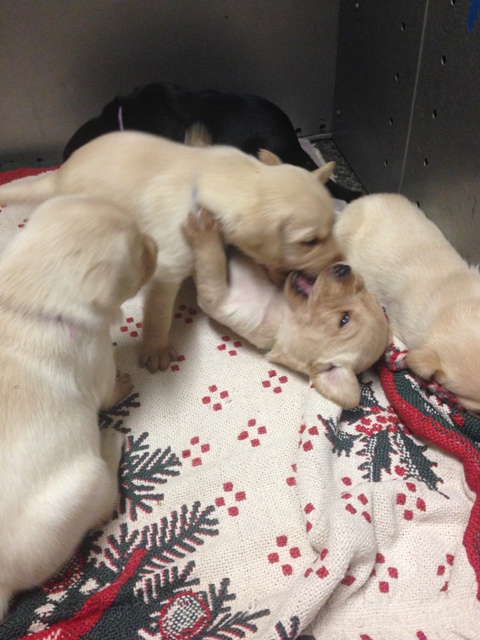 Tiger and Dove spar, while Buck watches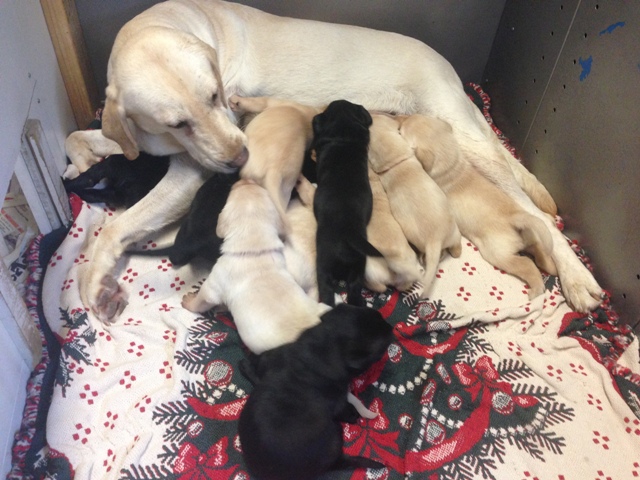 12/28/15-Jazz keeps plugging away..quite a big group!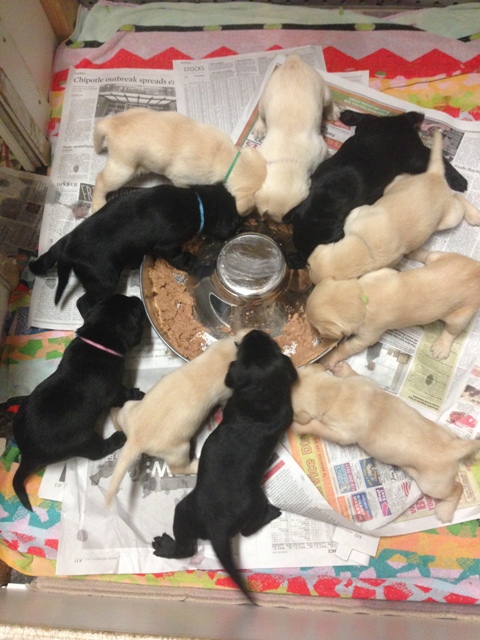 What big kids, eating around the food dish
12/27/15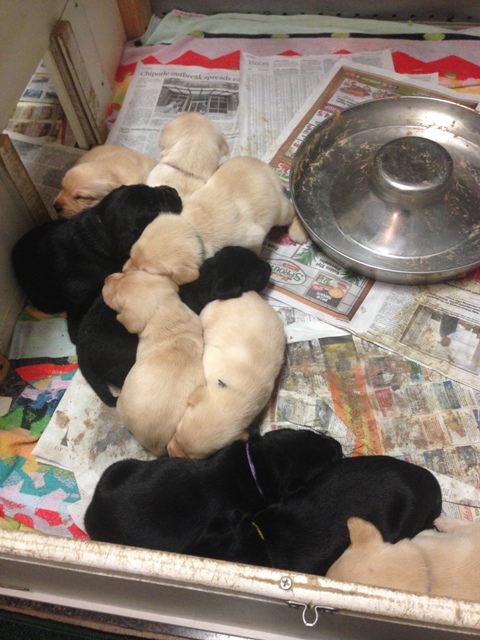 After the Food...the Mess!! Ha!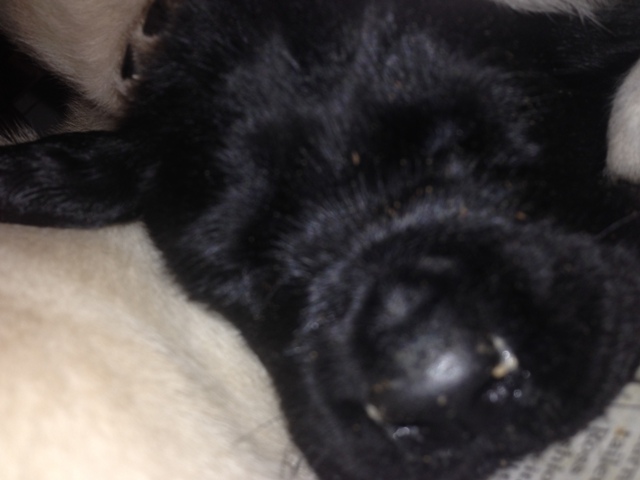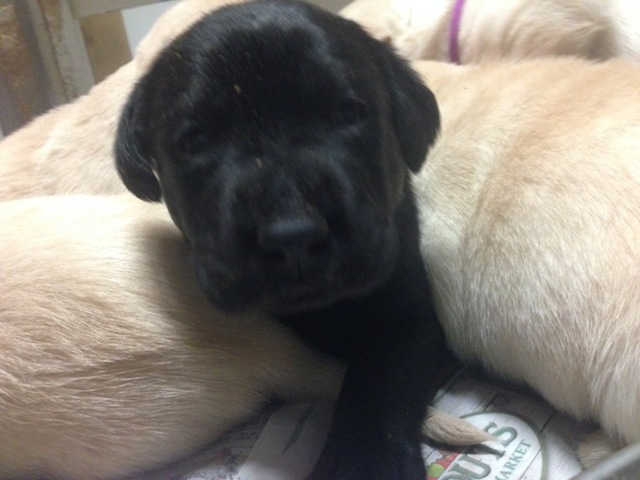 More After....Food faces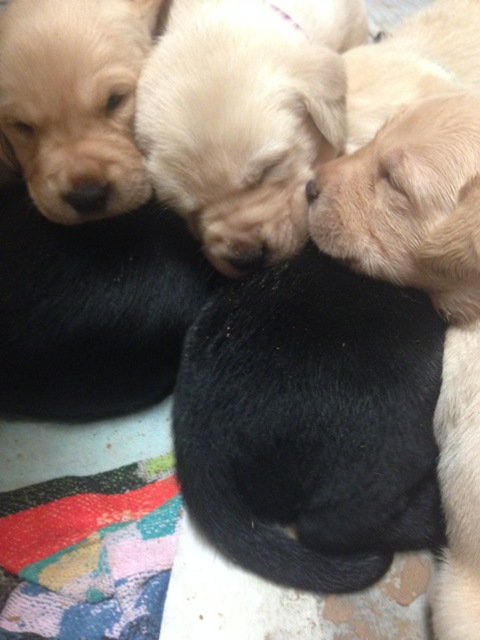 Nice, Full Tummies....
Olivia and Nash LOVE the Puppies!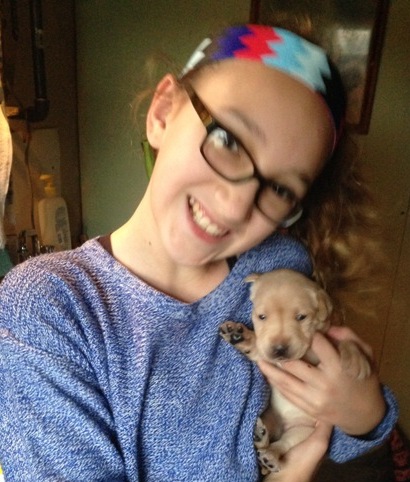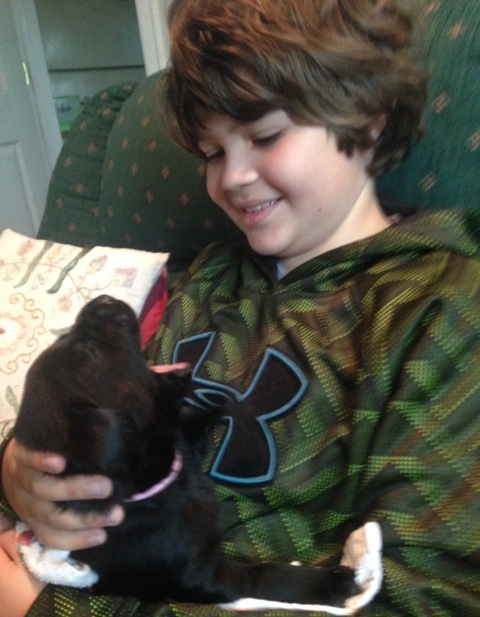 12/26/15 12/28/15
Puppies are Enjoying their new Environment
12/23 - 12/24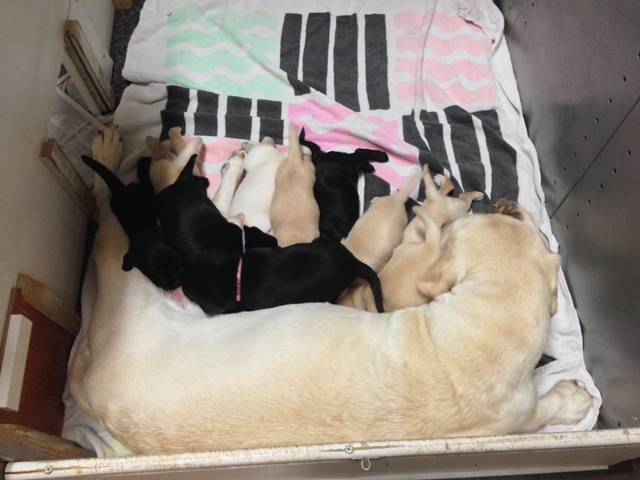 Pups already move to potty area a lot of the time (see little doors)
to potty away from their bed.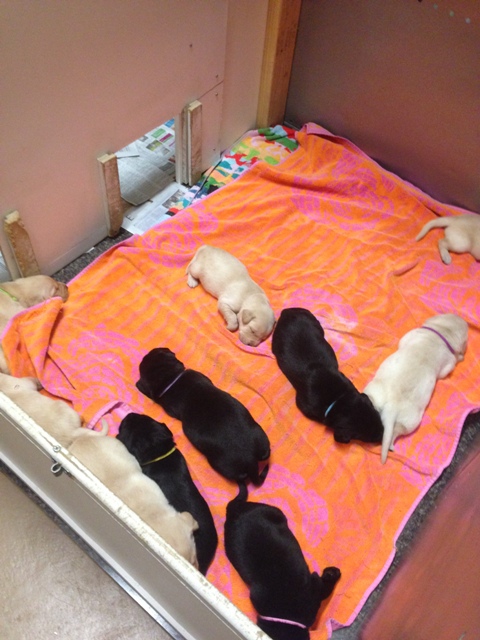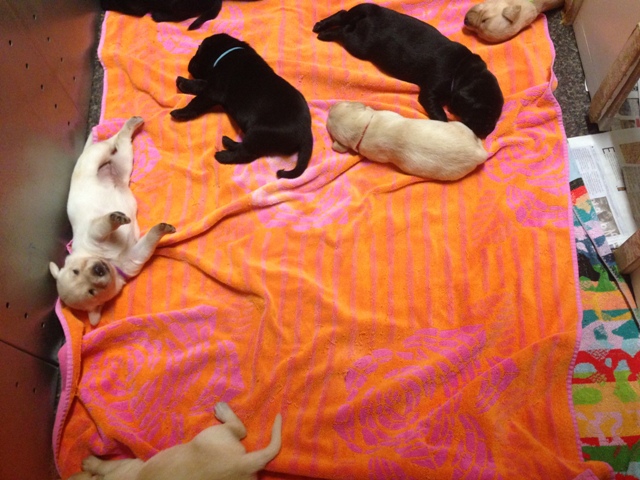 December 22, 2015

Eyes are Now Open!
2nd Portraits
Eyes began to open at 2 weeks-now are 2-1/2 weeks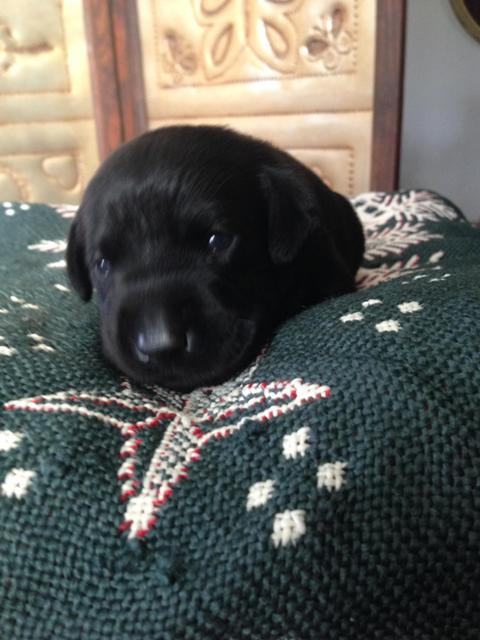 #1-BF - "Jag"
(wears pink collar)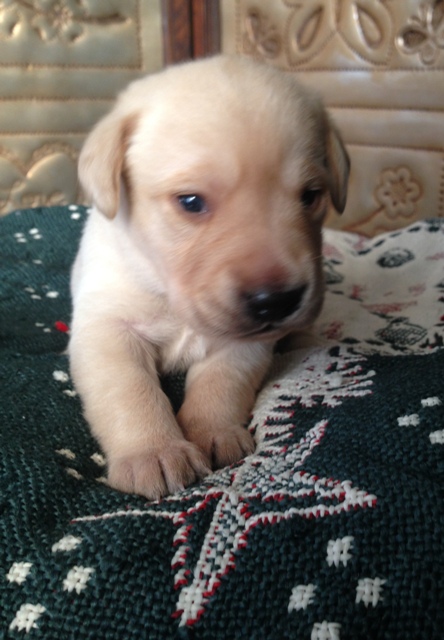 #2-YF - "Husky"
(wears dk. green collar)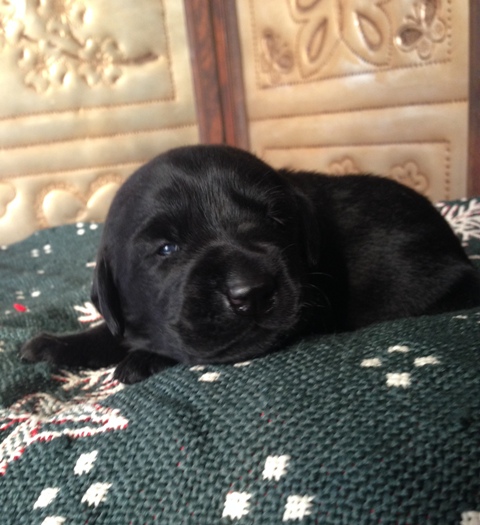 #3-BM - "Coyote" (Now "Duke" :)
(wears lt. blue collar)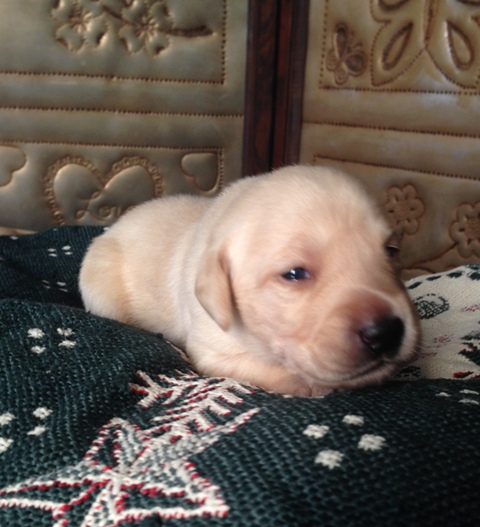 #4-YM - "Tiger"
(wears dk. blue collar)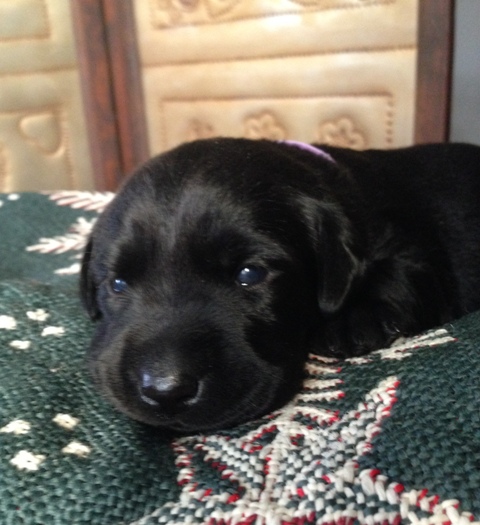 #5-BF - "Horse"
(wears lavender collar)
(only pup named by Beckett, my 4 yr old Granson : )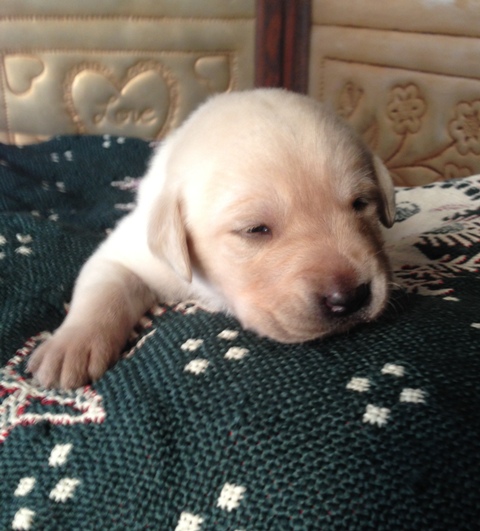 #6-YF - "Monkey"
(wears purple collar)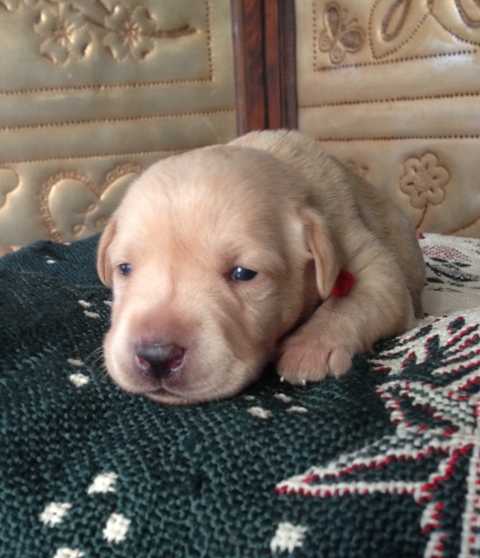 #7-YF - " Bunny"
(wears red collar)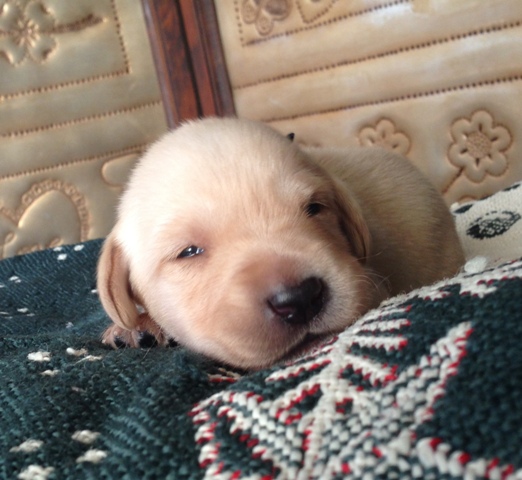 # 8-YM - "Buck"
(wears black collar)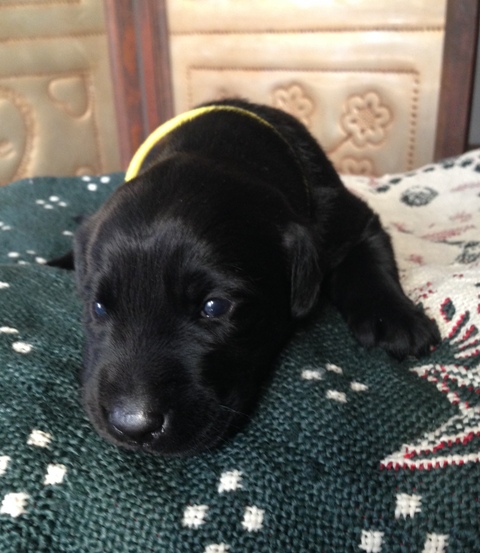 #9-BF - "Bee"
(wears yellow collar)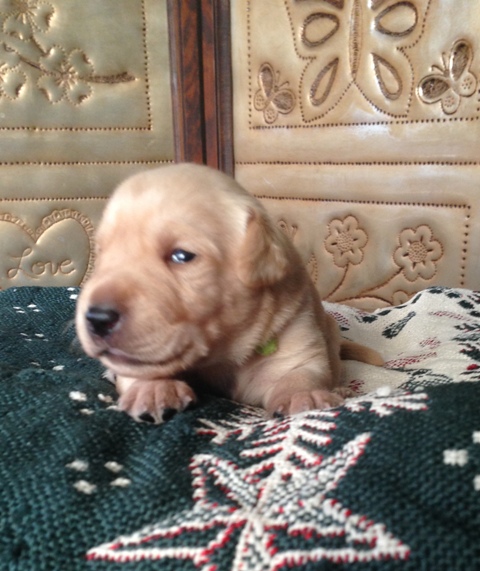 #10-YF - "Dove"
(wears lt. green collar)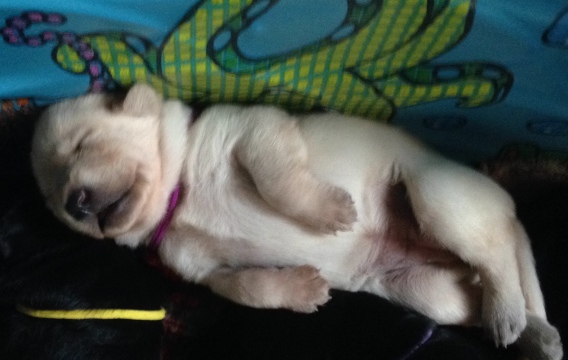 #6-YF in "dreamland" 12/22
12/21/15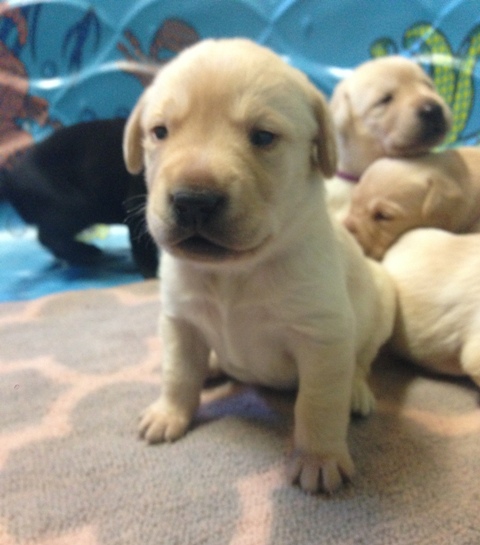 Fretful Eyes :) -#2 Green collar (F)-Largest of pups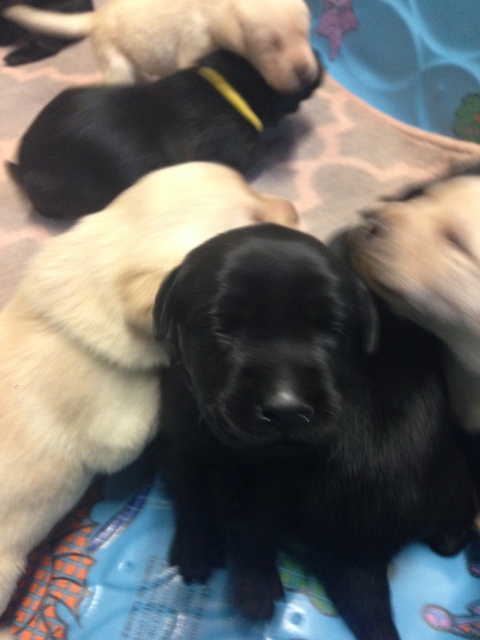 #4 pup-(F) Lavender Collar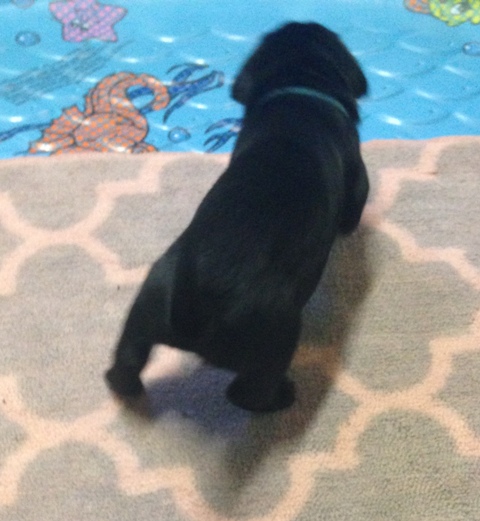 #3 pup-(M) Blue Collar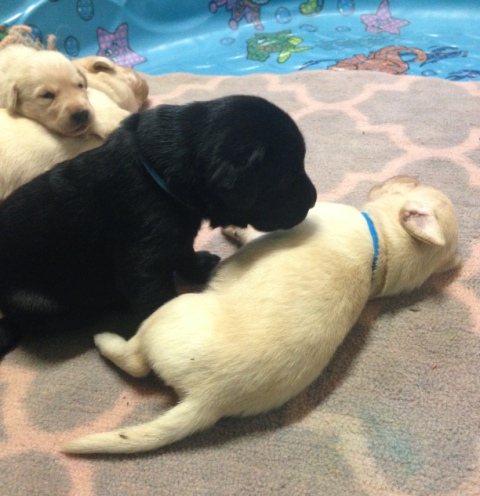 2 Boys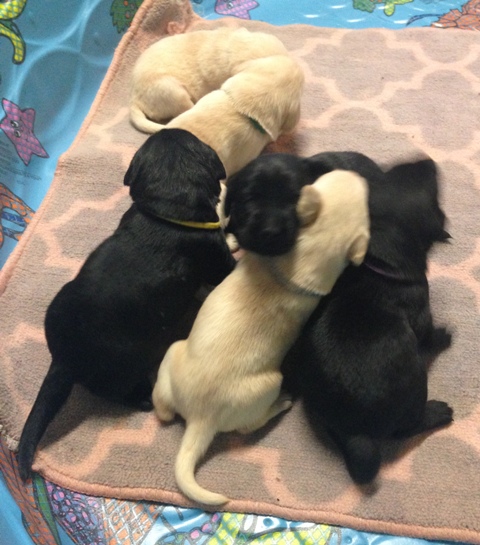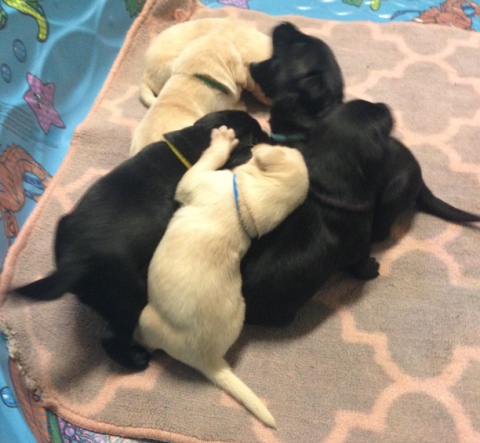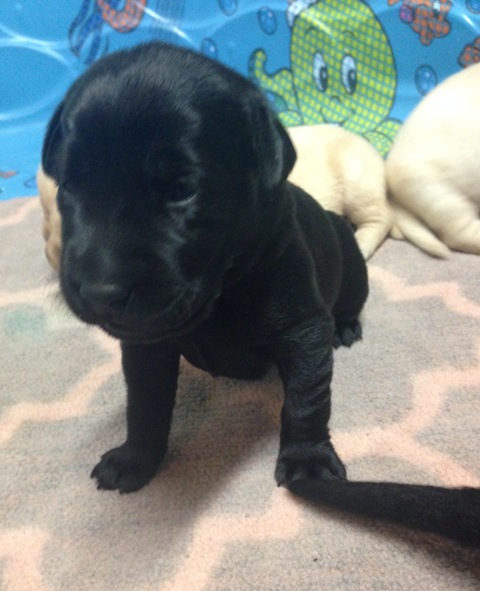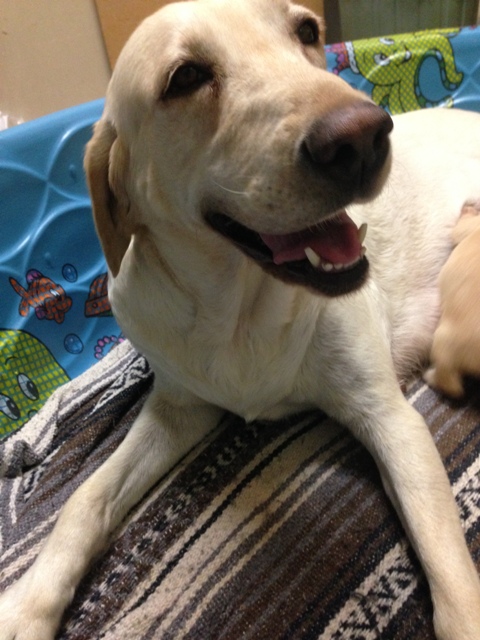 I love her smile!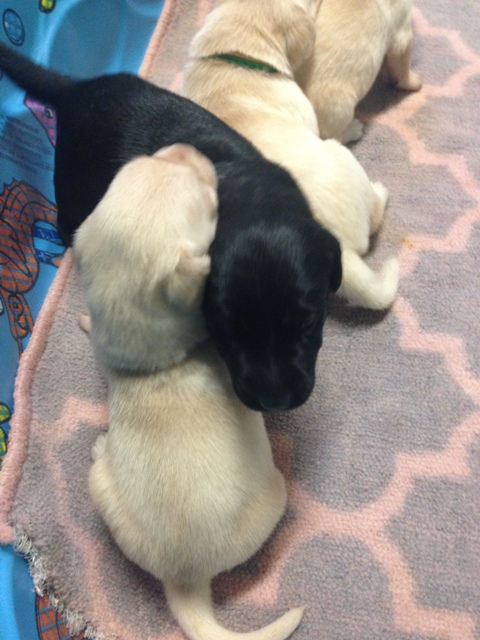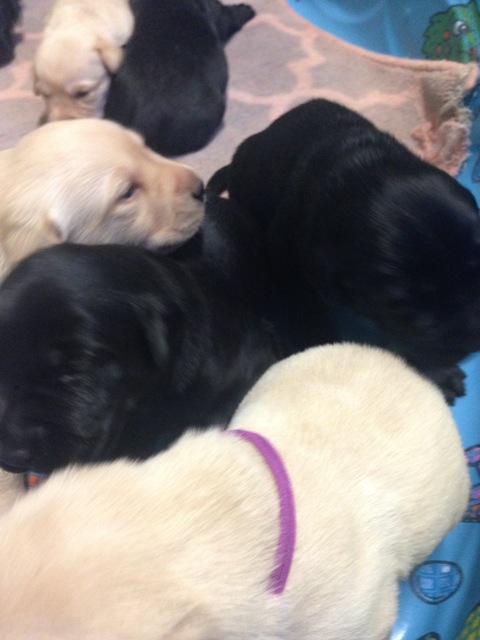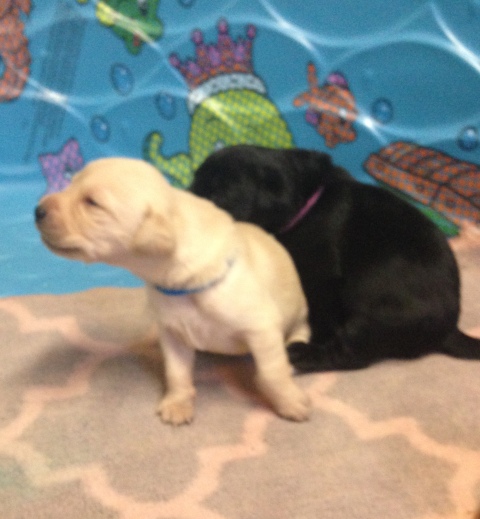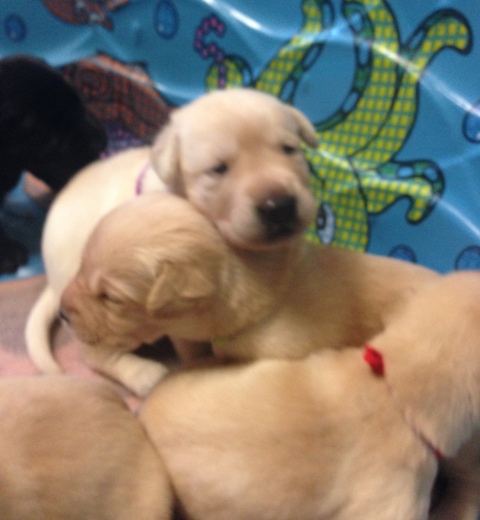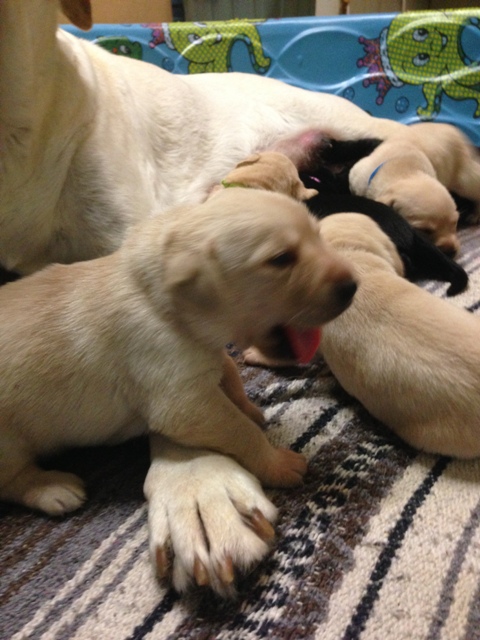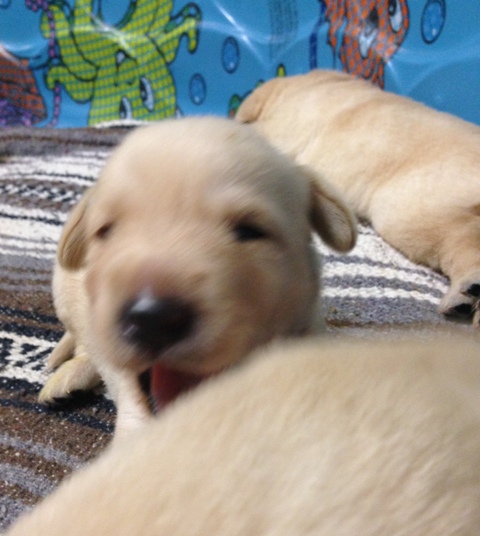 12/15-12/16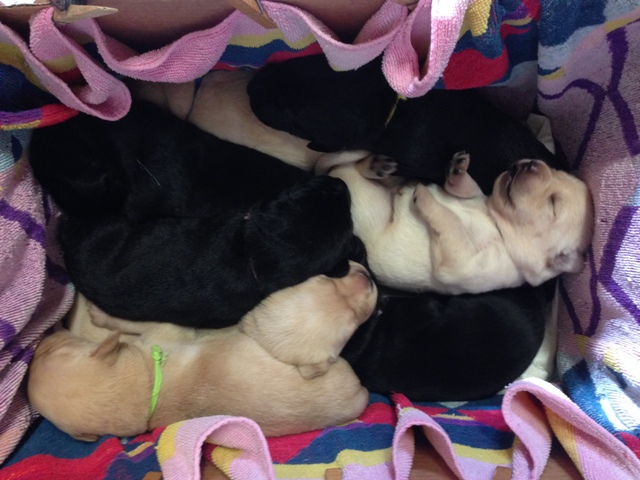 Only 8 of 10...and still a box full!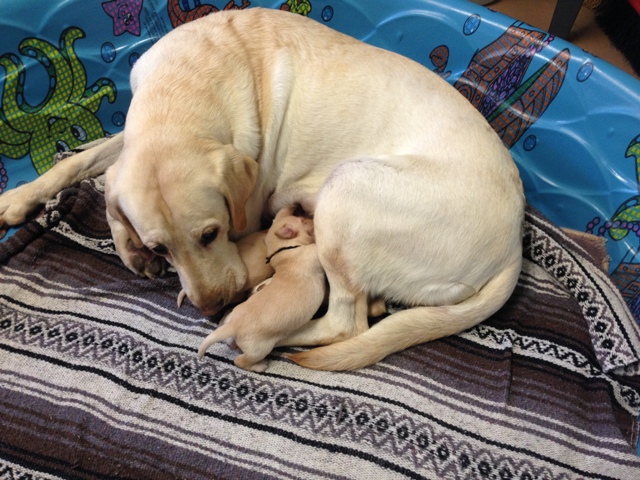 The other 2 pups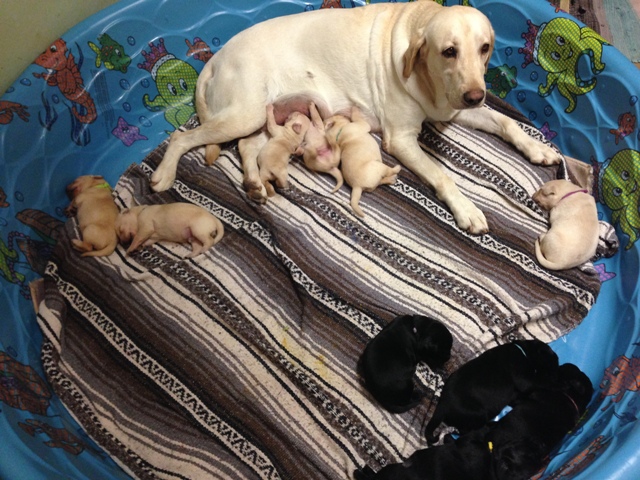 Voluntary segregation? how funny!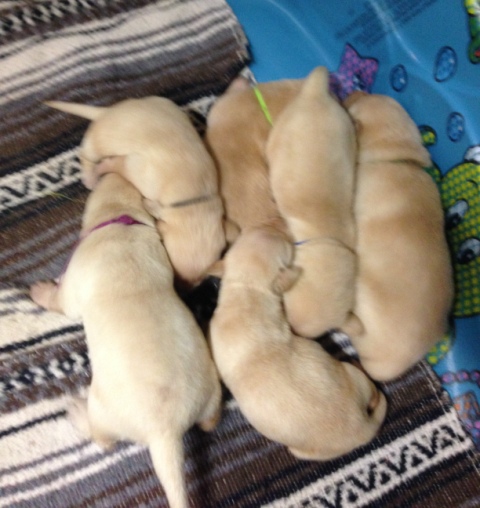 Shades of yellow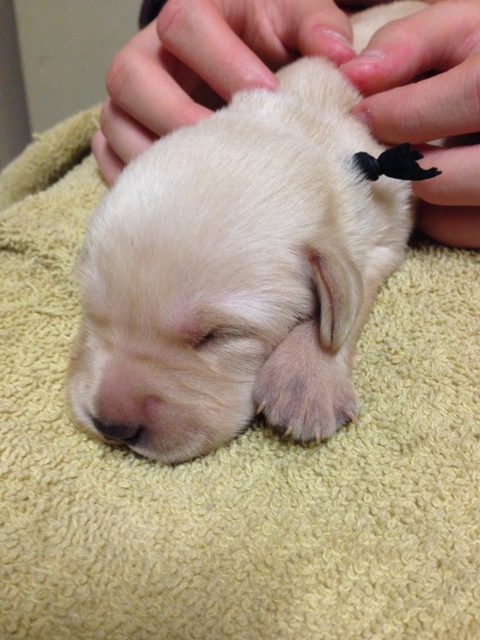 Buck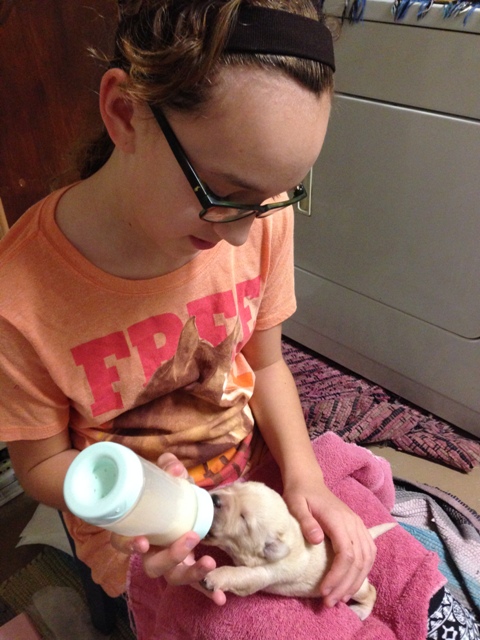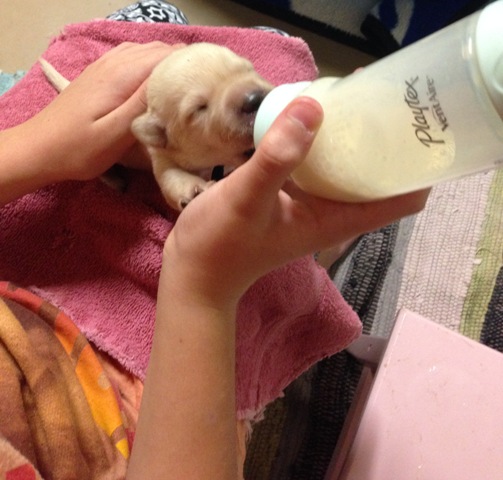 #8-YM (Buck) and Olivia, one of my best helpers. : )
12/12-12/13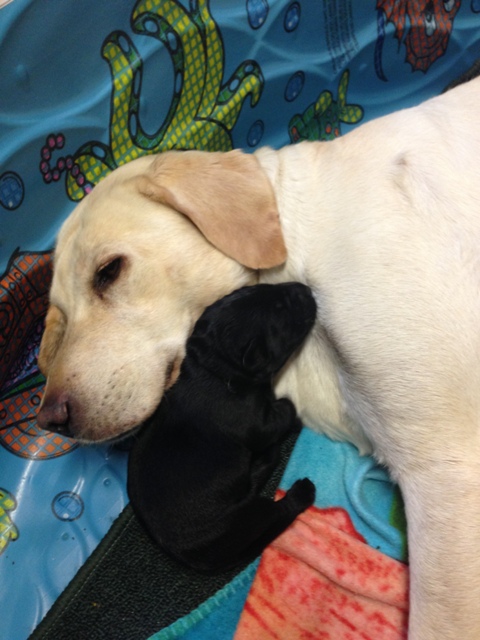 Jazz loves her babies!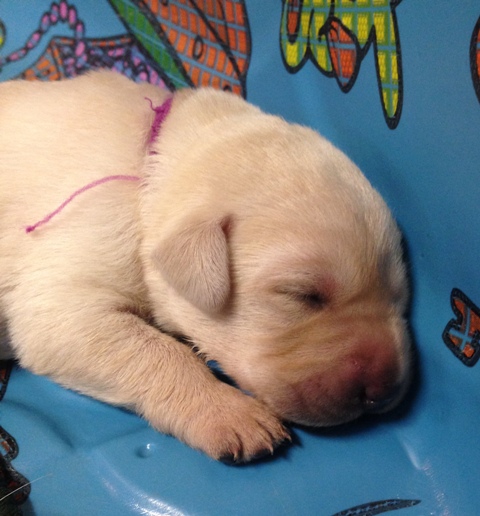 100% Cute-muzzle is getting darker now-#5YF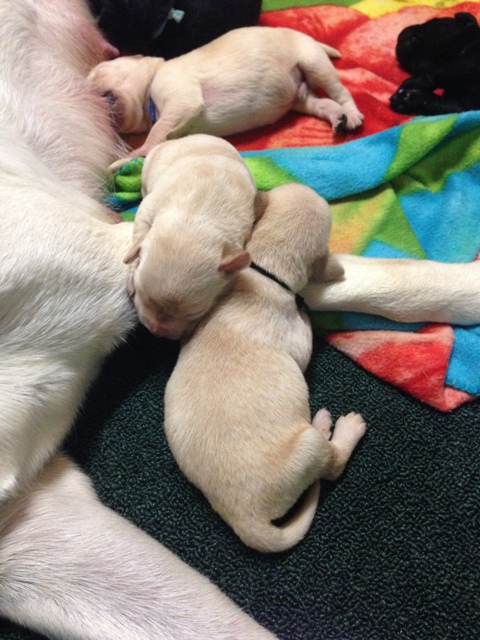 #4 YM,#7YF,#8YM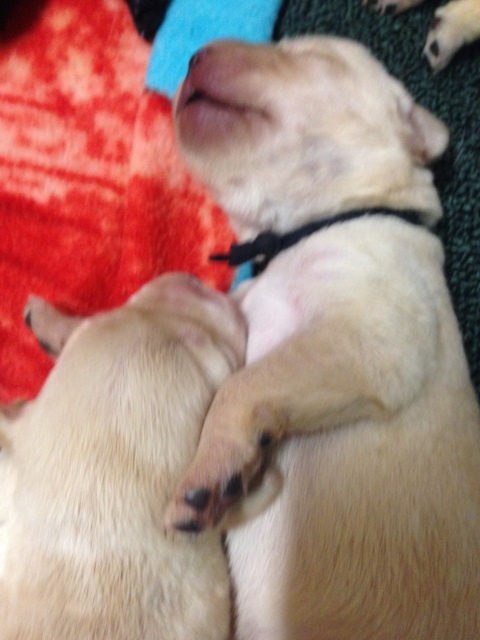 #7YF & #8 YM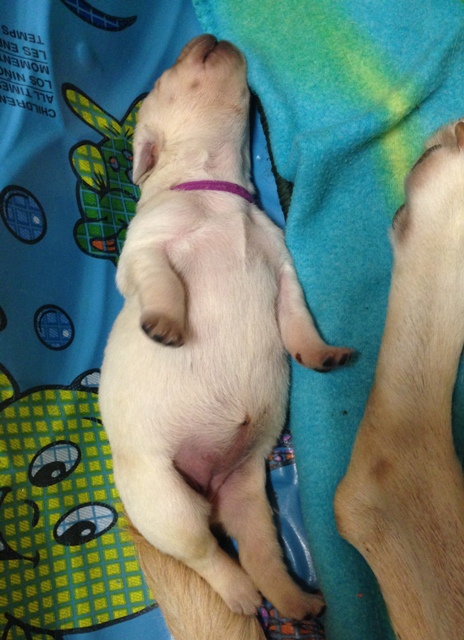 #6 YF got more than her share, maybe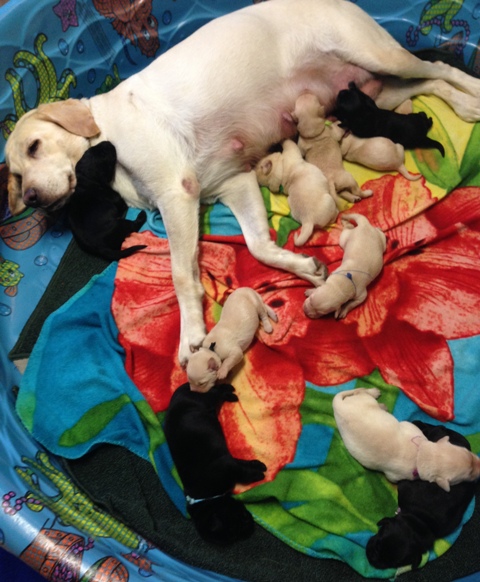 Another day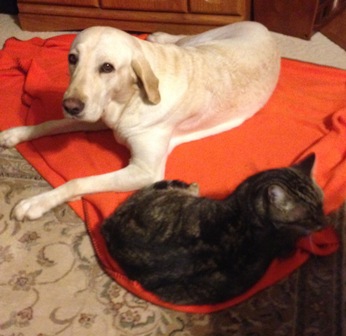 Jazz & Bear are buds
First Portraits
6 days old
12/11/15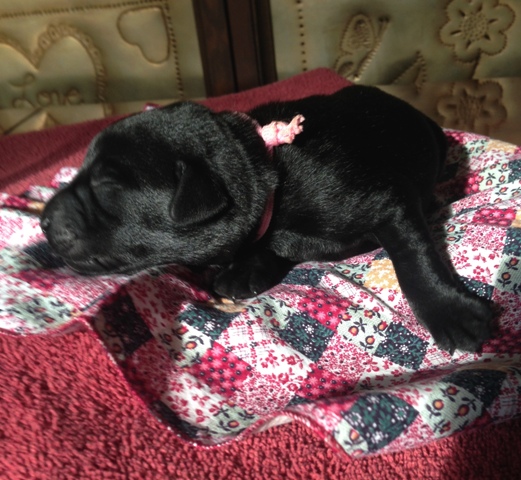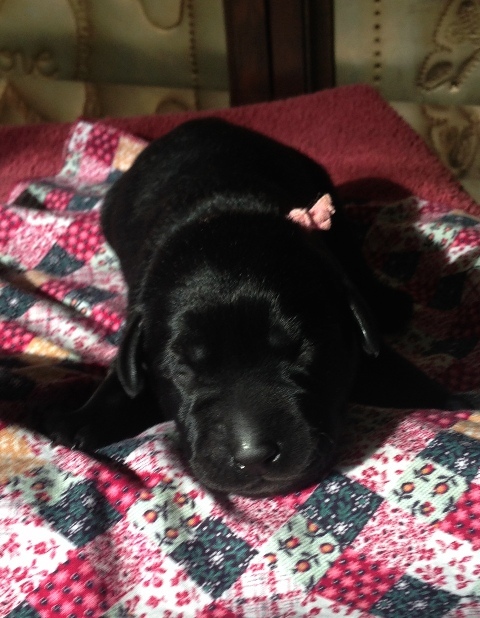 1st born- Black Female-Wears Pink Collar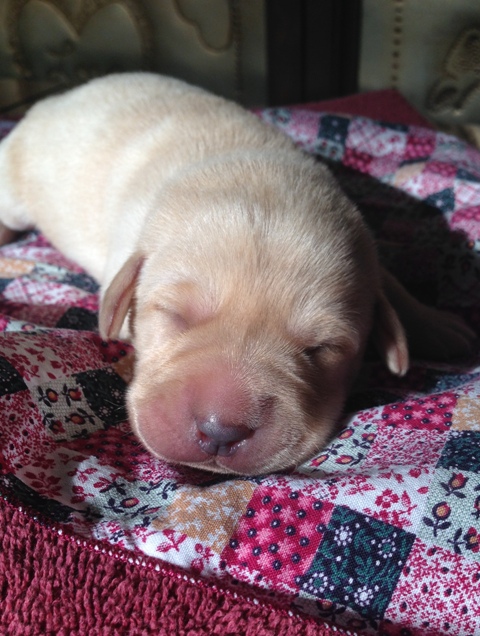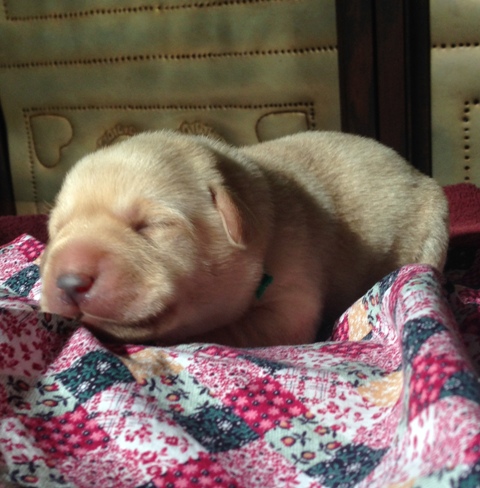 2nd born- Yellow Female-Wears Dk. Green Collar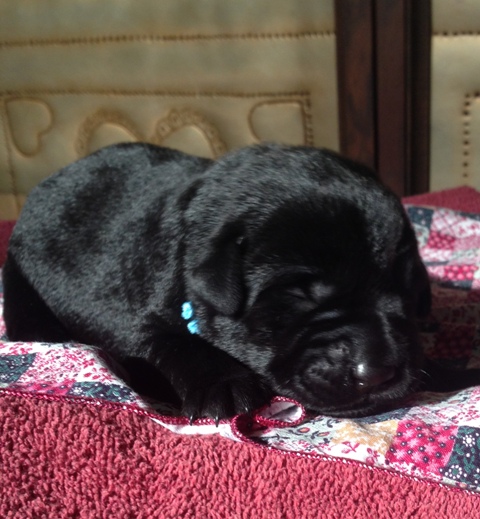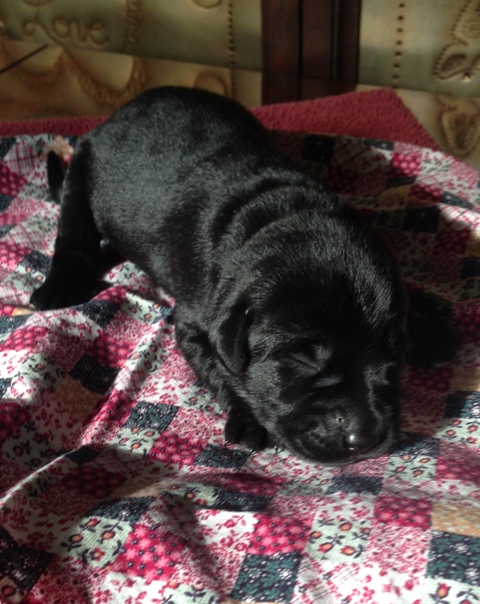 3rd born- Black Male-Wears Lt.Blue Collar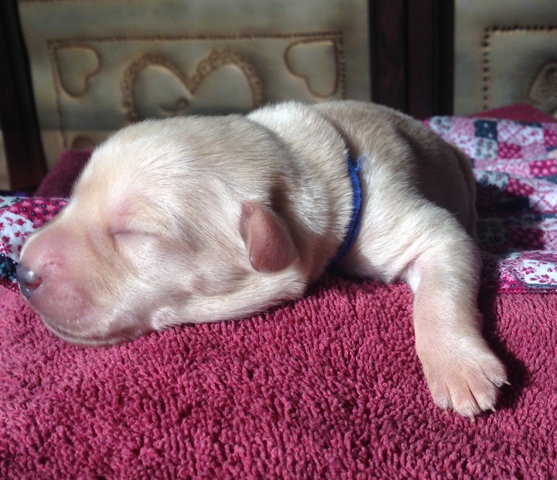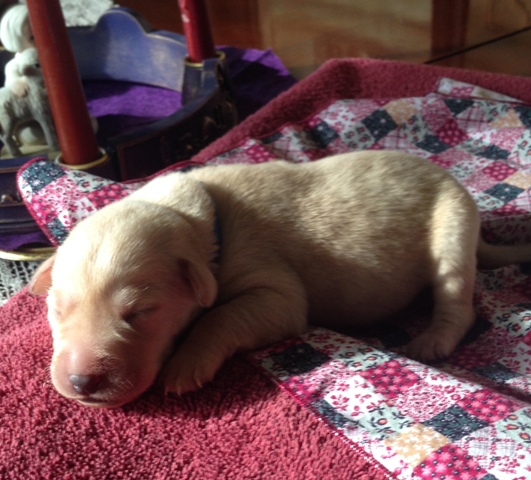 4th born- Yellow Male-Wears Dk. Blue Collar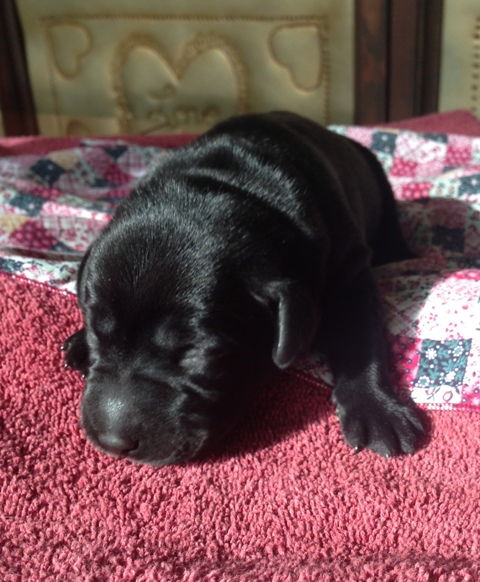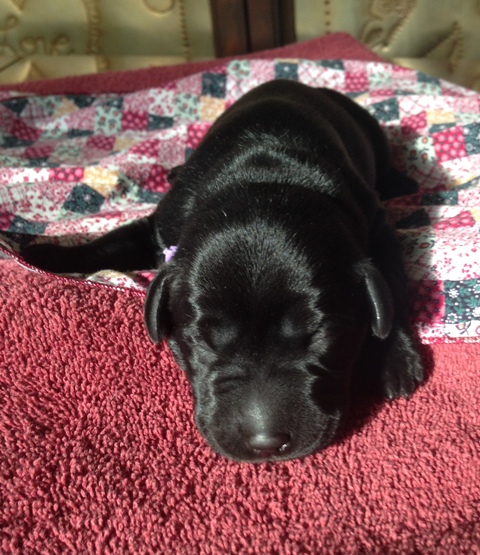 5th born- Black Female-Wears Lavendar Collar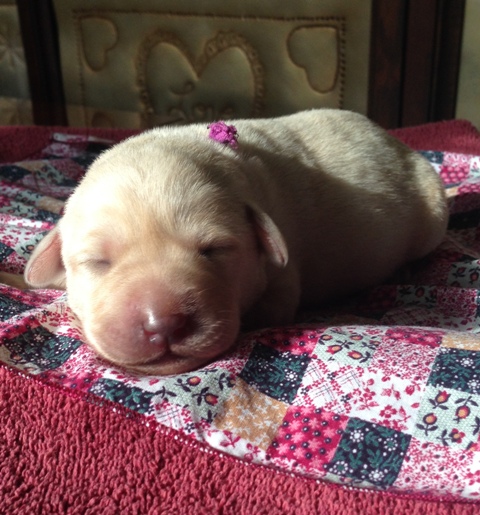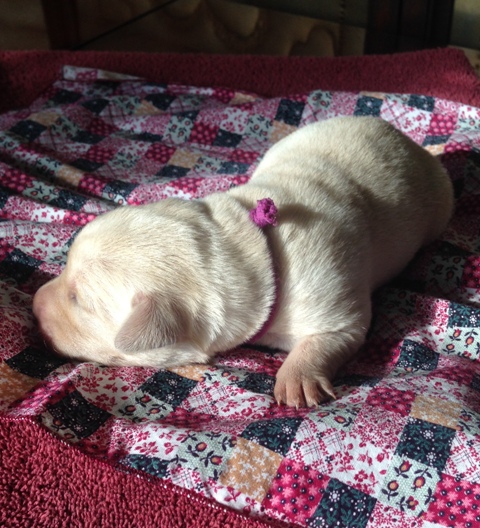 6th born- Yellow Female-Wears Purple Collar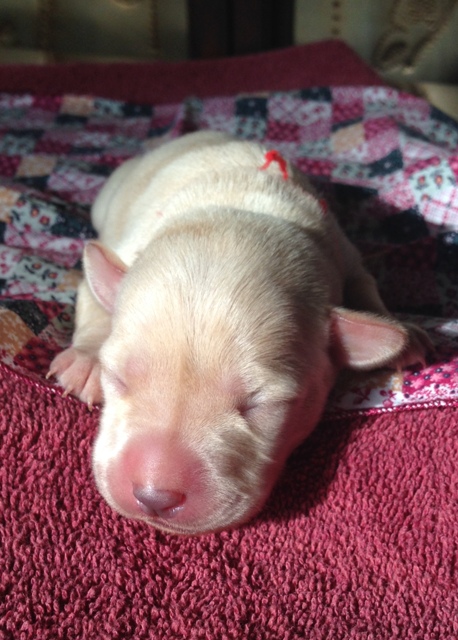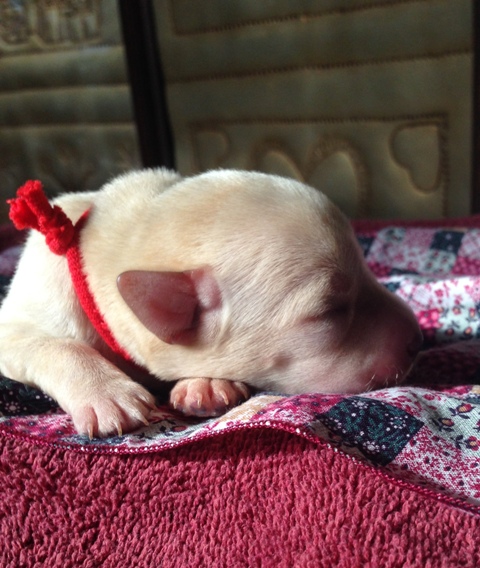 7th born- Yellow Female-Wears Red Collar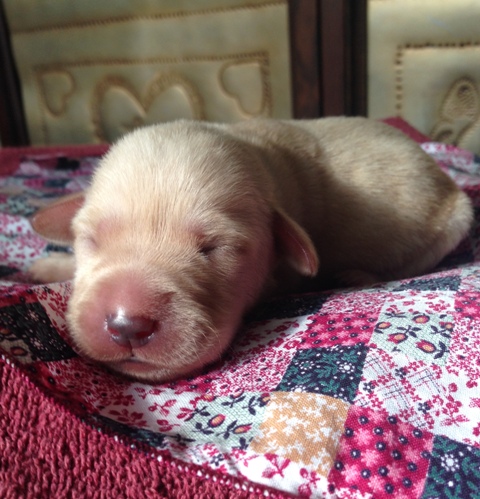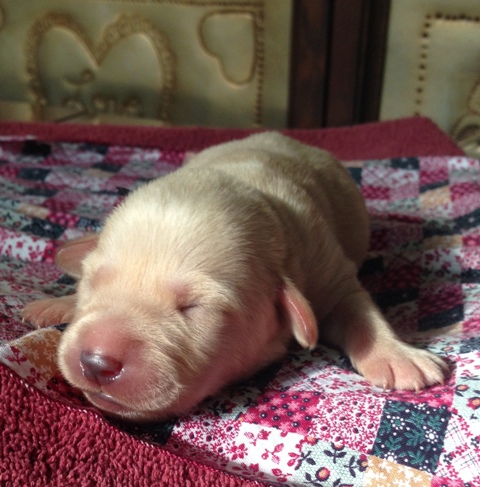 8th born- Yellow Male-Wears Black collar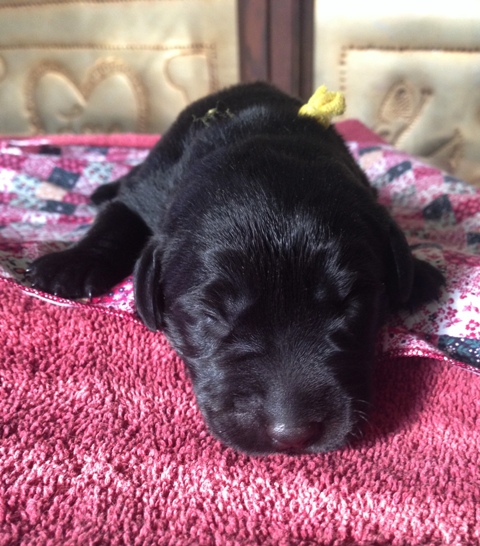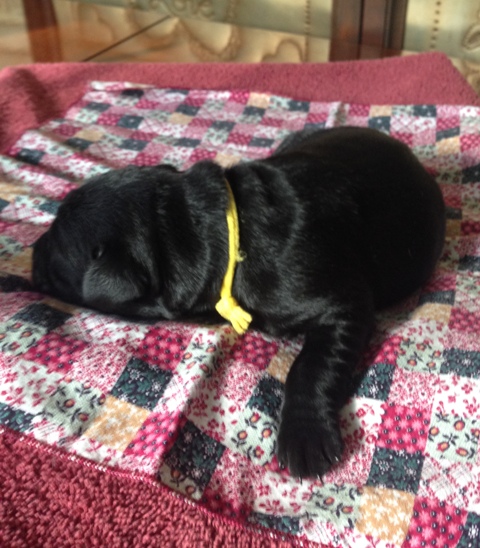 9th born- Black Female-Wears Yellow Collar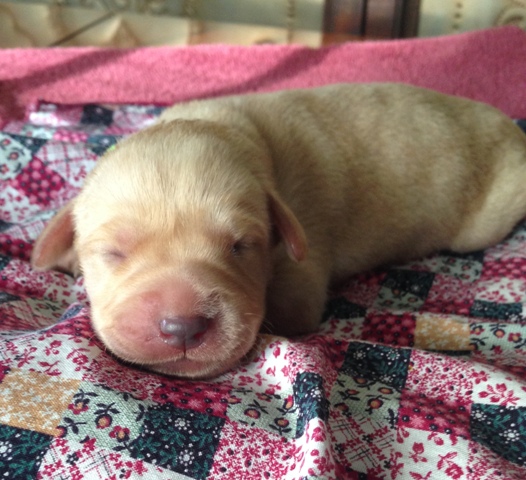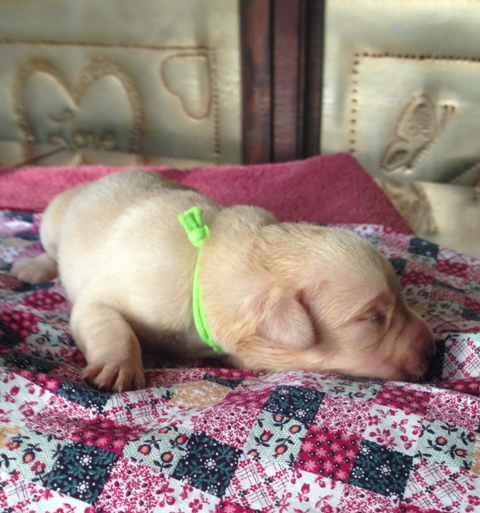 10th born- Yellow Female-Wears Lt. Green Collar
Puppies 12/11/15~Full Tummies....(below)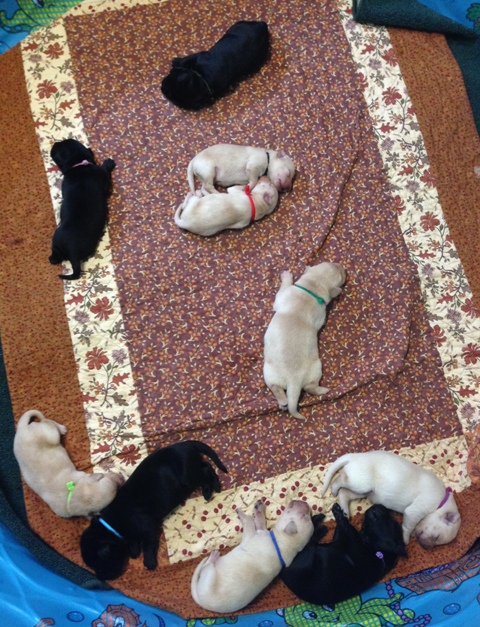 Puppies 12/8/15
....(below)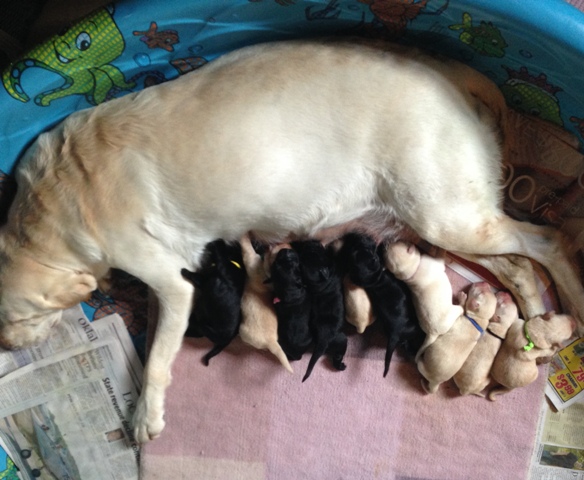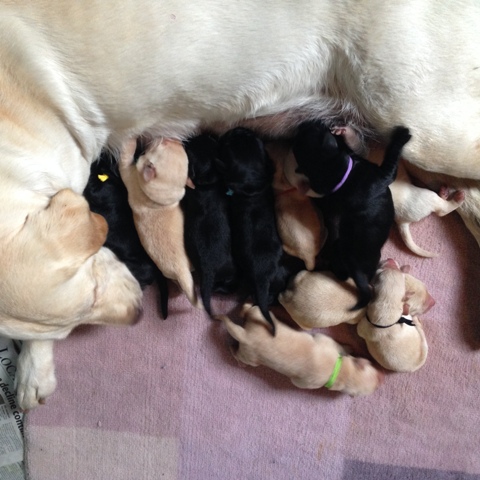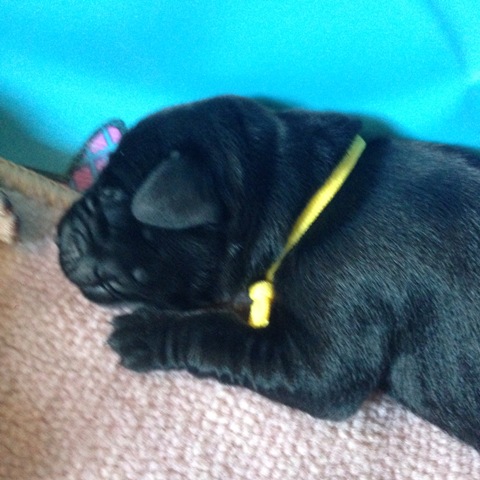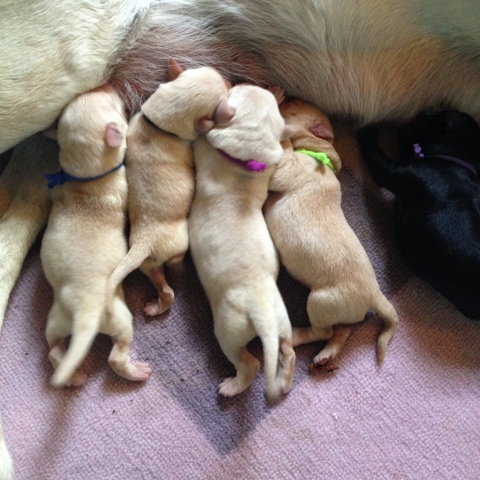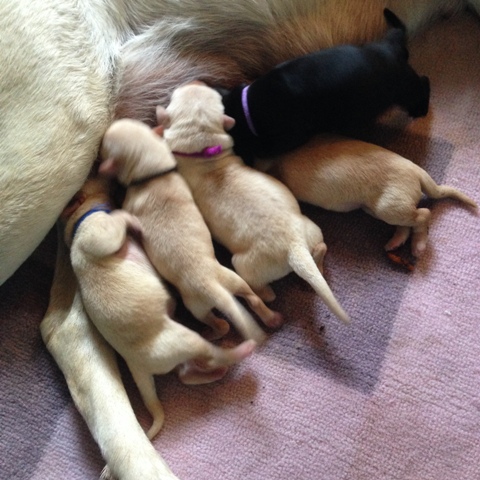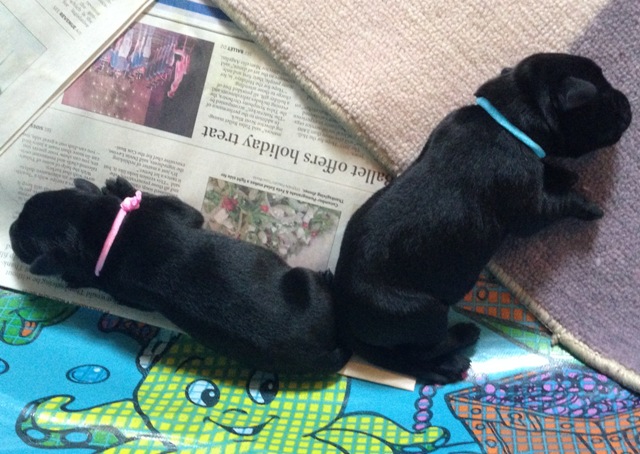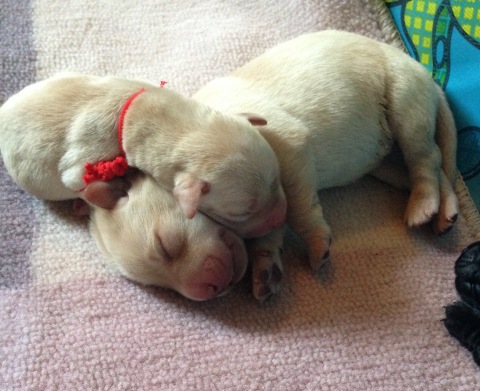 Puppies 2/7/15
....(below)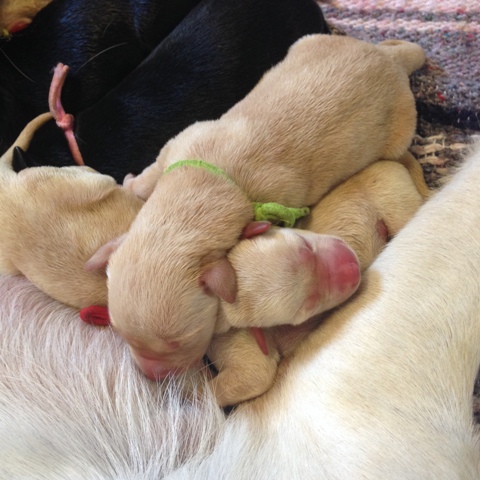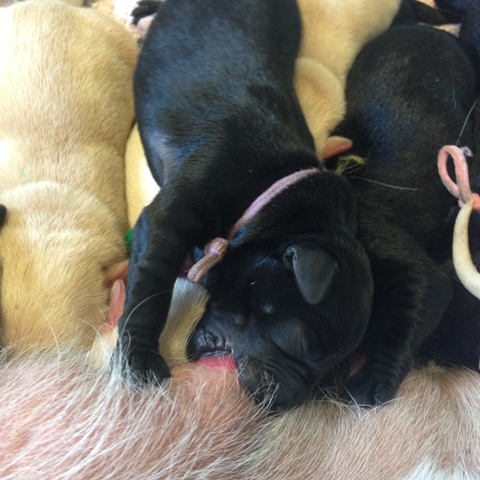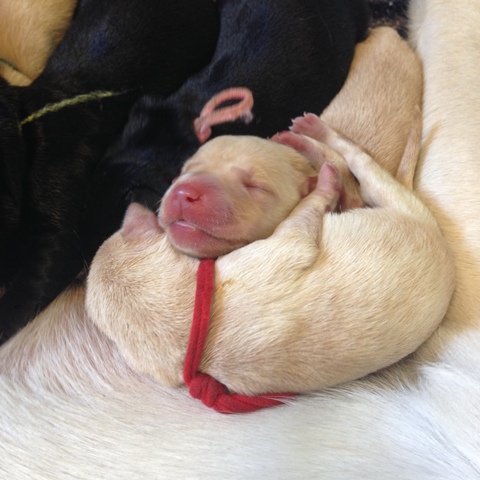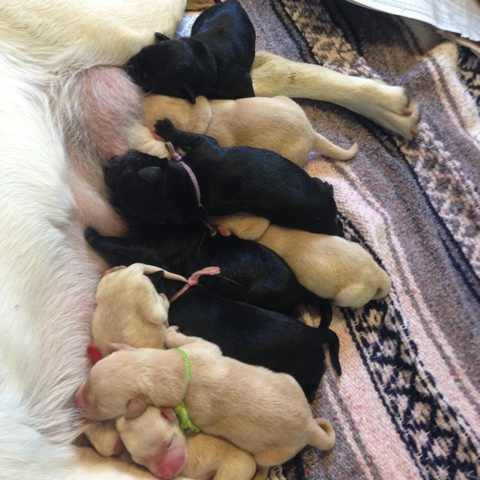 12/7/15-Not as much room around the "table" now. : )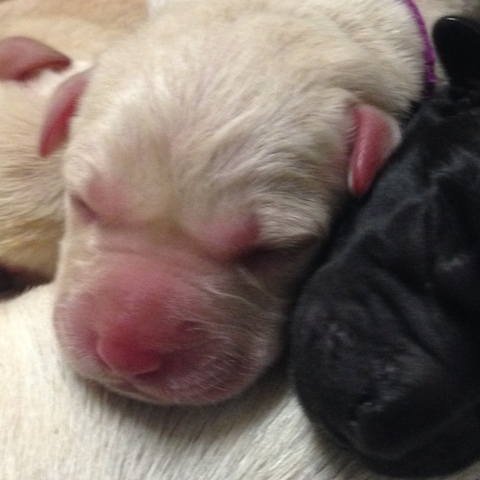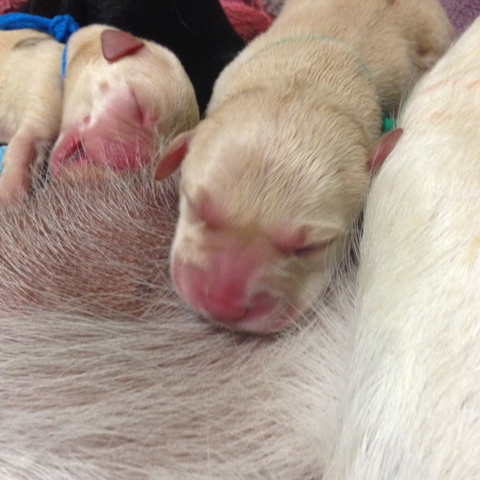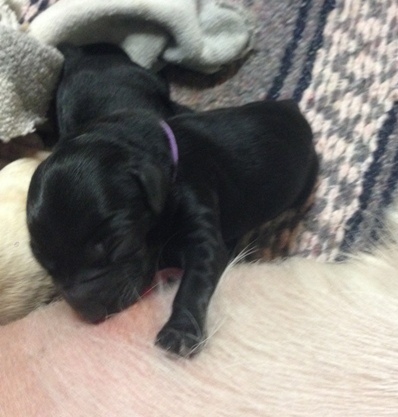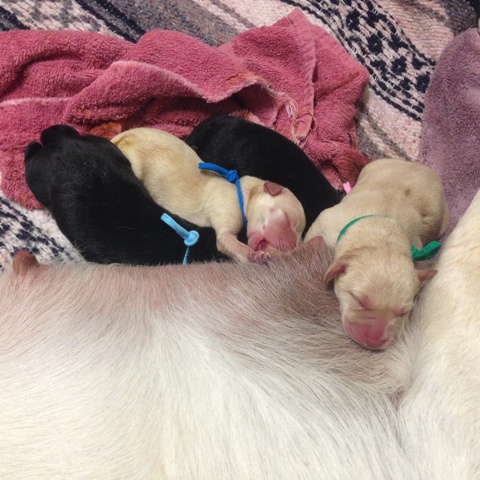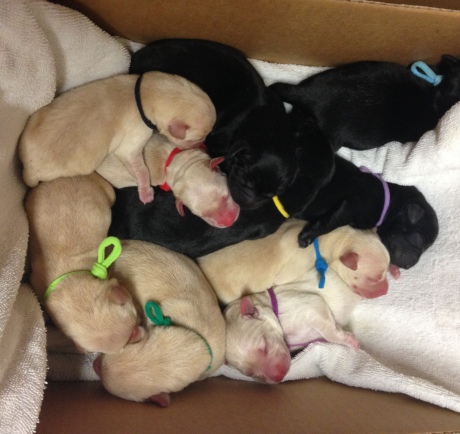 For a preview of what these pups may look like from the same parents,
There you will find a journal of their first 8 weeks of development,
along with lots of pictures. : )
~Our list is full, but please contact us if you are interested in our pups ~
we will continue our list until pups are chosen
- for this list, no deposit will be required until further notice -
Thank you to all who have reserved a pup with us!
__________________
For questions or information about being added to our list,
___________________
Thank you for visiting
Hershy's Star Labradors of Tulsa
Home Bred Pups
Prepared and Ready for Your Training!
Your Sporting Companion & Your Best Friend Ever!!
Please contact us at: 918-809-4158 or email us at: mailto:lLhersh@cox.net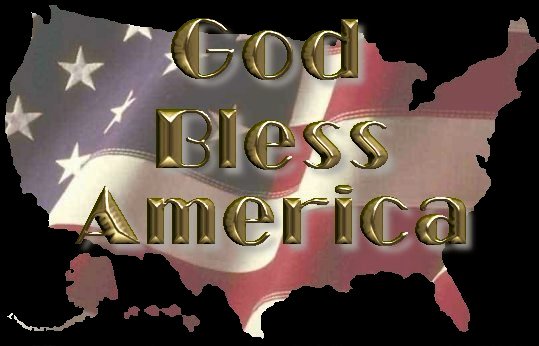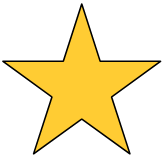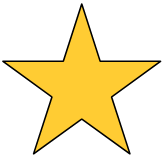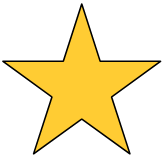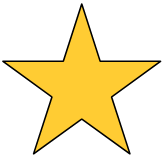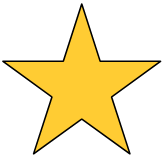 And God bless you!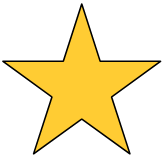 We are Licensed Home Breeders